Drinkwell Mini Plastic Dog & Cat Fountain, 40-oz
Temporarily Out of Stock
Get notified when this item is back in stock.
Compare Similar Items
| | | | | | |
| --- | --- | --- | --- | --- | --- |
| | | | | | |
| Customer Rating | | | | | |
| Price | | | | | |
| Breed Size | Medium Breeds | Medium Breeds, Large Breeds | Medium Breeds, Large Breeds | Medium Breeds, Small Breeds | Medium Breeds, Large Breeds |
| Bowl & Storage Feature | N/A | Dishwasher-Safe, BPA-Free, Lead-Free, Tip-Resistant | Dishwasher-Safe, BPA-Free, Lead-Free, Tip-Resistant | Dishwasher-Safe, BPA-Free, Lead-Free, Tip-Resistant | Dishwasher-Safe, Automatic |
| Lifestage | Puppy, Kitten, Adult, Senior | Adult | Adult | Adult | Puppy, Kitten, Adult, Senior |
| Material | Plastic | Plastic | Plastic | Plastic | Plastic |
| Capacity (Max) | 40-oz | 60-oz | 60-oz | 67.6-oz | 80-oz |
| Assembly Required | Yes | Yes | Yes | No | Yes |
| Compatibility | Plug-In Power | Plug-In Power | Plug-In Power | Plug-In Power | N/A |
---
About This Item
Free-falling water stream entices pets to drink more.
Receiving ramp reduces splash of falling water.
Completely disassembles for easy cleaning and dishwasher safe (excluding pump).
Holds 40 ounces of water.
Made of BPA-free plastic.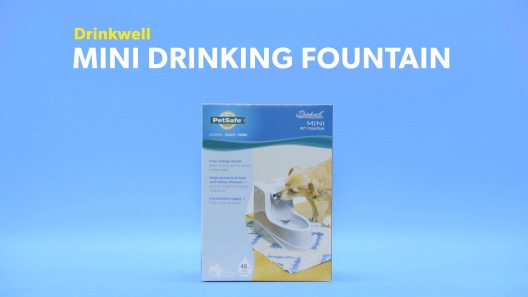 Learn More About Drinkwell From Our Team of Experts
---
---
About PetSafe Drinkwell Pet Fountains (for Small Pets)
Fresher, Cleaner Water
PetSafe Drinkwell pet fountains are designed to encourage your furry friend to drink more water. A continuous circulation system helps prevent bacteria growth so they're a safe oasis of clean water for your pet. They come with replaceable carbon filters that help remove bad tastes and odors. Plus, with a variety of styles and sizes available, you are sure to find the one that's right for your pet and home.
Sized for Petite Pets
PetSafe Drinkwell pet fountains are available in smaller sizes, which means they're perfect for smaller pets, including small breed dogs and most cats. Because tiny pets love a clean stream of fresh drinking water that's on demand, too. The smaller sizes range from 100 ounces to 168 ounces to meet your pal's hydration needs without taking up extra space in your home.
The Classic Style in Plastic
Plastic fountains are a great addition to any home because they can be easily cleaned with the fountain cleaning kit or a non-abrasive cloth or sponge. Most fountains are top-shelf dishwasher safe, too, which means a cleaner fountain with less hassle. Plus, they're all made with BPA-free plastic, so they're completely safe for everyday drinking for your best friend.
The Modern Look in Stainless Steel
Stainless-steel fountains look sleek and stylish in your kitchen, bathroom or anywhere in your home, which is why people love them—and thirsty pets, too. These modern-looking fountains are sturdy and rust-free, while also being easier to clean and keep sanitary. And the best part is, stainless steel is recommended by vets as one of the safest materials for your pet.
Oh, So Chic Ceramic
With elegant designs to match any home decor and colors to brighten your home or blend in, the stylish and chic ceramic fountains keep your pet hydrated and look great anywhere. Plus, they're made with hygienic ceramic that's easy-to-clean and top-shelf dishwasher safe. What more can you ask for in a pet fountain?
About PetSafe
Since 1991, PetSafe has been keeping pets safe and making pet owners happy with quality, reliable products. PetSafe is devoted to innovation with a range of products to help you and your pet share the best moments. They make it a point to consult with top trainers, veterinarians and behaviorists and listen to feedback from pet parents so they can continually improve their designs and processes.
Shop PetSafe
---
Questions & Answers
47 Customer Questions
---
Which filters are necessary for this?
Answer by • Dec 09, 2020
The replacement filters for this fountain are listed on Chewy's website as "Drinkwell Carbon Replacement Filters".
---
Is anyone else having problems with it leaking water? I'm on my second (replacement) and it's doing it also. My cats love it but there's water all over the floor. What am I doing wrong?
Answer by • Feb 08, 2018
Please check the fountain frame for any damage, such as small cracks or holes, which the water could be escaping from. If you do not find any damage, it is sometimes possible for water to slide along the pump's power cable if it is pulled too taut inside the fountain frame; try giving it quite a bit of slack inside the fountain housing and, if this is the cause of the leaking, it should fix the issue.
---
what are the dimensions?
Answer by • Apr 06, 2021
This fountain measures 11.75 inches wide by 6.25 inches long by 8.5 inches tall.
---
How often do the filters have to be changed & are they washable
Answer by • Jul 26, 2017
These filters are not washable and should be replaced every 2 to 4 weeks.
---
---
---
By zannyq on Apr 29, 2022
Don't Buy, it's built to leak
Was my 1st fountain, so I naturally was a helicopter mom, makin sure to do evrythg rgt, it leaked, water will run right over that side wher it flows out, poor design, ugg cleaning it..the worst! Save ur money n buy a bettr designed fountain, read reviews, do a lil home work n see chewy has 100% bettr fountains then this leaky mess. I hav 2 fountains n both are from chewy, run great, browse chewy fountains u'll find what u need, I wouldn't recommend this to anyone.
---
By Alissa on Apr 6, 2022
Spend the extra $10 to get a better one
I got this water fountain for one of our cats who was recently diagnosed with kidney disease. He loves to drink from the sink/bathtub so I though he would like this design best. The first week I didn't notice much sound from the motor. Which was shocking after ready some reviews. But after about 8 days of having it, the loud noise started. I'm not sure why they even advertise how many ounces of water it holds. It uses none of the water from the back chamber to refill the bowl. I thought there was no way that could be true. So I took it apart (per directions) put it back together and it still doesn't use water from the chamber to refill the bowl. I'm honestly surprised Chewy continues to sell this fountain with all the less than great reviews and issues. Spend the extra $10-$15 and buy a better rated fountain.
---
By Nikki on Apr 9, 2022
I've now had for a year.
I've had this for a year, I'm sad seeing all the reviews saying theirs leaked. Mine has never leaked unless I over filled it. But I have the line perfectly figured out now. My cat drinks sooo much more water and he loves it. I put ice cubes in the back in the summer time and my boy loves it. I do take it apart about every month, month and half and clean all the pieces. Your supposed to do it more. But that's what works here. A little over a year I've had this fountians and definitely recommend.
---
By 3dogs2cats on Mar 23, 2022
Always leaking
So I've purchased this product twice not from here but in store both times there's a hidden leak on the underside that's impossible to see or get to. If your unfamiliar with it, where the water spurts up the tube is great hidden place for slime and mold to grow uninterrupted even after daily cleaning! Without a long thin pipe cleaner I would of never known. You have to almost fully dissemble the thing just to clean it. Running it under water won't do the trick ever! Be ready because to do it without damage can take about 40 minutes. And never fill it before you set it down. Always fill after assembly and placement.... Or you know hidden leaks.
---
By Enzian on Apr 17, 2022
Too hard to clean!
Do not buy this. There are so many nooks and crannies, some that seem to serve no purpose at all, that it is impossible to clean it. It was almost impossible to open it until I shaved off some of the tabs and I was never able to get the pump open to clean inside it. Not worth it.
---
By BoosMom on May 27, 2022
Great until it stops working
My cat loves it but it broke in under a year. The design lets your cat play with the water and easily shoot it out on the floor, which causes the pump to burn out.
---
By angi70 on May 19, 2022
LOVE THIS FOUNTAIN
I bought this fountain as a second cat well but mainly for my Imperial Shih Tzu to drink from, too. They all love it! It is so less complicated than my other fountain!
---
By Fountain on May 21, 2022
Leaked from the start
Bought this for my cats and leaked the first day. No matter how much or little water we used it still leaked from the side. Almost ruined my hardwood floors
---
By Lilly on May 21, 2022
Thirsty Cat
My cat was always trying to drink from a faucet. When we gave him a dish of water he would tip it over. Now that he has his fountain everybody is happy.
---
By Suci on Mar 6, 2022
Badly Made Invention
As soon as the dogs take a few sips of the water the pump no longer works. The pump should have been placed differently so that it absorbs the water in the tank instead of just letting it overflow. As soon as the level of water drops the water stops cycling and the pump makes a horrible noise because it is no longer running with water. This was a good idea but it was badly designed.
---