Drinkwell Original Plastic Dog & Cat Fountain, 50-oz
By Drinkwell
---
About This Item
50-ounce water capacity.
The free-falling stream keeps water fresh, encouraging pets to drink more.
Replaceable carbon filter removes bad tastes and odors.
Receiving ramp reduces splash of falling water.
Completely disassembles for easy cleaning and is dishwasher safe (excluding pump).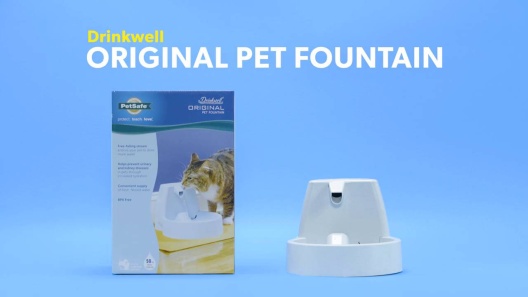 Learn More About Drinkwell From Our Team of Experts
---
---
About PetSafe Drinkwell Pet Fountains (for Small Pets)
Fresher, Cleaner Water
PetSafe Drinkwell pet fountains are designed to encourage your furry friend to drink more water. A continuous circulation system helps prevent bacteria growth so they're a safe oasis of clean water for your pet. They come with replaceable carbon filters that help remove bad tastes and odors. Plus, with a variety of styles and sizes available, you are sure to find the one that's right for your pet and home.
Sized for Petite Pets
PetSafe Drinkwell pet fountains are available in smaller sizes, which means they're perfect for smaller pets, including small breed dogs and most cats. Because tiny pets love a clean stream of fresh drinking water that's on demand, too. The smaller sizes range from 100 ounces to 168 ounces to meet your pal's hydration needs without taking up extra space in your home.
The Classic Style in Plastic
Plastic fountains are a great addition to any home because they can be easily cleaned with the fountain cleaning kit or a non-abrasive cloth or sponge. Most fountains are top-shelf dishwasher safe, too, which means a cleaner fountain with less hassle. Plus, they're all made with BPA-free plastic, so they're completely safe for everyday drinking for your best friend.
The Modern Look in Stainless Steel
Stainless-steel fountains look sleek and stylish in your kitchen, bathroom or anywhere in your home, which is why people love them—and thirsty pets, too. These modern-looking fountains are sturdy and rust-free, while also being easier to clean and keep sanitary. And the best part is, stainless steel is recommended by vets as one of the safest materials for your pet.
Oh, So Chic Ceramic
With elegant designs to match any home decor and colors to brighten your home or blend in, the stylish and chic ceramic fountains keep your pet hydrated and look great anywhere. Plus, they're made with hygienic ceramic that's easy-to-clean and top-shelf dishwasher safe. What more can you ask for in a pet fountain?
About PetSafe
Since 1991, PetSafe has been keeping pets safe and making pet owners happy with quality, reliable products. PetSafe is devoted to innovation with a range of products to help you and your pet share the best moments. They make it a point to consult with top trainers, veterinarians and behaviorists and listen to feedback from pet parents so they can continually improve their designs and processes.
Shop PetSafe
Compare Similar Items
| | | | | | |
| --- | --- | --- | --- | --- | --- |
| | | | | | |
| Customer Rating | | | | | |
| Price | | | | | |
| Breed Size | Medium Breeds, Large Breeds | Medium Breeds, Small Breeds | Medium Breeds | Small Breeds, Medium Breeds | Large Breeds, Giant Breeds |
| Bowl & Storage Feature | N/A | Dishwasher-Safe, BPA-Free, Lead-Free, Tip-Resistant | N/A | Dishwasher-Safe, Automatic | N/A |
| Capacity (Max) | 50-oz | 67.6-oz | 40-oz | 40-oz | 100-oz |
| Material | Plastic | Plastic | Plastic | Plastic | Plastic |
| Assembly Required | Yes | No | Yes | Yes | Yes |
| Compatibility | Plug-In Power | Plug-In Power | Plug-In Power | N/A | Plug-In Power |
| Tools Included | No Tools Required | N/A | No Tools Required | No Tools Required | No Tools Required |
---
Questions & Answers
35 Customer Questions
---
Does this fountain use the newer model pump? The blue and black one. My old one (it died) was a different type.
Answer by sparky • Feb 15, 2022
The blue and black one is labeled as the Original Drinkwell fountain pump replacement so I believe it is compatible with the original fountain.
---
Can the pump be replaced rather than having to re-purchase this water fountain?
Answer by • Oct 25, 2017
Drinkwell does manufacture a replacement pump for the new model of the Drinkwell Original Fountain.
---
How do you clean the pump? It doesn't come apart but gunk is starting to buildup in it.
Answer by • Aug 13, 2017
To clean the pump you must first remove the motor from the fountain.Lift the impeller out of the motor. There may be a faceplate covering the impeller than can be pulled up with a coin or fingernail. Wash the impeller in soapy water .Pour soapy water inside the motor cavity and clean with a small round brush or anything that can reach all the way inside of the cavity.
---
Can I adjust the water flow rate?
Answer by • May 29, 2021
This fountain includes an adjustable flow control to increase or decrease flow of water. Please check the image for reference.
---
---
---
By TCR1 on Mar 24, 2022
Water fountain for my cat
This is my third Drinkwell water fountain. Twelve years ago I purchased my first Drinkwell water fountain. My 2 cats really liked drinking from it, so I purchased a second one to put upstairs. My last cat passed away 10 months ago at the age of 17, and I decided it was time to retire the water fountains. I've just recently adopted another rescue cat, and decided it was time to buy a new water fountain. Since I had so much luck with the first 2 fountains I decided on another Drinkwell fountain. I found the newer versions easier to clean, so that is a plus. My new cat adjusted to drinking out of the fountain very quickly, and I know it is healthier for him to be getting water from the fountain that is moving and filtering all the time, verses water sitting in a bowl for 24 hours or more. My suggestion would be to buy a Drinkwell fountain if you are considering the purchase of a water fountain.
---
By Mish on May 2, 2022
Pretty Nice Sound
I had a smaller Drinkwell that fell. This one is good for the price. It has a wide base. My cat likes to look at the 2-3 bubbles that form. And she enjoys drinking from it. I have it in the kitchen and it makes a soothing-water-trickling- fountain sound, ( not like the others that make that wah angry motor).
---
By 2catmoma on Apr 11, 2022
first time buyer
This is the first water fountain I've ever used. My new cats took to it pretty well, especially the one that was always trying to drink from any sink in the house. However the flow control handle doesn't seem to work at all. I would prefer if the flow was a little slower. Also it seems pretty noisy. I'm using spring water in it because the water here is dreadful, imo. It seems well made and looks to be easy to take care of.
---
By Denyse307 on May 2, 2022
Best water fountain
This is the 2nd time I have bought a Drinkwell. I bought one back in 2003. The motor in this one is so much better. My cats love it. My dog has now started sneaking in and drinking up all the water.
---
By Sandy on Apr 11, 2022
My cats love it!
We have four of these fountains and our cats love them! This one is a replacement for one we have had for over 10 years and it was still working but was beginning to look old. Cats love the moving water and tend to drink more water.
---
By SmudgeMom on Mar 23, 2022
Wish all things were made this well!
We've had our Drinkwell fountain for about 4 years, and have never had any problem with it 'till recently, when the pump gave out. Our kitties love drinking from it, so I'm sure they're getting plenty of water. I'm online ordering a new one right now, because we were so happy with the first one. Be Kind :)
---
By Karen on Apr 25, 2022
Noisy Fountain
I got this for the relaxing sound of the water, but the motor is so loud that water flow can't b heard!!! I am extremely disappointed n so r my cats.
---
By Fountain on Feb 9, 2022
Replacement improved.
I have used a Drinkwell Pet Fountain for well over a decade and been very happy with it, as have all my cats. It is especially reassuring when I trave even though I have a pet sitter. The small turning handle finally gave out so I ordered a replacement. This one is easier to clean, and the handle looks sturdier but otherwise the same and my kitty and I both like it.
---
By MickeyMinnieCatnip on Dec 28, 2021
Drink More, Hiss Less!
I have had numerous water fountains over the years and this is the absolutely best one. All the others (except this model in larger size) got hot at the electrical plug in point. So I never felt safe leaving them plugged in. This one is purrfect for my kitty and if I still had two kitties I believe it would be just right for multi-cats as well. This fountain emits surprisingly strong, and very pleasant water stream sounds. Our home is quite small and it is not loud but very nice.
---
By Russ on Dec 18, 2021
Long life fountain.
I had this same fountain in use for well more than two years before the pump quit working. The pet store where it was bought said there isn't a replacement pump, so I threw it all away with the intent to replace the fountain. I bought a different style of the same brand name from Chewy, but the cats do not like the new one very well. At least for now that is. I am now ordering this same design to replace the old one, and it will be placed in a different room, so they will have two watering holes. I already keep a bowl of water, and food out in this room, as well as multiple litter pans. I have been quite pleased with this fountain. It has a large bowl area too. I'm sure you will be satisfied. My cats will occasionally knock the lid off of it and drink from there too. Goofy Animals! In short, I was quite satisfied with this fountain's longevity, and the cats liked this one better than the newer version. I sure do wish I had looked here for a replacement pump first. Well... I'm off to the check-out now.
---