Drinkwell Platinum Plastic Dog & Cat Fountain, 168-oz
By Drinkwell
---
About This Item
168 oz (1.3 gal) capacity reservoir, ideal for multiple cats and dogs under 60 pounds.
Patented free-falling water stream with adjustable flow entices pets to drink more.
Spout and receiving ramp reduce splash and noise.
Pre-filter catches large particles before they reach the motor.
Low voltage, 12V system complete with cord tuck and inline disconnect for easy plug removal.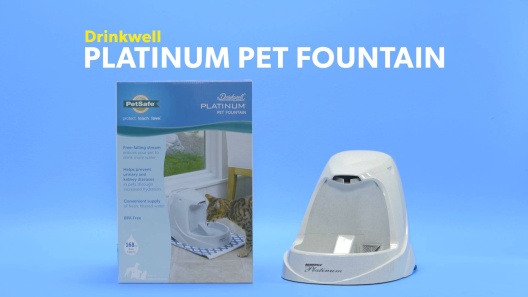 Learn More About Drinkwell From Our Team of Experts
---
---
About PetSafe Drinkwell Pet Fountains (for Large Pets)
Fresher, Cleaner Water
PetSafe Drinkwell pet fountains are designed to encourage your furry friend to drink more water. A continuous circulation system helps prevent bacteria growth so they're a safe oasis of clean water for your pet. They come with replaceable carbon filters that help remove bad tastes and odors. Plus, with a variety of styles and sizes available, you are sure to find the one that's right for your pet and home.
Sized for Larger Pets
PetSafe Drinkwell pet fountains are available in larger sizes, which means they're perfect for bigger pets including large breed dogs—and homes with multiple cats, too! Because every pet loves a clean stream of fresh drinking water on demand. The larger sizes range from 192 ounces to 450 ounces to satisfy even the biggest thirst-quenching needs.
The Classic Style in Plastic
Plastic fountains are a great addition to any home because they can be easily cleaned with the fountain cleaning kit or a non-abrasive cloth or sponge. Most fountains are top-shelf dishwasher safe, too, which means a cleaner fountain with less hassle. Plus, they're all made with BPA-free plastic, so they're completely safe for everyday drinking for your best friend.
The Modern Look in Stainless Steel
Stainless-steel fountains look sleek and stylish in your kitchen, bathroom or anywhere in your home, which is why people love them—and thirsty pets, too. These modern-looking fountains are sturdy and rust-free, while also being easier to clean and keep sanitary. And the best part is, stainless steel is recommended by vets as one of the safest materials for your pet.
Oh, So Chic Ceramic
With elegant designs to match any home decor and colors to brighten your home or blend in, the stylish and chic ceramic fountains keep your pet hydrated and look great anywhere. Plus, they're made with hygienic ceramic that's easy-to-clean and top-shelf dishwasher safe. What more can you ask for in a pet fountain?
About PetSafe
Since 1991, PetSafe has been keeping pets safe and making pet owners happy with quality, reliable products. PetSafe is devoted to innovation with a range of products to help you and your pet share the best moments. They make it a point to consult with top trainers, veterinarians and behaviorists and listen to feedback from pet parents so they can continually improve their designs and processes.
Shop PetSafe
Compare Similar Items
| | | | | | |
| --- | --- | --- | --- | --- | --- |
| | | | | | |
| Customer Rating | | | | | |
| Price | | | | | |
| Breed Size | Large Breeds, Giant Breeds | Large Breeds, Giant Breeds | Medium Breeds, Large Breeds | Medium Breeds, Small Breeds | Small Breeds |
| Bowl & Storage Feature | N/A | N/A | N/A | Dishwasher-Safe, BPA-Free, Lead-Free, Tip-Resistant | Automatic, Dishwasher-Safe |
| Capacity (Max) | 168-oz | 128-oz | 50-oz | 67.6-oz | 50-oz |
| Material | Plastic | Plastic | Plastic | Plastic | Plastic |
| Assembly Required | Yes | Yes | Yes | No | Yes |
| Compatibility | Plug-In Power | Plug-In Power | Plug-In Power | Plug-In Power | N/A |
| Tools Included | No Tools Required | No Tools Required | No Tools Required | N/A | No Tools Required |
---
Questions & Answers
58 Customer Questions
---
does this slow the dog done when drinking. mine drinks so fast he throws up.
Answer by Shannon • Jun 22, 2021
There is a well for the fountain to pour into, and while there is a buffer, if you dog does drink a lot at once, this product wouldn't hinder him at all. So unfortunately not
---
Mine overflows when I fill the reservoir, am I doing something wrong does anyone have any suggestions defeats the purpose of that holding a gallon
Answer by • Sep 30, 2017
The Platinum fountain is overflowing due to the reservoir not equalizing and emptying all of the water into the bowl. The Platinum would overflow only if air has access to enter freely. If air is entering the reservoir, the water will not equalize and the reservoir will begin to overflow the fountain. The way air would have access is if the reservoir is damaged, or if there is an air leak caused by a hairline fracture or crack in the reservoir plastic. Troubleshoot a leaking fountain, or purchase a new reservoir.
---
How often should I replace the filter?
Answer by • Feb 21, 2022
Filters help extend the life of your fountain and pump and should be replaced every 2 to 4 weeks.
---
Going on vacation for a week, will this be safe plugged in and will it be enough water for one cat?
Answer by • Oct 24, 2017
On average a cat will drink 4 ounces of water per day. This will hold 168 ounces of water. It is safe to leave this plugged in for extended periods of time.
---
---
---
By JamesWestbrook on May 1, 2022
Best pet water fountain I have ever had.
I owned this model for 10+ years with no problem with the fountain or the pump driving it. Then came the monthly cleaning, and I ended up doing unrepairable damage and my seven cat furbabies were very mad at daddy for the few days it took for the replacement to arrive. This model will give you years of service with just a little PM every month. Just drain the water and clean it with warm soapy water. Clean any pet hair from the intakes of the pump, then break it down to the impeller and finish getting all that hair from the moving parts. The pump is a simple impeller-driven pump, much like what is the driving force of most fire engines. If you don't want to do the PM every month, just contact me in six months to a year when you decide to sell it in your yardsale, I'll give you $5.00 for it... LOL
---
By Teresa on May 8, 2022
So far, so good!
I have a cat who wants to drink out the bathroom sink, so I decided to try this plus I have 2 other cats and a large dog. The dog has her own water bowl, but she likes this fountain too and will use it now and then, however, the 3 cats LOVE it. I've never seen them drink so much before and the 2 of the 3 drink of the fountain, the other one just drinks from the bottom. It's pretty easy to put together, refill and clean…it's not loud at all, like some reviews I read, so I think those others must just have issues. It's pretty quiet. Give it a try.
---
By WatchOut on Apr 23, 2022
Flooding my kitchen
I have to admit to loving this watering fountain. I have purchased two of them over the years. The first one stopped pumping the water (the pump was working because I could hear it but the water wouldn't pump. I called and complained and the lady at Chewy said the water container must have a hairline crack. So I purchased that part and it was a little better but still had problems. Then a few months ago it quit altogether and I bought a different model at the pet store. That one was a total piece of CR*P! So I came back to Chewy and ordered this one again. I have only had it about a month and when I get up this morning, my kitchen is flooded. For some reason, the pump has pumped all the water OUT of the basin. It's now ALL OVER MY KITCHEN FLOOR. You tell me, is that an acceptable way to work?
---
By Judy on Apr 25, 2022
House favorite
Works incredibly well. Our 60lbs dog is not interested, I assume because of the small stream but it is perfect for our two cats. They're drinking a lot more water since we brought this into our home and I enjoy hearing their little tongues lap it up or watching the water fall on top of their heads as the drink from the pooled water. We believe this purchase has been our greatest pet investment. (For anyone worried about how to clean it with it's tight corners, just use a skinny straw cleaner!)
---
By BJOk on Apr 7, 2022
Wonderful fountain. Has run constantly 6 yrs. except for 1 hr cleaning 1x week.
I have 2 rescued cats. #1 we found in bushes behind our home. She was a spit fire at 5 weeks and has always been comfortable playing in water. (our back yard was a lake). Believe she was of a feral mother & only survival of a hawk attack. #2 was born in a shelter & had foster care got her at 12 weeks. They are the same age. They both drink from sink faucets when they can. They play in and drink from this fountain. We had to place the fountain in a plastic tray to keep the floor dry. Our tray is a hot water tank tray from hardware store, but could use a plastic rabbit cage replacement tray. Purchasing a second fountain.
---
By Maryintx29 on Mar 14, 2022
Works for Cats that Like to play with the water bowl
I have a kitten that likes to move water bowls and get water all over the place so I had bought a small water fountain hoping that would work but she could still move that one. Couldn't tip it over like the water bowls but could still move around and get water all over so I asked one of the phone operators what he might suggest and he suggested this one. This one is perfect. It's heavy enough she can't move it at all. I have trouble moving it myself even, but that's fine. Now she just plays in it, which is hilarious but I don't end up with water all over the place and the dish in another spot. Some of the cats like drinking from the fountain part and others like to drink from the bowl. The back has a removeable water reserve and that helps me make sure they have plenty of clean water without having to move the rest of it and the little one gets to get herself all wet without making a mess LOL
---
By Reba on Mar 22, 2022
Great fountain, but sometimes...
So I have been using this fountain for several months now for my five cats. I adore it, but it has one large downfall. It kinda "dams" up and begins to leak EVERYWHERE. It creates such a large mess that, if I had different flooring, I'd probably have to replace it by now. So because of that large issue, I'm rating this three stars. It's a great fountain and my cats took to it easy, but the damming issue is huge. I won't purchase another of the same for my second fountain when the time comes.
---
By PracticallyAFarm on Apr 8, 2022
I've had this for over two years.
I have had this fountain for over 2 years! My dogs have sucked the water dry more times than I'd like to admit, but the pump has never gave out! My cats love to drink from the stream. My cats are faucet drinkers which is actually why I initially purchased this. My farm of 7 love this, and I love that it provides moving fresh water!
---
By AngieC on Feb 16, 2022
pets cannot live without this
Water lasts a week after cleaning. We have 4 brats. And they love it so much, when I'm cleaning it, which is much easier than the original Drinkwell fountain, they're staring at us, like hurry up. It's worth it, esp. because the water is always fresh. And I see comments about spilling over. You have to follow the filling instructions - only put water where filter is, and a little in front area only, about a half inch, then let back reservoir do the rest. It's never overflowed, and when water runs low, we can hear difference, and so can pets, who come and get us to add water. :-)
---
By Mara on Jan 22, 2022
Wonderful!!!
I purchased this fountain for my two pit bulls for Christmas, and was not disappointed! This new Fountain is large enough for the 2 of them and the water is constantly filtered out by a carbon filter included with fountain. My 2 full grown dogs love it they drink from the falling water to the basin. I had purchased in the past a different fountain that the filtration system burned out. This one is very quiet. I just can hear the sounds of the water falling. Very quiet compared to the other I had. Very well worth the price and the description is as advertised. I would absolutely recommend this product!
---