Drinkwell Seascape Ceramic Dog & Cat Fountain, 70-oz
---
---
Try This Similar Item By Chewy
---
Frequently Bought Together
---
About This Item
With a large water capacity of 70 ounces, it's the perfect fountain for small to medium sized pets.
Moving water entices your pet to drink more, encouraging hydration, and the constant circulation inhibits bacteria growth at the bottom of the bowl.
Includes a replaceable carbon water filter that removes bad tastes and odors, keeping water fresh.
Submersible pump and circulating water provides quiet operation, making it great for anxious pets and non-disruptive to your home!
Ceramic design is more hygienic and fits seamlessly with any décor.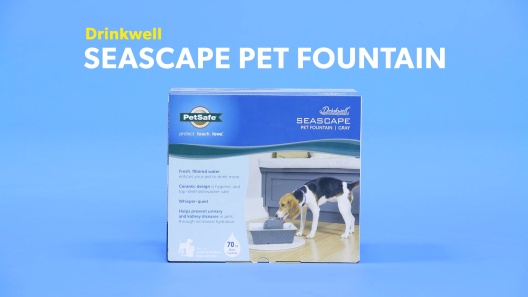 Learn More About Drinkwell From Our Team of Experts
---
---
About PetSafe Drinkwell Pet Fountains (for Small Pets)
Fresher, Cleaner Water
PetSafe Drinkwell pet fountains are designed to encourage your furry friend to drink more water. A continuous circulation system helps prevent bacteria growth so they're a safe oasis of clean water for your pet. They come with replaceable carbon filters that help remove bad tastes and odors. Plus, with a variety of styles and sizes available, you are sure to find the one that's right for your pet and home.
Sized for Petite Pets
PetSafe Drinkwell pet fountains are available in smaller sizes, which means they're perfect for smaller pets, including small breed dogs and most cats. Because tiny pets love a clean stream of fresh drinking water that's on demand, too. The smaller sizes range from 100 ounces to 168 ounces to meet your pal's hydration needs without taking up extra space in your home.
The Classic Style in Plastic
Plastic fountains are a great addition to any home because they can be easily cleaned with the fountain cleaning kit or a non-abrasive cloth or sponge. Most fountains are top-shelf dishwasher safe, too, which means a cleaner fountain with less hassle. Plus, they're all made with BPA-free plastic, so they're completely safe for everyday drinking for your best friend.
The Modern Look in Stainless Steel
Stainless-steel fountains look sleek and stylish in your kitchen, bathroom or anywhere in your home, which is why people love them—and thirsty pets, too. These modern-looking fountains are sturdy and rust-free, while also being easier to clean and keep sanitary. And the best part is, stainless steel is recommended by vets as one of the safest materials for your pet.
Oh, So Chic Ceramic
With elegant designs to match any home decor and colors to brighten your home or blend in, the stylish and chic ceramic fountains keep your pet hydrated and look great anywhere. Plus, they're made with hygienic ceramic that's easy-to-clean and top-shelf dishwasher safe. What more can you ask for in a pet fountain?
About PetSafe
Since 1991, PetSafe has been keeping pets safe and making pet owners happy with quality, reliable products. PetSafe is devoted to innovation with a range of products to help you and your pet share the best moments. They make it a point to consult with top trainers, veterinarians and behaviorists and listen to feedback from pet parents so they can continually improve their designs and processes.
Shop PetSafe
Compare Similar Items
| | | | | | |
| --- | --- | --- | --- | --- | --- |
| | | | | | |
| Customer Rating | | | | | |
| Price | | | | | |
| Breed Size | Small Breeds, Medium Breeds, Large Breeds | Large Breeds, Small Breeds, Medium Breeds | Medium Breeds, Large Breeds | Medium Breeds, Large Breeds | Large Breeds, Giant Breeds, Small Breeds, Medium Breeds |
| Bowl & Storage Feature | Lead-Free, Tip-Resistant, Dishwasher-Safe | Dishwasher-Safe, Lead-Free, Tip-Resistant | Dishwasher-Safe, Lead-Free, Tip-Resistant | Dishwasher-Safe, Lead-Free, Tip-Resistant | Dishwasher-Safe, BPA-Free, Lead-Free, Tip-Resistant |
| Lifestage | Puppy, Kitten, Adult, Senior | Puppy, Kitten, Adult, Senior | Adult | Adult | Puppy, Kitten, Adult, Senior |
| Material | Ceramic | Ceramic | Ceramic | Stainless Steel, Metal | Stainless Steel, Metal |
| Capacity (Max) | 70-oz | 70-oz | 60-oz | 60-oz | 128-oz |
| Assembly Required | Yes | Yes | Yes | Yes | Yes |
| Compatibility | Plug-In Power | Plug-In Power | Plug-In Power | Plug-In Power | Plug-In Power |
---
Questions & Answers
26 Customer Questions
---
What replacement pump is compatible with this fountain. They all have them listed except NONE give this fountain...
Answer by • Jun 05, 2019
The Drinkwell 360 Ceramic Pet Fountain Replacement Pump is compatible with this fountain.
---
Is this a quiet fountain?
Answer by • Sep 14, 2019
This drinking fountain has a whisper-quite operation.
---
How heavy is the fountain? My cat loves to play in water and tends to knock water bowls over. Will this be easy for him to knock over?
Answer by • Jun 25, 2018
The fountain weighs about 5.2 pounds. This ceramic design adds the necessary weight so it's not easily knocked over.
---
how often do you need to clean it?
Answer by • Jul 11, 2019
For best performance, the fountain pump needs to be cleaned every two weeks. When cleaning the pump, we recommend cleaning the fountain and changing the filter as well. Multi-pet households may need to be cleaned more frequently. For details of how to clean the pump along with the manual, click the "Instructions" tab, next to the "Description" tab, just under the product photos.  
---
---
---
By Mubs on Sep 24, 2022
Very Quiet
After the old water fountain broke I had to look for something else since they don't make that one anymore. I love the water fountain. It is very quiet and that is what I was looking for! The other one was quiet but this is quieter than the old one. It did take at least half a day for my cat to adjust but now she drinks out of it no problem. I you have any hesitations - don't. Buy It!
---
By JerseyJoyce on Aug 13, 2022
Seascape Fountain
I have 2 cats one drinks right from the top and the other hasn't gotten the hang of it and drinks from the bowl. One thing! they were never great water drinkers, but having the fountain they do drink more. I keep up with changing the filter each month which keeps the fountain clean and running with no issues. the seacape is very quiet which is good for the skidish cat. I had also gotten the Pagoda but that never worked out because too much water noise. One down fall on my fountain (and I don't know if they're all like this. The glazing on the bowl is not fired properly. It makes it hard to clean and has a rough surface.
---
By Newsy1 on Sep 21, 2022
Fountain is great, filters are TERRIBLE
This fountain is quiet and a good size for our dog. BUT -- I'm returning it after 2 weeks because the carbon filter is TERRIBLE. The water bowl is constantly filthy because the carbon filter leaks dust, and I don't want our dog getting sick. Getting one that has different filters.
---
By Kitkats3 on Sep 10, 2022
Seascape ceramic fountain
Whisper quiet. Simple to disassemble & clean. perfect amount of water in the reservoir. All 3 cats LOVE it! They sometimes drink from the top where the water comes out, sometimes lick along the sides of the porcelain ball, & sometimes from the reservoir bowl. No mess or water splashing.
---
By Betsy on Jul 25, 2022
Water fountain pump problems
I ordered this water fountain for my new kitten and my other cat who is six months old. Assembly was not difficult, however, the fountain did not work! The pump would not pump the water from the top as it is supposed to. I did contact the company immediately, and they did send a replacement pump within two days. I have not yet tried to take it all apart and put it back together with the new pump yet. But will add To this review and let everyone know if the new pump works! The fountain is aesthetically pleasing, and the company's customer service was very prompt and polite. I am really hoping that it will work correctly with the new pump.
---
By Zuko on Jul 19, 2022
My cat loves it! Doesn't make him cough
This fountain was my final stop in the quest to get my cat to drink more water. He doesn't care for plain bowls of water, and I've tried the cheap plastic fountains with the little flowers, but my cat kept having these fits of coughing when drinking. I finally realized it was the fountain causing him to accidentally inhale bits of water. This fountain doesn't cause that problem, I think because the water flows over the ceramic without falling or splashing. It's not the easiest thing to clean, and the filters require a lot of rinsing to get the extra carbon dust out, but overall the design is good. The fountain and the water pump can be totally disassembled for complete cleaning, unlike some other designs that just keep collecting gunk in crevices. My cat loves it; he uses it all the time and it keeps him well hydrated!
---
By Water on Jun 8, 2022
Use a bowl of fresh water
I purchased this fountain in 2020. It is now 2022. I changed the water once/week initially and int he last year twice/week. I washed the bowl and parts each time and put all but the pump in the dishwasher twice a month. I also changed the filters per instructions. The instructions state not to be concerned over some black residue or small chunks of charcoal. I also used ONLY filtered tap water (Franke water filter that is also changed regularly). I experienced the following problems: 1) A black ring formed along the inside of the bowl that despite scrubbing (used Bon AMI prior to putting in dishwasher and a scrubbing sponge and water every time I replaced the water). 2) Pump quite working, replaced twice. Finally took apart the pump and cleaned it as well - found lots of charcoal clogging the pump. Still had to 'hand start' the fan in the pump to get it working every time. 3) Stopped using the charcoal filter to see if fountain still worked (yes) and saw charcoal bits stuck in foam filter that surrounds the pump two weeks later. 4) Saw formation of mold on inside of canister that holds the charcoal filter on a few occasions (after only a few days of use which is why I cleaned the fountain so often). Considering the expense to purchase, the expense of buying and replacing the filters (and the pumps) and the time and effort needed to clean the unit, this fountain is certainly not worth it. My cat loves to play in water so I turn on the faucet for a minute or two. I give her clean, fresh water every day and don't worry about her picking up something nasty from the fountain.
---
By Jaque on Jul 18, 2022
Excellent Fountain
My animals absolutely love this fountain. My cat actually gets mad and tries to dig at the door when I close her out of the room where I keep it. My chihuahua minpin mix is a fan as well.
---
By Steve on Sep 25, 2022
Great until it stops working
My cats loved this fountain and so did it until it stop working recently. would avoid at the price
---
By KatC on May 10, 2022
Fountain of Dreams
I had been wanting to order a fountain for a long time. It took my two cats a day or two to get used it (by gradually moving their water bowl next to the fountain and then eventually allowing the water bowl to dry out). Once they got the hang of it, they both seemed to really like it. It has enough space in the bottom for my female cat to skim lick across the top which she enjoys doing and for my male cat to switch sides. It's a nice solid fountain and super quiet. Really recommend it.
---