Droll Yankees Yankee Flipper Motorized Bird Feeder, 28.5-in
By Droll Yankees
---
About This Item
Motorized design spins when a squirrel lands on the perch to gently throw the intruder off.
Free-flowing seed action keeps birds happily fed and has four feeder ports to accommodate multiple visitors.
Outdoor-proof with UV-resistant 5-pound capacity polycarbonate tube, heavy duty metal components, and tightly-fitting metal cap.
Weight-triggered spinning motor won't be activated by birds, even larger ones like cardinals and woodpeckers.
Perfect for cardinals, chickadees, finches, flickers, goldfinches, grackles, grosbeaks, jays, juncos, kinglets, nuthatches, sparrows, and more.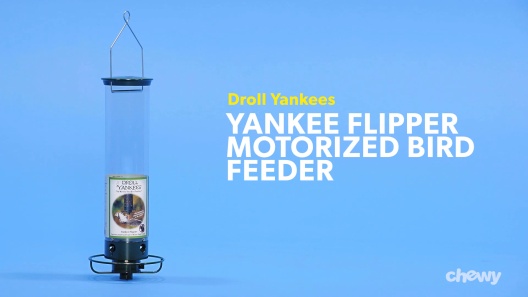 Learn More About Droll Yankees From Our Team of Experts
Click here for Droll Yankees Yankee Flipper Powerstick Replacement, when your feeder needs a tune-up.
---
Compare Similar Items
| | | | | | |
| --- | --- | --- | --- | --- | --- |
| | | | | | |
| Customer Rating | | | | | |
| Price | | | | | |
| Bird Type | Wild Bird | Wild Bird | Wild Bird | Wild Bird | Wild Bird |
| Material | Coated Metal, Plastic | Plastic, Coated Metal | Steel, Plastic | Steel, Plastic | Plastic, Coated Metal |
| Capacity (Max) | 5-Ib | 5-Ib | 5-lb | 5-lb | 1-Ib |
| FarmAnimalType | N/A | N/A | N/A | N/A | N/A |
---
Questions & Answers
11 Customer Questions
---
I have lost the plug in for the power stick. Can I buy a replacement?
Answer by • Jan 26, 2018
The Droll Yankees Yankee Flipper Powerstick Replacement can be purchased separately.
---
I can't get my power stick to come loose. What am I doing wrong? How do I get it out to charge?
Answer by • Mar 12, 2018
Charging: Follow steps; Disassemble #1 and #2, and Assemble #5 1. Check the black activation switch, which is located on the base assembly, is in the "OFF" position. 2. Disengage the base of the feeder by first placing the base in the palm of your right hand with the black activation switch facing you, while firmly holding the lower section of the tube with your left hand. Insert fingers upward through perch ring spokes and grasp the base assembly (like a small ball) firmly with your fingers, placing your thumb against the right side of the black activation switch for leverage, and twist counter clockwise (viewed from the bottom) approximately ½". You will feel a distinct click and then lower the base which will separate from beneath the port. 5. Remove the bail rod by laying the tube on a flat surface with the bail rod parallel to the table/floor. Apply pressure to the top of the tube until it becomes oval/oblong in shape to free one side of the bail rod. Reach inside the tube and shimmy the other end of the bail rod out of its hole.
---
I understand how the spinner at the bottom of the feeder works to repel squirrels, but can't they climb on from the top and get at the seed?
Answer by • May 21, 2018
This feeder immediately spins when a squirrel lands on the perch to gently throw the intruder off. The feeder is too long and slippery for squirrels to climb to get to the seed ports.
---
Is this new or reconditioned?
Answer by • Feb 27, 2018
This product is new.
---
---
---
By MandMnGA on Mar 4, 2022
Squirrels are now on strike
They gave up, we enjoyed the process. Reminded us of Chicago's song "Spinning World, Got to Go Round". Easy set up. Will pay for itself in saved seed purchases.
---
By Dogz on Nov 12, 2021
IT WORKS!!!
I am so happy to have a dedicated feeder for the birds. I didn't want to hurt the squirrels so this was just perfect. A gently spin to the ground and they were off.
---
By Squirrelisanity on Aug 13, 2021
Squirrel Management
Squirrel's or tree rats as I affectionally call them, love my bird seed, and sunflower seeds. This is the second Yankee Droll Flipper I own, use in two spots in the yard, and I use no other feeders, other than Hummingbird feeders. This is worth the money, squirrels hate it, and have yet to figure out how to overcome the defensive action. It's actually somewhat entertaining to watch the squirrels fly through the air as that get flipped. I have owned other "Squirrel Proof" feeders, but this is the best by far. Strongly recommend it.
---
By Broken on Jul 7, 2021
Broke after 1 month
Was excited about this feeder, and it seemed to work pretty well at first. Noticeable difference in how much birdseed I was going through. However, after a month, the turning of the perch appears to have stripped the threads on the assembly unit, and the whole thing fell off. I screwed it back on, but it won't stay and fell off again the first time a grackle landed on it. Disappointed that it broke so quickly, as it was pretty pricey.
---
By Susie on May 20, 2021
Squirrels beat this in two days
I had heard from neighbors that this worked really well, and I was so excited to get it and hang it up. It worked as a squirrel deterrent for about two days, and then they developed a strategy to clean out my feeder again. What they discovered is that the spinning motion of the feeder shakes the birdseed out of the feeder quite rapidly. They jump onto the perch and hang on as long as they can as birdseed practically sprays out from the feeder. Once they've been shaken off, they scurry around like kids cleaning up after a piñata has burst. When the squirrels want more food, they simply grab on and go for another ride. This feeder might be a good purchase if you have dumb squirrels, but it won't work if you have geniuses like we do.
---
By Kitt on Mar 7, 2021
Thrilled with Purchase
Too early to know it's effectiveness but I am surprised that the Yankee Flipper is much larger than I expected. This pleases me because I won't have to refill it as often as smaller feeders. It appears to be quite sturdy and the instructions are easy to follow. Lastly, I have been considering one of these for many months and was very happy to find it on Chewy at the best price I could find online. So I am thrilled with this purchase. I am also pleased with Chewy's customer service--when I notified them that my initial order never arrived, they sent out a replacement order which indeed DID arrive in the estimated 3 days!
---
By Kell on Jun 16, 2021
Great! Fun to watch also
We have had this same feeder for years and has been great! I decided to order one for my dad for Father's day!
---
By Birds on Apr 22, 2021
Entertaining
This feeder is worth the price. You get to watch the birds eat, but once a squirrel jumps up, it goes for a ride. It really works and I would recommend it.
---
By Birdliker on Feb 7, 2021
Not worth the money will ultimately fail
I have had this feeder about 9 months. Worked well at first. Squirrels eventually found a way to jam their body between the feed hole and ring. I assume there is a clutch inside that now is worn. In any case this expensive feeder does not work anymore. Squirrels are extremely persistent and will eventually find a way to defeat most squirrel proof feeders. So I would not recommend investing in a complex/expensive one. I also own a Brohe Squirrel Solution 200. That one is much simpler and works well. You will need to modify the top as the squirrels found a way to pry it off. I also own a Squirrel Buster Suet feeder. It is a bit more pricey but is an excellent feeder.
---
By SSme on May 19, 2021
Best feeder
Best bird feeder out there, keeps squirrels off. Worth every penny, lasts for years.
---