Ethical Pet Birds Of A Feather Plush Cat Toy with Catnip, Color Varies
By Ethical Pet
---
About This Item
Plush head with fluffy feather body your cat will love.
Contains catnip for hours of entertainment.
Feathers stimulate natural stalking and hunting instincts.
Good for multiple cat households.
A fun toy that's suitable for your cat.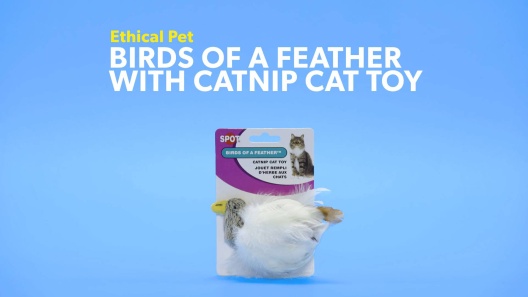 Learn More About Ethical Pet From Our Team of Experts
---
Compare Similar Items
| | | | | | |
| --- | --- | --- | --- | --- | --- |
| | | | | | |
| Customer Rating | | | | | |
| Price | | | | | |
| Toy Feature | Catnip, Exercise, Feather | Crinkle, Catnip, Exercise, Feather | Stuffing-Free, Catnip, Exercise | Stuffing-Free, Catnip, Exercise | Catnip, Feather |
| Toy Type | Plush Toys | Plush Toys | Plush Toys | Plush Toys | Plush Toys |
| Material | Polyester | Jute | Polyester | Polyester | Polyester |
---
Questions & Answers
Be the first to ask a question.
---
---
---
By Mack on May 4, 2022
Gonna buy one every two months
Our almost 1yo kitten LOVES this toy, whether it's mauling the toy itself or chasing the loose feathers up and down the hallway and then past the air intake so the pull will make the feathers move. I pull over half a dozen (usually the same ones) feathers out of the air filter twice a week and it's like Christmas all over again for her, up until the air filter is too hairy to cleanly retrieve the feathers. I've never been so vigilant on replacing my air filters as I am now. I wonder how many are hiding under the couch? Our 5yo cat is very laid back but she'll treat herself to a few swats here and there. I have 3 of these toys right now, but it's definitely time to replace one. There's just one sad feather sticking out now, but she'll still chase the toy if you throw it for her. All in all, we have definitely received more than $5 of enjoyment out of each of these toys which makes them absolutely worth the money. And no, she doesn't try to eat the feathers.
---
By Laura on May 13, 2022
Still does the job
I ordered this for my cats and there is nothing wrong with it. It is a cat toy and it functions as a good cat toy. However it looks nothing like the picture to the point that I really wonder if I got sent a different toy.
---
By Lynnie on May 6, 2022
Everyone Loves Birdie!
I have 4 cats ranging in age from 2 to 12 years old and all 4 play with Birdie! Since all 4 have such different personalities, it's not easy to find something that all will like, but they love to play with this.
---
By Jad3Duham on Feb 2, 2022
Cute, Doesn't Last
I bought this because it looked cute and wasn't that expensive. Well, apparently it's only good for a dollar a minute, because my cat ripped out pretty much all the feathers in five minutes. Five dollars for five minutes. That isn't much value to me and probably wouldn't be to most people. My cat likes his toys. Anything ball shaped lasts for quite awhile, while anything plastic meant to chew lasts a few weeks to a month. I was expecting at least a week, hopefully a month of play out of this toy, but I got five minutes. If you have a cat that is gentle, this might be for you. If you have a cat that likes to bite at their toys, wrestle, and fight their toys, I wouldn't recommend this product.
---
By Amy1 on Apr 7, 2022
Loose Feathers
A lot of the feathers fell out when I took the toy out of the box; however my cat does like it. It would be a great toy if the feathers stayed on better.
---
By BritishShortHair on Mar 19, 2022
my kitty only gave it one short sniff
This was not appealing for whatever reason! Feathers came out immediately and since it didn't pass the sniff test it didn't last long. Cannot recommend...
---
By GrannyLlyn on Dec 8, 2021
This toy is a winner
Okay yeah there was a loose feather in the box. I expected more, given the reviews. And yeah there were half a dozen more feathers on the floor within a minute of our little guy's getting his paws on it, and yeah we've been picking up feathers ever since. Boo hoo. Most importantly, yeah we will absolutely buy this again. In fact, next time we place an order we'll get two just so we always have one on hand when the current one has lost too many feathers to hold his attention. Totally worth it.
---
By Nigel on Mar 25, 2022
Fell Apart
The feathers fell out of this toy within seconds of my cat playing with it. Very disappointed! Total wast of money.
---
By Athleticlady on Feb 20, 2022
Squeaks did not stay impressed
Initially Squeaks loved this toy as she loves feathers, but she lost interest quickly. It is cute but did not hold her attention.
---
By MabelBabel on Jan 27, 2022
It's worth the mess
Sure the feathers fall out easily BUT this is my cats favorite toy right now. She will hop on her back legs and throw this toy around all day. Entirely worth it.
---