Ethical Pet Can Covers, 3 pack
---
About This Item
Pack of three multi-colored plastic can covers.
Durable plastic for long-lasting coverage.
Can covers measure 3.5 inches in diameter.
Protects from spoiling and drying out after opening to stay fresh longer.
Perfectly sized to fit just about any type of pet can.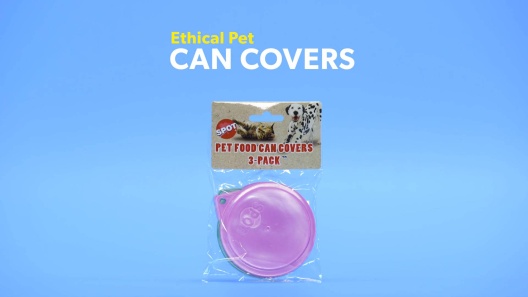 Learn More About Ethical Pet From Our Team of Experts
---
---
Questions & Answers
6 Customer Questions
---
How long will food stay good in frig. With this cap
Answer by • Dec 21, 2017
The freshness of your pet's canned food can sustain from 2-3 days with the use of the can covers.
---
Can the lids work with both sizes of can food
Answer by • Jan 28, 2021
These covers are designed to fit standard cans, with a diameter of 3.5 inches.
---
Are they dishwasher safe ?
Answer by • Oct 04, 2017
These are dishwasher safe. It's recommended that they are placed on the top shelf on a normal water temperature wash cycle as you would any plastic container.
---
Where are these made?
Answer by • Jul 13, 2018
These can covers are made in China.
---
---
---
By Socks on Jul 11, 2022
Snug little tops
I like these lids,tops, they fit perfect on my American Journey can dog food. Made of soft plastic or silicone, you may have to line the lid up with the can and lightly push in a rounded circle to close. Great price to. I am glad I purchased these, the lids have a circle on the tip, I can hang these on a cup hook for convenience. Colorful and I love them.
---
By Rachel on Aug 10, 2022
Do not fit well
These lids do not fit the Purina ProPlan Veterinary Diet cans. If you have the patience and brute strength, you can make it work - most of the time. But, if you have arthritis in your hands - like I do - give it up...just use some aluminum foil and be done with it.
---
By lulu on Jun 27, 2022
NEVER MIND!
These covers don't fit my Friskies 5.5 oz. cans of cat food. This is what I buy in quantity for my many cats. This was a waste of money & not worth the postage to return. I dont buy any other size cans or any dog food at this time.so they are just junk to me. I wish I had read the reviews! I think I forgot they are reviewed,. Things like this may be small but still give Chewy negative energy, along with rising pet food prices I just paid for my friskies, , I'm not very happy. The representatives are super, but that's not all that counts today.
---
By All4thecats on Jul 14, 2022
Ethical pet can covers
I like Ethical Cat products but not these food can covers. They will not fit on the 5.5 oz cans. I finally worked one onto a can, and I mean worked it!! Maybe this was a defective bunch but, not it's not worth the money spent. Especially nowadays with the outrageous inflation.
---
By Gege on Jul 17, 2022
Ethical pet can covers
It's hard to find lids that fit.The lids actually fit on a can of dog or cat food nice and tight. You can keep the can with the lid on it in the refrigerator and you will not have the smell lingering into the rest of the refrigerator. love them highly recommend.
---
By MLSMLS on Jul 19, 2022
Insufficient
These are lightweight, and too small, and while they do stretch a bit if you wreck your thumb joints trying to get them to, they soon pop off. I serve Friskies 5.5 oz cans---pretty standard size. And these tops just don't work..
---
By 3blackcats on Jun 28, 2022
not a good fit
I ordered these for the regular sized friskies cans, I was dissappointed that to get these lids on the can I had to struggle and fight to get them on and even when I did manage I could tell that they were not really a good fit, just a smidge too small to be an easy on, easy off lid.
---
By ccgColorado on Jun 8, 2022
One Star: Only Because The Can Covers Are Too Small . . .
Hi, Chewy People: I forgot that I ordered these same can covers a couple of years ago & they were too small (just tossed them/did not let you guys know). FYI: Under no circumstances can these lids be "pulled, pushed, stretched" to fit the Friskies 5.5 oz can. I will just continue using "foil" to cover cans as needed. Thanks ~ Caroline / Additional Feedback: Chewy scores a 9-10.
---
By Casey on Jul 28, 2022
plastic lids for canned food
I order canned dog food from chewy , and I have a small dog that I feed twice a day. I'm always using these plastic lids. The lid fits perfect on the can .
---
By CanIPetYourDog on Aug 11, 2022
not that great, didn't last long
These split in several places on the top after about 1 month of use. Threw them all out. Save your money and find silicone covers, much better that these.
---