Exo Terra Daylight Basking Reptile Spot Lamp
---
About This Item
A broad-spectrum daylight spot lamp with a Neodymium sleeve which provides UVA and is also ideal for plant's photosynthesis
Reptiles need UVA light to stimulate activity, encourage natural foraging and aid in digestion
Creates a basking area for thermoregulation and increases ambient air temperature
Stimulates breeding behavior through UVA rays
Can be combined with Daytime Heat Lamp or Night Heat Lamp for a 24-hour cycle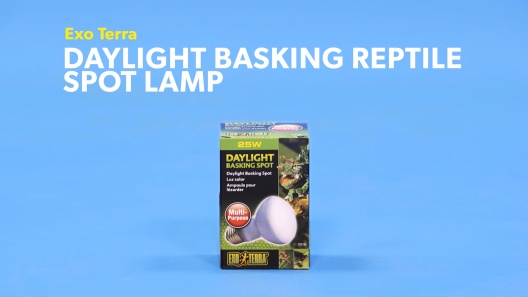 Learn More About Exo Terra From Our Team of Experts
---
---
Questions & Answers
6 Customer Questions
---
How far away should this lamp be from the enclosure to maintain a 90-95 degrees Fahrenheit temperature?
Answer by • Jun 15, 2021
To maintain a temperature of 90 to 95 degrees, this bulb should be 4 to 6 inches away from your enclosure.
---
Does this have UVB?
Answer by • Jul 11, 2019
This lamp provides UVA and emits heat to increase overall ambient temperature. It does not provide UVB.
---
How far away would this bulb need to be for about 85 degrees
Answer by • Dec 16, 2018
The 25 watt bulb should be approximately 8 to 10 inches away from the habitat to maintain an 85 degree temperature.
---
Exactly how big is the bulb compared to a regular 60 watt light bulb?
Answer by • Mar 27, 2018
The width of this bulb is 4.2 inches.
---
---
---
By DonJulio on Feb 7, 2022
Great prices
Same products, at significantly cheaper prices compared to retail stores
---
By Cassy on Nov 27, 2020
doesnt last
This is the worst bulb design ever. Ive bought six of these over the last 10 months and four of them have burned out and had to be replaced by new bulbs that also soon burned out. Im done buying this junk.
---
By Savanna on Jul 21, 2019
DO NOT BUY THIS
I JUST ORDERED THIS BULB IN MAY. ITS ALREADY GONE OUT!!! I HAVE TO GET A DIFFERENT BULB.
---
By Toptrop045 on Jul 19, 2019
my green anole loves it.
but the glue came loose in the light bulb and it's about to fall out.
---
By Turtlefan on May 4, 2018
Its a great make but does not make sense, burns quickly
My turtle loves it but the only problem I have here is it burns so fast.I am looking for other regular bulb options now. Cant even last 2 days sometimes.Do not know why , either if its a manufacturing defects.
---
By Yesi on Apr 28, 2018
Great light bulb
I accidently got the wrong one it's not as bright as I wanted it but works great for my turtle tank and very affordable.
---
By Snakedaddy on Apr 6, 2018
Not for heat.
I was looking for heat bulbs that's low watt and small and for day use but these bulbs don't put how much heat the all arrived unbroken and work fine
---
By Ezra on Mar 29, 2018
Stopped working after one day
This bulb was on for less that 18 hours before it inexplicably stopped working.
---
By Leslee on Dec 26, 2017
Still waiting
My red eared sliders have had the turtle topper for two weeks and still have not used it.
---
By Sara on Sep 15, 2017
The gecko loves
My gecko loves it and I love the price lol. Works just as well as the expensive ones in stores.
---