Exo Terra Daytime Heat Reptile Lamp
Frequently Bought Together
---
About This Item
A broad-spectrum daylight spot lamp with a Neodymium sleeve which provides UVA and is also ideal for plant's photosynthesis
Reptiles need UVA light to stimulate activity, encourage natural foraging and aid in digestion
Creates a basking area for thermoregulation and increases ambient air temperature
UVA rays promote digestion and reproduction
Can be combined with Night Heat Lamp or Infrared Basking Lamp for a 24-hour cycle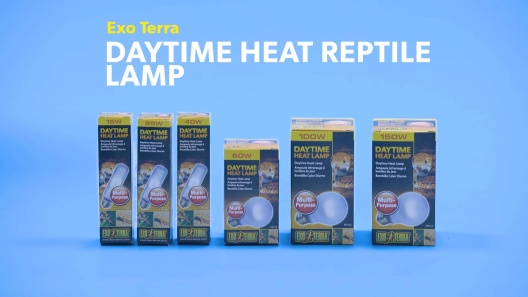 Learn More About Exo Terra From Our Team of Experts
---
---
Questions & Answers
29 Customer Questions
---
Is this safe for my leopard gecko? I worry about it getting too hot for him, but most forums I read suggested a 60 watt bulb.
Answer by • May 08, 2019
For a leopard gecko, the daytime terrarium temperature should range between 78-85 degrees Fahrenheit. The 60 watt lamp would be appropriate is placed around 16-20 inches from the basking area.
---
What would be the best wattage for a 20 gallon long tank for a corn snake?
Answer by • Nov 21, 2018
The optimal basking temperature for Corn Snakes is 80-90 degrees Fahrenheit. To achieve this temperature in tanks 10-20 Gallons, the 40 or 60 watt bulb is recommended.
---
Is this lamp safe for hermit crabs?
Answer by • May 01, 2018
This lamp is safe for use with Hermit Crabs.
---
What size e bulb should I order for a 40gal Exo Terra tank with a Bearded Dragon?
Answer by • Oct 14, 2020
A 100-watt bulb is appropriate for a 40-gallon tank.
---
---
---
By bonsailady on Jun 9, 2022
Great bulbs at a great price
I purchased this bulb on sale ( buy 2 get 1 free) and it works really well for my baby tortoise. He loves to bask under this light, and when combined with the undertank heater, provides enough heat for digestion and growth.
---
By Caitlinm92 on May 7, 2022
Good deal. Stocked up
They have been lasting pretty good. I have the same day bulbs in all 3 tanks from 3 months ago and now I have 3 extras since it was buy 2 get 1 free. So very happy. Especially since I'm a worry wart. Makes it less worry to have those bc heat bulbs are very important
---
By Jeremy on Nov 20, 2021
Amazing customer service!
I didn't get my bulb for a good 6 hours after saying delivery because of no fault too chewy and in panic because my bearded dragon had no heat for a week at that point I messaged and they immediately sent out another love this site and the people that run it! Always fast and trust worthy!!
---
By habblie on Oct 4, 2021
These are the worst!
I bought three of these. I checked all of them when they arrived to make sure that they worked and they did. Within one week two of them burnt out. Even when they work, the terrarium doesn't get warmer than 85°, and that's with a red light on at the same time. I'm comparing this to another brand that gets the terrarium up to 98°, which is what we need for the basking spot for our bearded dragon. I cannot recommend these as a reliable heat/light source. Thank you, Chewy, for giving me a refund!
---
By Adam on Sep 30, 2021
Burned out in a matter of hours
I got my bulb today and installed it. It looked great and was working fine, but a few hours later and it was dead. I checked to make sure it wasn't the fixture- I put the bulb in another holder. Nope, bulb was completely burned out
---
By Char on Jun 30, 2021
Bart the beardie is happy!
Bart is our 11 year old dragon who we got as a rescue at age 2. He's always preferred higher temps that what most dragons typically want so I got this bulb for his 40 gallon tank. I was tired of the floodlight basking lamps burning out all the time (taking our lights off the timer helped but still had burning out issues). This bulb gives nice light and keeps him adequately warm so I'm quite happy with it! Can't comment on the longevity yet but so far he basks happily and isn't stretching to try and get as high up as possible so I'd say it's hot enough.
---
By Vince on Oct 11, 2021
3 in a month
I had 3 die out on me in less than a month, all brand new when I first installed them and all went out within a week.
---
By Kelli on Oct 13, 2021
Great bulb
Exactly what I needed and it works great. The price is less than I expected and it came in quickly.
---
By Ashton on Oct 8, 2021
Sucks(10 characters)
It literally blew within 5 minutes. Not sure how to make that 50 characters long, am i there yet?
---
By Utah on Aug 6, 2021
they're great!
I really like these bulbs. They emit great heat and they're a great deal! I found them and I bought a ton of them just to have on hand for my bearded dragons :) I use the 100 watt ones.
---