Feline Pine Original Non-Clumping Wood Cat Litter
Frequently Bought Together
---
About This Item
Made of sustainably sourced pine shavings.
Effectively absorbs liquids and odors on contact.
Free of artificial dyes and fragrances.
Features a low-dust formula.
Its soft, lightweight texture is easy on your cat's paws.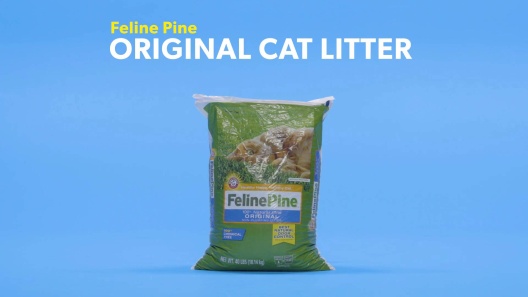 Learn More About Feline Pine From Our Team of Experts
---
Ingredients
100% Pure Pine.
---
Compare Similar Items
| | | | | | |
| --- | --- | --- | --- | --- | --- |
| | | | | | |
| Customer Rating | | | | | |
| Price Per Unit | | | — | | |
| Price | | | | | |
| Autoship | — | — | — | | |
| Litter Feature | Non-Clumping, Unscented, Odor Control, Natural | Clumping, Unscented, Odor Control, Natural | Natural | Non-Clumping, Odor Control, Unscented... | Odor Control, Clumping, Unscented, Natural |
| Packaging Type | Bag | Bag | Bag | Bag | Bag |
| Lifestage | Adult | Adult | Adult | Adult | Adult |
| Breed Size | — | — | Small Breeds, Medium Breeds, Large Breeds | — | — |
| Top Ingredients | — | — | Pine | 100% Ponderosa Pine. | — |
---
Questions & Answers
44 Customer Questions
---
If the pee makes the pellets turn into sawdust, how do you remove it from the box? Thanks
Answer by • Oct 07, 2022
Sawdust byproduct from lumber mills is collected and compressed into tiny pellets. These pellets act like tiny sponges that absorb urine and break apart into sawdust. Scoop the solid waste daily, and gently shake the box so the good pellets float to the top and the sawdust drops to the bottom. Leave the sawdust in the box as it will still work to absorb moisture and odor. When the box is about 90% sawdust it is time to dispose of it and start with new litter.
---
Is this flushable?
Answer by • Oct 14, 2022
Only dispose of used cat litter in the trash. Do not flush, bury or dispose of it outdoors, in gutters or storm drains to avoid environmental contamination.
---
Can this litter be recycled? And if yes, how is this handled - composted or ? Thanks for any and all info!
Answer by • Jul 13, 2018
Although this litter is 100% natural, it is not recyclable. The manufacturer recommends disposing of used litter in a plastic bag.
---
I am looking to purchase a container to hold the contents of the 40 lbs bag. What is the volume of the 40 lbs in quarts?
Answer by • Jun 20, 2018
There are approximately 18 quarts of litter in the 40 pound bag.
---
---
---
By Manduhlyn5 on Nov 30, 2022
Best cat litter ever made
This cat litter is amazing and I have used it for several years. There are no chemicals at all in it. It has a fresh pine smell and even with cats in the house, the Box never has a cat odor, people are amazed when they see that I have cats in the house because they cannot smell them. I clean the box every 3 days. Feline Pine is super absorbent and turns into like Pine dust after it's been used and it dumps from the box very well, never have to scoop the Box. All natural and works so well. I recommend to everyone. A 40 lb bag lasts Me 2 months, a little goes a long way not like with the other stinky litters on the market.
---
By Gwyneth on Nov 22, 2022
BEST LITTER EVER
HELLO! If you are considering switching from clay clumping litter for any reason, I cannot say enough how great this litter is. I was so tired of the dust and tracking of my old clay litter (Tidy Cats Free and Clear). I was vacuuming and sweeping every morning to clean up the litter my long haired tabby tracked all over the carpet of my small studio apartment. Now? Little to nothing is tracked through my room. There are minimal bits of sawdust that gets caught in my kitty's fur and meander throughout the space, but it's negligible. My kitty is a kicker/burier, and the pine pellets do make this activity louder but it doesn't bother me. I'm still sorting out the best way to remove the solid waste, but removing the sawdust bits is honestly fun to sift through. I know that sounds weird but it's satisfying! All around a great product 1000% recommend.
---
By March on Nov 25, 2022
tried and true
i think this is the product I started buying in the 70s and I and the cats dont want anything else. Dont ever change a thing. Thanksgiving evening had an outstanding phone conversation with one of your reps who really knows your systems and operations as background for providing excellent customer service. She clearly loves her work but she is so good at it I started thinking she could also be doing advanced training and managerial work as she really understands what customer service can and should be. She is fantastic and a really beautiful person.
---
By Lauren on Nov 25, 2022
Wonderful
I am a new cat mom and never used any other litter but dont think I ever will. This litter is all natural and extremely affordable! It smells like pine which is pleasant and not overwhelming. I scoop poos, and the pee turns into sawdust and drops in to the sifting pan system. When the drop pan needs to be dumped it smells softly like a barn vs cat pee. I have used it now for 6 months and still no ammonia smell. I sprinkle a little baking soda in the drop pan for extra measure. One bag last about 3 months per cat.
---
By ASD80 on Dec 4, 2022
Wish I could love more
Got this to help our cat with sensitive paws but it was a total disaster. Basically the smell is great...natural pine or wood but trying to scoop up poop was a disaster and urine would just make it a big pile of mush and in turn make other pieces mushy and then my cat didn't want to get in the litter box at all. I would prefer this as it doesn't track outside of box but it is a no and just created more of a clean up
---
By Lori on Dec 2, 2022
Did they change something recently?
I love this litter and my cats do too. However I noticed in the last shipment it was darker in color and I don't know what it is but it's different. It doesn't have the nice pine woodsy smell anymore and it breaks down quicker. Anyone else notice this? I hope my new bags are better!
---
By oregano13 on Nov 4, 2022
I like it, kitten doesn't!
I like the odor control and low tracking, and it works well with a sifting box. I started using it because that's what the shelter was using when I adopted my kittens, and I thought it would be great to use what they were used to. One of my kittens, however, hates it. Not sure if it's the pine smell or the pellets' texture, but she was peeing everywhere except the box. Switched to a clay litter (that I hate) and no more accidents.
---
By Pierre on Nov 16, 2022
Game Changer
Wow, we are a diehard Ever Clean cat litter household. However, in a pinch tried FelinePine (Non-Clumping) Wood Cat Litter. Not only did it control odor as well as Ever Clean, it was almost zero tracking!!! We also tried the clumping version and that was a tracking disaster. This is a product that we will continue to reorder.
---
By Pickycat on Nov 2, 2022
It's fine I guess
They track this around the house the least, which was my goal. It's the opposite of clumping so I change the entire box pretty frequently. And the pellets hurt my bare feet when I accidentally step on them (the cats kick a few out onto their littermat sometimes then the pellets roll around on the hard floor without me realizing it). I've used it for years though because it fits our primary needs.
---
By Sara on Nov 2, 2022
Easy to Clean
It's only been about a week, but so far I really like this litter. I have an elderly cat, and over the past few months, she'd begun to track the clay letter all over the house. It was making a mess and not easily coming off of our floors. This has been really easy to keep clean. It's also really light in the garbage compared with the clay, and the smell is mild.
---