Feline Pine Platinum Natural Pine Cat Litter, 18-lb bag
By Feline Pine
---
About This Item
This all natural, non-clumping cat litter provides maximum odor control without harsh chemicals and fragrance.
Pine shavings and Arm & Hammer Baking Soda naturally eliminate odor on contact and give an extra boost of absorbent, odor fighting freshness.
Pine is highly absorbent, directly binding to and locking away ammonia odors. Plus, it soaks up liquid, so your cat's litter box stays dry and fresh.
The lightweight formula—less than half the weight of clay litter—makes changing your litter box faster and easier.
Protect the environment while taking care of your precious playmate. No new trees are cut down to make this litter, all pine comes from kiln dried shavings reclaimed from lumber production.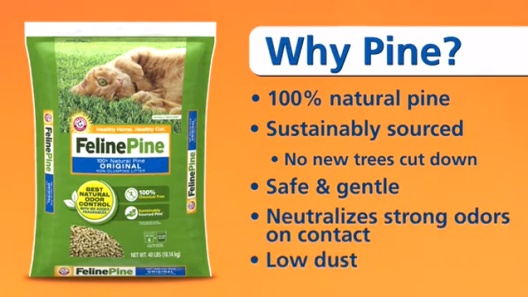 Learn More About Feline Pine From Our Team of Experts
---
Compare Similar Items
| | | | | | |
| --- | --- | --- | --- | --- | --- |
| | | | | | |
| Customer Rating | | | | | |
| Price | | | | | |
| Autoship | — | — | | | — |
| Top Ingredients | 100% Pure Pine | N/A | N/A | N/A | N/A |
| Litter Feature | Non-Clumping, Dust Free, Unscented | Non-Clumping, Unscented, Odor Control, Natural | Multi-Cat, Natural, Odor Control... | Odor Control, Non-Clumping, Unscented... | Clumping, Unscented, Odor Control, Natural |
| Packaging Type | Bag | Bag | Bag | Bag | Bag |
| Litter & Bedding Type | N/A | N/A | N/A | N/A | N/A |
---
Questions & Answers
8 Customer Questions
---
I just received my first bag for the abandoned kitten I've taken on. How long does it last before it needs to be dumped and more added?
Answer by • Sep 04, 2021
This litter is made from 100% Pine. These pellets act like tiny sponges that absorb urine and break apart into sawdust. It is recommended to scoop the solid waste daily, and gently shake the box so the good pellets float to the top and the sawdust drops to the bottom. Leave the sawdust in the box as it will still work to absorb moisture and odor. When the box is about 90% sawdust it is time to dispose of it and start with new litter.
---
Is this new formula compostable ?
Answer by • Oct 01, 2021
Do not flush or put in drains. Put used litter into the trash.
---
What makes Platinum different than the regular Feline Pine pellets?
Answer by • Apr 15, 2021
The improved Platinum formula absorbs liquid twice as fast as the original Feline Pine.
---
Is this new platinum version chemical free?
Answer by • Jan 10, 2022
This all natural cat litter is made from plant-based ingredients like pine shavings and pure Arm & Hammer Baking Soda and has no harsh chemicals, added fragrances or synthetic perfumes.
---
---
---
By Pasha on May 3, 2022
Works well
Works well with little to no tracking of litter or odor. I use with the Arm and Hammer sifting litter box. Just sift the sawdust that forms when the pellets absorb urine. For stool, just pick out using toilet paper and toss (or flush if your cat's stool has been checked for parasites, etc). I don't really notice a difference with the regular versus platinum but have continued to purchase this one in case it's better for odor.
---
By GPknows on Apr 1, 2022
Great Litter System
We are loving this pine litter with the baking soda. It has a slight pine scent but not overwhelming. The pine pellets break down with moisture then fall to the bottom of the box. The pad liner catches any residual moisture. I remove the solid waste daily and shake the pine dust to the bottom of the bin daily. About mid week I remove the pine dust and rotate the pee pad as my cat seems to use about the same area of the Box each time. Weekly I change out the pad. No little box odors at all and no dust !
---
By Carly on May 1, 2022
Best litter
This litter lasts at least 10-12 days with my cat. Absolutely no odor! So easy to use and clean up. I use a plastic bag liner and just empty to trash when ready. No dust, no tracking. Wonderful!
---
By Xenia on Feb 6, 2022
Great sustainable cat litter
This cat litter is a mid-weight litter in the pine litters. The heavier pine litters don't track very much at all, but larger pellets will be found around the room the box is in from time to time. Easier to clean up than tiny bits I think. This and all pine litters I have used produce NO SMELL except for rare circumstances in which my cat has a stinky poop and doesn't bury it fully/super well. In 2.5 years of using pine litters, none have ever produced an ammonia smell or a urine smell of any kind. There is NO dust of any kind that is ever stirred up from cleaning or cats using this litter. The sawdust peeing produces is compostable outdoors which is great if you have a yard and want to reduce waste. It does take a long time to clean this box unless you use a sifting litter box. And sifting litter boxes tend to get more dirty and gross and need to be cleaned fairly frequently. For whatever reason (perhaps the density of this pine litter), Feline Pine does not last as long as some of the other pine brands, but it does last longer than lighter-weight ones.
---
By campd on Mar 14, 2022
Didn't like this one either
In a quest to find a good substitute for non-clumping clay litter, I bought this one along with a few others. This one may have pellets a little smaller than original feline pine, but it still smells like the lumber section of a home improvement store, the pellets are hard, and my cats refuse to use it.
---
By FlyGal on Feb 5, 2022
Finally - I found THE kitty litter!
Okay, so this was the 4th kitty litter I tried and it's the one I'm sticking with. I tried 2 different clay litters - both too dusty and heavy, then I tried a clumping grass litter - tracking was terrible! Feline pine Platinum is light, doesn't track, absorbs smells and so easy to use. No need to scoop clumps of pee - just scoop out the poop and once almost all your litter has turned into sawdust then throw it all out. Surprisingly very low dust. I used 1/2 a bag for a extra large litter box and it lasted me 2.5 weeks. So 1 bag will last me over a month.
---
By Carla1951 on Mar 6, 2022
No Different from Regular Feline Pine (to me)
I do love Feline Pine and have used it for several years. It is the only litter that totally neutralizes the urine odor in the litter pan. I will say, however, that I did not see any appreciable difference between the Feline Pine and the Platinum version of the product. It works just as well as the original, but since I saw no difference whatsoever, I don't see the point in paying a few extra dollars. I'm sticking with the original. I only have 1 cat, so others may see a difference in multiple cat households,
---
By Gammy on May 7, 2022
Not bad at all
Less messy than clay litter and is natural . I don't find litter all over the house with Feline Pine
---
By Chupi on Jan 17, 2022
I love the way this feels on my paws
Mommy got me this litter after having tried them all. What she loves about this one is that it leaves no trace on the surrounding areas, has great odor control, easy to scoop out, and it is all natural.
---
By DavisMom on Nov 20, 2021
The best so far....
I have been on what seems to be an endless hunt for the perfect cat litter. I have a long haired male cat who likes to sprint out of his cat box, scattering litter everywhere and also he has a problem with litter sticking to his fur. I have tried many, many different brands, including some other pine cat litters. I am one week in to using this litter and it is by far the best. First, the smell is tolerable (that was a problem I had with some other pine litters). The baking soda really helps hide the pine pellet odor as well as litter box odors. Second, when the pellets get wet, the pine pellets turn to a sawdust texture, not a sticky paste (like some other brands) and they don't stick to his fur. There is little to no tracking and I don't mind picking up one or two pellets if they do escape the cat box. As far as my cat liking it- I have found he will use anything in his cat box. The last selling point is the price. It is reasonably priced. I love not having cat litter all over the floor and my cat! It is worth trying!
---