Feliway Classic 30 Day Starter Kit Calming Diffuser for Cats
Autoship
(Save an extra 5%)
Choose Autoship at checkout for regular deliveries.
Why Autoship?
FREE access to chat with licensed vets 7 days a week.
Save 5% on all future Autoship orders.
No fees, no commitments - cancel Autoship anytime.
---
About This Item
A drug-free solution for cats that helps reduce signs of stress, including scratching, urine spraying, hiding, and changes to your home.
Can help reduce urine spraying.
FELIWAY is vet recommended.
Mimics pheromones to help restore harmony.
Each FELIWAY Classic Refill covers up to 700 square feet. For the best results, position the diffuser where your cat spends most of his or her time, and avoid plugging the diffuser in under shelves and behind doors, curtains, or furniture.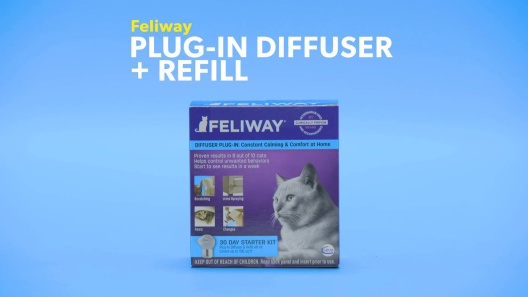 Learn More About Feliway From Our Team of Experts
---
Compare Similar Items
| | | | | | |
| --- | --- | --- | --- | --- | --- |
| | | | | | |
| Customer Rating | | | | | |
| Price | | | | | |
| Autoship | | | — | — | — |
| Top Ingredients | Analogue of Feline Facial Pheromone: 2%. Exipients to: 100g | Analogue of Feline Facial Pheromone: 2%. Excipients to: 100g | Analogue of Maternal Cat Pheromone (2%), Isoparaffinic Hydrocarbon (100g).... | Feline Pheromone Complex (FPhC) 2%, Isoparaffinic hydrocarbon 48 mL | Analogue of Maternal Cat Pheromone (2%), Isoparaffinic Hydrocarbon (100g).... |
| Lifestage | Adult | Adult | Adult | Adult | Adult |
| Health Feature | Calming | Calming | Calming | Calming | Calming |
---
Questions & Answers
49 Customer Questions
---
Does this one have a different pheromone than the Multi-Cat version?
Answer by • Aug 30, 2017
The Multicat Feliway will use a synthetic copy of the feline pheromone from the mammary gland area after a mother gives birth to bond with kittens. The Feliway for single cat homes mimics cat's natural facial pheromones, which creates a calming environment and de-stresses your cat.
---
My cat likes to sniff the diffuser, is it safe for him to do that? There is a warning that states this is harmful or fatal if swallowed and enters airways...
Answer by • Jun 13, 2018
This is safe to be inhaled by your pets. The warning label is referring to if the actual liquid substance enters airways.
---
I have had a shelter cat 6 days and He wont come out of hiding. Stays in a dark closet. Hasn't even come out to eat so I put food in closet. Will this help him feel more comfortable with a new home and new owner. He's 10 years old.
Answer by • Nov 22, 2019
This diffuser helps with stress caused by a new pet, moving to a new home, visitors, or even rearranging the furniture
---
can you plug this into a power strip?
Answer by • Apr 10, 2019
This diffuser should be plugged directly into an outlet.
---
---
---
By Afmom on Aug 12, 2022
Definitely works
I took my cat to the vet and he was meowing fir awhile in his carrier. One of the assistants brought over a little piece if cloth and laid it over his carrier. I asked her what it was and she said she sprayed it with Feliway. Within 20 minutes as we were getting ready to go in to see the Vet, he had calmed down. He let them take him out if the carrier and hold him. He head bumped the Vet Tech and all was good. I put him on the floor with the carrier and my boy walked right into it. My boy has never done that. I was sold. They also have it as a plug in so I have 2 in my house and the spray for my vehicle.
---
By Rokie on Aug 8, 2022
Has always worked will keep on hand again
My cat has been going through some chaos emotionally due to so many changes in my home. We took a long trip and it took us 6 days in car to get home. Had been gone for a year. New furniture was delivered and then picked up. Lots of changes. Maintenance was in and out of house. She had peed the bed and 2 small rugs. I know she is making sure to mark so she can find home. Terrible insecurity, feel so bad for her. I plugged in the diffuser and bought another one... I made sure to spend more time with her... She stopped and all has returned to normal.
---
By CrazyCatLady on Jul 31, 2022
Works great!!!!
We all know how cats love change!!! I moved and had this diffuser going for a few days before I brought my cat to his new apartment. He totally settled in instead of having to be pumped up kitty Xanax. I couldn't be happier, and either could he. Mind you, this kitty is a fluffy ball of stress. Many trips to the ER with stress related bladder issues in the past, just from not coming home for the night, which eventually resulted in the PU surgery. Let's just say, he's comfy, cozy in his new home.
---
By LVMS on Jun 26, 2022
New kitty! Transition with Feliway Assists with Smooth Introduction
Adopted 8-year-old, longhair male from a rescue. The Adoption Manager suggested using Feliway to help with introducing the kitty to a new environment, so I purchased 2 diffuser kits. Added one to a small intro room and one to a bedroom. When we let the cat out of the carrier, he disappeared into the intro room, which made me think I'd be hosting a "ghost kitty" for a few days. But, by midway second day, he chirped at me when I came with food, and revealed himself. Within 15 minutes, he was exploring the entire house, with a candy cane tail, lots of friendly ankle rubbing, and requests for pets. Easiest intro ever! A real purr baby. Typically in the past, rescued cats have seemed to need several days to feel comfortable. Although he started out with the same behavior, I think that Feliway shortened the time needed for him to relax and explore. He also is favoring the bedroom with the Feliway over the rest of the house, so I moved the diffuser in the intro room to the living area. Hoping he will be encouraged to hang out with us in the evening.
---
By jotom on Jul 7, 2022
seems to be working
Purchased this when we brought a new cat into our home. We didn't know anything about her as she was a stray that came to our door. She was a little hesitant when meeting our other 3 cats who are extremely friendly. The diffuser seems to helping when they are in the same room. There is still some yowling on her part but not as much aggression. Keeping fingers crossed as we continue to integrate her into our home. Also purchased the spay which I have applied to scratchers and bedding that all the cats have access to.
---
By Chai on Jul 27, 2022
Definitely try it!
I was worried that my cat was having digestive problems because her tummy was looking all puffy and pink. Turns out she was just over-grooming due to stress. I tried this at the recommendation of a friend and kitty is much more calm. she is growing back some fur and seems less cranky
---
By Shawna on Jun 12, 2022
Finally an end to peeing out of the box!
My 12 year old cat has always been a bit nervous. When we moved homes in 2021, she started peeing outside of the box, and even though we tried a lot of different things (new boxes, new litter, her own room, different sprays, etc), and getting a vet check done to rule out any possible medical issues, she still was peeing on my furniture, walls, and carpet. The vet suggested trying this in her room, and within a week, all the inappropriate peeing was over. I am pleasantly surprised and will definitely be buying refills!! I can't believe I've been battling this problem for over a year and finally it seems to be over.
---
By Purring on Jul 24, 2022
Blind cat
I was skeptical however this photo tells how relaxing she must feel. She is blind & was looking so stressed until we tried this & she is purring now. This photo is only after about 8 hours of it plugged in.
---
By Sophie16 on May 30, 2022
Adverse effect
I just moved to a new apartment with my two cats and saw Feliway had this new product. In the past they seemed to respond positively to the travel spay and the classic diffuser so I had similar expectations for this particular product from them as well. Both of them hated it. It was like they avoided the area it was plugged in. I even took the diffuser out of the outlet and brought it to them to see if it was the diffuser it's and not that we were in a new place. Both of my cats winced at at and ran away. It was the strangest thing...so not sure if I got something defective or what, but definitely not what I was expecting.
---
By thistlefern on May 16, 2022
calming for new apt
We moved to a new apartment and I've had one cat be very on edge since coming into the new space. Feliway has worked wonders on getting him to hang out more and not hide under the bed. We started with just one in the bedroom where he was already most comfortable and it mellowed him out almost immediately. I got a second one and put it in the office/spare bedroom and he's since hung out in that space more too. He'll even sleep in there at night. I want to get one more for the dining/living room since these two have already shown to help calm and soothe him in his new environment. I know this product gets mixed reviews but I feel like it's helped make a difference for our little boy. To note we lived in a house with other cats before bringing him and his sister to this new apartment. The plugs are a bit hefty in weight so make sure you plug it into a snug outlet and don't have it sliding out. Photos showing how comfortable he is in the office!
---