Feliway MultiCat 30 Day Starter Kit Calming Diffuser for Cats
Autoship
(Save an extra 5%)
Choose Autoship at checkout for regular deliveries.
Why Autoship?
FREE access to chat with licensed vets 7 days a week.
Save 5% on all future Autoship orders.
No fees, no commitments - cancel Autoship anytime.
---
About This Item
A drug-free solution that helps reduce common signs of tension between cats at home, including conflict, fighting, chasing, blocking.
You can start to see results as early as 7 days.
Mimics a mother cat's natural pheromones to help restore harmony.
FELIWAY is vet recommended.
Covers up to 700 square feet. For the best results, position the diffuser where your cat spends most of his or her time, and avoid plugging the diffuser in under shelves and behind doors, curtains, or furniture.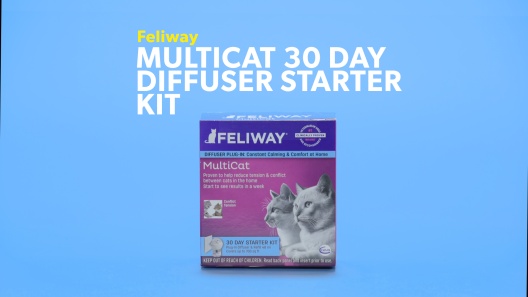 Learn More About Feliway From Our Team of Experts
Continue to help reduce tension and conflict amongst your feline friends with an additional Feliway MultiCat Refill!
---
Compare Similar Items
| | | | | | |
| --- | --- | --- | --- | --- | --- |
| | | | | | |
| Customer Rating | | | | | |
| Price | | | | | |
| Autoship | | | — | — | — |
| Top Ingredients | Analogue of Feline Facial Pheromone: 2%. Excipients to: 100g | Analogue of Feline Facial Pheromone: 2%. Exipients to: 100g | Isoparaffinic Hydrocarbon (a petroleum distillate) 45.00% Analogue of Feline Pheromone 5.00% Other Ingredients 50.00%... | Analogue of Maternal Cat Pheromone (2%), Isoparaffinic Hydrocarbon (100g).... | Feline Pheromone Complex (FPhC) 2%, Isoparaffinic hydrocarbon 48 mL |
| Lifestage | Adult | Adult | Adult | Adult | Adult |
| Health Feature | Calming | Calming | Calming | Calming | Calming |
| Closure Type | — | N/A | — | — | — |
---
Questions & Answers
48 Customer Questions
---
Does this plug-in heat up? I remember an air diffuser plug in that did and it was a fire concern. I'd like to try this but I'm worried about it getting overly hot.
Answer by • Feb 21, 2018
When the diffuser is plugged into a working outlet, the diffuser head will be warm to the touch. If the instructions are followed and the outlets are working correctly, this will not pose as a safety hazard.
---
Which is better for a cat with over grooming problems- multi cat or regular?
Answer by • Sep 18, 2017
The regular Feliway can help a cat who over grooms due to stressful situations. The Feliway MultiCat helps reduce tension and conflict in multi-cat households.
---
Will my air purifier counter the diffuser?
Answer by • Nov 20, 2018
This can be used in a house (or a vet clinic) where there is an air conditioner or air purifier provided that it is plugged away from the unit, vents, cold air returns, or exhaust fan. Plugging it in too close will compromise the longevity of the pheromone.
---
I have been using the single cat Feliway plug-ins for a while now, but I need to switch to multi cat. Can I use the Multicat refills in my regular Feliway diffusers?
Answer by • Jun 22, 2018
The single and multi refills can be used interchangeably in Feliway diffusers.
---
---
---
By Milo on Jun 21, 2022
Helps A Lot
It helps a lot but it isn't a miracle cure. Adopted a kitten to keep my older cat who has separation anxiety company. They get along pretty well but there is still the usual territory disputes. Especially over toys and the older cat (4 years old) still has some anxiety. The Feliway helped to chill them a lot, but they still fight if they're bored and I'm not entirely sure if it lasts an entire month. 2 1/2 - 3 weeks would be more accurate imo and the potency tends to wear off once it starts to run out. So its definitely better to have extra on hand. Its still a good product and definitely worth the investment if you can afford it.
---
By dewspots21 on May 27, 2022
Not sure it's worth it
Got this because we are a house of 4 cats and recently took in a kitten for a couple of weeks, though we thought it would be longer. To help the established cats try to get used to the new cat, I got this. After two weeks I'm still not sure I notice a difference. I put it in the living room, which is where the 4 of them spend the majority of their time. My plan was to then move it to the outlet outside the room we were keeping the kitten after two weeks, but we learned that the kitten was not a stray but belonged to someone in the neighborhood & she got to go home to her family. Now that she's gone, it may be improving the congeniality of the others, but it's negligible. Our vet uses it & recommended it. Probably different for every animal.
---
By Ashish on Jun 2, 2022
Wish we had bought this 13 years ago
We adopted a cat (1 year old) from a shelter. He appeared quiet traumatized, scared probably by the events that took place before he came to the shelter. After we got him home, he would throw up furballs everyday. Sometimes 2-3 times (he for some reason prefers to throw up on a rug, than the hardwood floor). We took him to many vets, changed his diet. Nothing helped. We just have one cat, no other pets. No vet could really diagnose him properly. He is otherwise very healthy, eats good and is very active. He doesn't socialize much with people other than the family, strictly indoor, he doesn't like to step out of the house. We decided to take him to a different vet this time for a general check up and after talking about this situation of his, he recommended this pheromone diffuser, as he thinks he over grooms himself due to stress. With high hopes I purchased two of these, with additional refills. I placed one on the lower level close to where he eats his food and one for upper level, where he goes to nap. Both are place in a generally open area, free from any obstruction around them. We don't smell anything different around these units, though I did notice if it's close to an obstruction, the vapors condensate on to the surface. Hence it's best to have 3-4ft of the space around these to be effective. It's been 3 weeks now and he hasn't coughed up a single fur ball!!!!!! His fur looks healthier(probably doesn't over groom himself). I haven't changed the refill yet (about 50% left in each). I conclude this product is totally effective for anyone with a cat with similar symptoms(constant fur ball cough ups)
---
By catlady on May 8, 2022
I'm convinced that it works!
We bought a Feliway diffuser in anticipation of adopting our first cat (6 month old kitten). I hadn't used it before so wasn't 100% sure it would be helpful but figured anything that might reduce the stress of a new environment was worth a try. I kept it plugged in for the first month and everything was going pretty well but then our kitten started having behavior issues and constantly trying to get underneath furniture; I was worried he might hurt himself. This went on for a week and finally I thought about the fact that our Feliway diffuser had probably run out (which it had). Picked up a replacement and within 24 hours he seemed much more calm and happy and had stopped trying to destroy our couch. Not sure if you'd have the same results for every cat but for ours it seems very effective! I plan on buying refills until he's at least out of the kitten stage.
---
By Catbehave on Jun 28, 2022
NOT EFFCTIVE
I have six cats and bought and put in place two of them in two different rooms: both had NO EFFECT on the constant spraying!!!!! No change in behavior at all. Product is complete bogus...save yourself some money and buy products to restore your environment instead.
---
By PoppyandAuggie on Jun 18, 2022
Leaking diffuser
I can't speak yet to whether this is helping my cats, but the diffuser is leaking everywhere and the oily liquid stained my brand-new hardwood floors. I tightened the cartridge and moved it to a different spot so it wouldn't damage the floors further, but it's still leaking! Be careful where you put it.
---
By Emily on May 4, 2022
Swear By This Stuff
We have three resident cats, and we also almost always have one 1-to-2 foster cats/kittens. Since using this product, we have seen an enormous difference in our resident cats' day-to-day lives and easier introductions for fosters. It has cut down our males' interest in bugging our overly defensive female cat, who is also much more playful and accepting. As far as fosters go, we keep one in the quarantine room and two around the house, so it's a smooth transition when they leave the Q-room. I love that the new plug-ins have lights to say when they are out of liquid, too :) It does recommend you give it a week before trying to recognize changes, it takes time to spread around the area and what not, so patience is key!
---
By HappyMom123 on Jun 28, 2022
So helpful!
This has helped so much with our territorial cat who has been a bully to our two new rescues! It is not a miracle cure as others have mentioned but it did make a huge difference by day 2. I highly recommend it!
---
By MKath on May 13, 2022
Actually works
I was skeptical of claims this product would calm cats down. I have 2 cats, both with issues from broken lives before I adopted them. But it has had an immediate effect on at least one of them. The youngest and most recent adoptee is very nervous and adjusting to my home was not easy. After putting this in, she has calmed down a lot and is much sweeter. The other one is a loaf, so it's hard to gauge whether it helped him, but indirectly, little cat calming down helped big old guy calm too.
---
By Grandma on Jun 21, 2022
This really works!
These diffuser took over a week but finally we are seeing progress with our cat and our daughter's cat. They are 2 and 3 years old and especially ours did not like a new cat coming in but they are definitely making progress and close to being friends.
---