Ferplast Cavie 80 Guinea Pig Cage, Grey
---
About This Item
Strong yet light wire net structure with a plastic bottom for ease and convenience.
Wall-to-wall opening front door and removable base, so you can easily clean your guinea pig's home.
Includes all the accessories your little pal needs—hay feeder, drinking bottle, bowl and open space.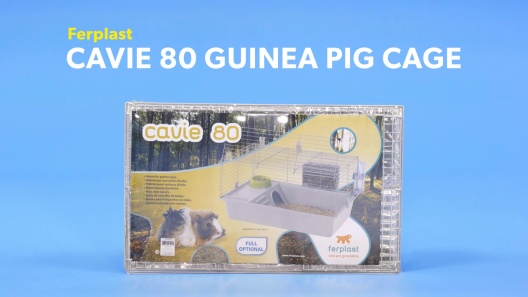 Learn More About Ferplast From Our Team of Experts
---
Compare Similar Items
| | | | | | |
| --- | --- | --- | --- | --- | --- |
| | | | | | |
| Customer Rating | | | | | |
| Price | | | | | |
| Small Pet Type | Guinea Pig | Guinea Pig | Guinea Pig | Guinea Pig | Guinea Pig |
| Material | Coated Metal, Metal | Plastic, Coated Metal, Metal | Coated Metal, Metal, Vinyl / PVC | Coated Metal, Metal | Coated Metal, Metal |
---
Questions & Answers
28 Customer Questions
---
The only problem i have with the ferplast cage is the corners stain from my guinea pig and I've tried everything to remove them is there a solution for this I change there bedding every 3 days and remove the droppings every day
---
So it looks like a fantastic cage!! But my question is would it fit two medium sized guinea pigs comfortably?
Answer by • Aug 04, 2019
This cage has suitable space for a single adult Guinea pig.
---
would this work for a bunny?
Answer by • Nov 04, 2018
While this cage is specifically made for guinea pigs, this cage is also suitable for small rabbits breeds. It's not recommended for a full sized adult rabbit.
---
Is the door to the little cave space able to open? I feel like once my guinea goes in the cave, I won't be able to get her to come out.
Answer by • Oct 20, 2018
This cage offers a safe and easy opening system. The cave is able to opened if needed.
---
---
---
By keller on Jul 23, 2022
cheap plastic, bent frame, do NOT buy.
This is the worst product ive ever received. not just from chewy, not just for pets, but ever. $60 for this cheap stuff? really? The pieces arent even close to the same length. its not like theyre .5 mm off, theyre about half an inch from fitting. thats way too much room. All of the pieces are bent and also made of cheap flimsy plastic. I am going to be throwing this away without hesitation. I am disappointed and will never, ever buy anything from chewy again. I highly recommend that no one buys this product and I am thoroughly convinced that there are fake positive reviews for this.
---
By Christa on May 15, 2022
WAY too small for even one guinea pig
The number of people saying this cage is bad because it's of poor quality is sad, because none of them realize that it's much too small for even one guinea pig (and guinea pigs shouldn't be kept alone unless there are major extenuating circumstances anyway), which to me is a bigger deal than its construction. This cage is MUCH too small. The Midwest cage is a much, much better option for a pair of pigs, and is also well constructed. Please skip this thing.
---
By Ratthew on Jan 18, 2022
Sturdy, easy to clean and assemble
I honestly loved this cage! I used it for my full-grown hedgehog, and putting together was easy-peasy. When cleaning time came 'round, I could take it apart to clean. Not only that, but it was built nicely! I adore the addition of the hideout as well! The only thing I would "complain" about is the water bottle, which wouldn't attach right, but I had a spare one so no matter :)
---
By cmoore0725 on Jul 13, 2021
Love It Mostly
so there are a few design issues a a others have stated. The hide would be nice if it had other holds on all sides instead of just the back to make a bit more stable. The water bottle is AWFUL it will not stay in the holder so buy a different one. For the price it is amazing, my daughter has 1 guinea pig that could still be considered a baby. We did have a FULL SIZE adult guinea pig in it and he loved it as well. I wouldn't have 2 in this cage together as there wouldn't be enough room. If you have a small animal cleaner the "grips" on thr platform do come clean just might need to wipe from all angles. I would highly recommend this cage just might need a few tweaks here and there and definitely a different water bottle.
---
By Elizabeth on Oct 25, 2021
Water bottle holder
Cage is great but the water bottle holder will not stay on the cage keeps falling off
---
By Charlie on Jun 24, 2021
I wish I had gotten the cage that's twice as expensive.
The cage is alright but not great. Pretty flimsy. I don't like that the only way to open it is to completely open the front panel. Makes feeding messier and more difficult to get our guinea pig out. Also, the feeding basket is pretty useless. Overall, I would recommend the one that's $120.
---
By Katie on Jul 12, 2021
Cage opening easily falls
Overall the cage is very nice except the cage opening does not stay open very well. If you are not careful it will fall down and hit you in the face or head. The water bottle it came with leaks and needed to be replaced.
---
By CherryAngel on May 28, 2021
Pretty good
I like it. It has a quick setup (10 minutes) that was easy for me to do myself. I bought this as a layover cage for my Dwarf Papillon to chill in while I clean her large enclosure. The only real problem I have with it is the plastic. My Meghy loves to chew on anything and everything, so the hay manger's hooks were the first to go. Other than the material, it's still good for layover times.
---
By Becky on May 19, 2021
almost perfect
I bought this cage for my guinea pig. It's the perfect size for her. The water bottle it comes with is really nice. It also comes with a hay holder for the side of the cage but the bottom of it doesn't attach to the cage so it makes a mess. Other than that it's great. A little assembly required but no tools were needed
---
By Kola on Aug 26, 2021
New guinea pig cages
I absolutely love them and so do my little rodent friends! They are easy to maintain!
---