Flexi Comfort Nylon Tape Retractable Dog Leash
Temporarily Out of Stock
Get notified when this item is back in stock.
Compare Similar Items
| | | | | | |
| --- | --- | --- | --- | --- | --- |
| | | | | | |
| Customer Rating | | | | | |
| Price | | | | | |
| Material | Nylon, Synthetic Fabric | Nylon, Synthetic Fabric | Nylon, Synthetic Fabric | Plastic, Nylon, Synthetic Fabric | Plastic, Nylon, Synthetic Fabric |
| Breed Size | Large Breeds | Large Breeds | Large Breeds | Large Breeds | Large Breeds |
| Leash & Collar Feature | Adjustable, Padded | Adjustable, Padded, Waterproof | Padded, Reflective, Waterproof | Reflective | Reflective |
| Pattern | Solid | Solid | Solid | Solid | Solid |
| Closure Type | Bolt Snap | Bolt Snap | Trigger Snap | Snap | Snap |
| Leash Length | 16 feet | 16 feet | 16 feet | 16 feet | 25 feet |
| Lifestage | Adult | Adult | Adult | Adult | Adult |
---
About This Item
Runs smoothly in and out so that your dog can roam freely, or be restrained at the perfect length.
Short-stop one-handed braking system is reliable and makes it possible to direct your pup easily.
Ergonomic soft-grip is comfortable in your hand, perfect for those long walks around town.
Compatible with the Flexi Multi Box Dog Leash Accessory or Flexi LED Lighting System for added convenience.
Beautiful matching designs allow you to pick the color that best suits you and your pup.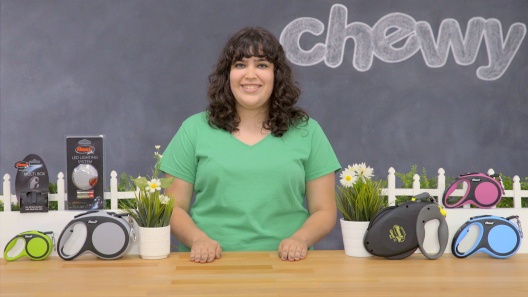 Learn More About Flexi From Our Team of Experts
---
---
Questions & Answers
34 Customer Questions
---
I want to put the brake on and lock it into place. Sometimes I need the leash to be shorter but don't want to have to hold the brake on. Does it lock into place at that length? When it is appropriate I can unlock it for a longer leash is what I am looking for.
Answer by • Jan 10, 2018
This leash has a color-coordinated brake button that uses a short-stroke braking system to keep your dog right where you want them.
---
What is the width of the tape on the large flexi retractable leash?
Answer by • Jan 12, 2018
The width of the tape varies depending on the size of the leash. The width of the tape for the X-Small leash is 1/4 inches. The width of the tape for the Small is 5/16 inches. The width of the tape for the Medium is 7/16 inches. The width of the tape for the Large is 5/8 inches.
---
Is the small and medium the same size. The
Answer by • Jul 26, 2018
The small and medium are both 16 feet long, however the small is for pets weighing up to 33 pounds and the medium is for up to 55 pounds.
---
What is the weight limit on the medium?
Answer by • Jun 28, 2018
The x-small is made for dogs up to 26 lbs, the small is up to 33 lbs, the medium is up to 55 lbs and the large is up to 110 lbs.
---
---
---
By Jackie on Oct 19, 2022
DO NOT PURCHASE IF YOUR DOG CHEWS OR PULLS LEASHES
I DO NOT RECOMMEND IF YOU HAVE A LARGE DOG. I bought the largest size possible when my dog is only 55 lbs. My dog pulls when he walks sometimes and it SNAPPED. I wasted my money on this product and could have had a big problem if the snap had happened near where we usually walk (downtown with tons of cars and people and traffic). I can't recommend this at all. It is big and clunky to carry too.
---
By Leash1 on Oct 22, 2022
Poor quality, keeps breaking
We have bought 3 of these leashes for our 12lb dog. Every one of them has snapped in half and broke. I will not be buying another one and do not recommend them. This leash is not reliable at all. We're lucky that when the leash snapped our dog ran back to us but it could have easily turned bad if she had run into traffic. Horrible product.
---
By FlexiNoMore on Sep 13, 2022
Quality has gone downhill
My wife and I were loyal Flexi customers and have bought at least seven Flexi leashes over the years. We own large dogs and have always bought larger, corded leashes. We have been unable to find corded leashes in our preferred sizes recently, so our last three purchases were of leashes with tape. I was skeptical when our first tape leash arrived, as the tape seemed very thin and fragile compared to our older leashes that have a cord with a doubled end of heavier nylon webbing. It turns out that my skepticism was justified, as twice our dog has bit at his leash when he was turning around and the tape crossed his mouth. Each time he almost completely severed the tape. The most recent occasion took place on a leash that cost more than $35 that we had for less than a week. The other time was about a month ago on a leash we had used for a couple of weeks. I am extremely disappointed in what was previously a quality product. Two of our corded leashes are 20 years old and still get used multiple times a day. They are starting to fray, so we decided to replace them, but it is obvious that the new Flexi leashes simply do not compare to the old ones. I contacted Flexi with our concerns and got a rather short response implying that the problem was our fault, as we didn't "soak the first 2 feet with Tabasco or any other anti-bite product from time to time until your dog is older and/or isn't interested in playing with the leash any more." Following their guidance (which isn't in the product instructions) would have made no difference. Our dog is not a puppy and does not chew or play with leashes; the leash simply crossed into his mouth as he was spinning and in one bite the leash was almost severed. In the past, we had dogs that did play with the end of the leash, but it didn't affect the old leashes, which have heavy double tape at the end. Flexi has adopted an interesting sales strategy: Reduce the quality of the product, then blame the customer when there is a problem. We're done with them.
---
By KaKa on Sep 30, 2022
Sturdy body - weak leash
Sturdy mechanism and easy to use, but the strap is not strong/thick enough. My lab pup chewed it a bit while walking and eventually it kept shredding and the top near the clasp starting tearing away from the base of the clasp. Can't use it. Scared he will snap it when he pulls on walks.
---
By Beth on Oct 13, 2022
Short lasting
I had this for my 4 pound puppy. It did not even last 2 weeks as the snap came apart from the ribbon. My pup did chew on it from time to time but feel it should have held up much longer.
---
By Pika on Jul 13, 2022
(Limited) Freedom
The leash goes smoothly. My Pika is energetic outside, especially when she sees birds, squirrels, deer, etc. With this, she can have limited freedom to chase them and I don't need to run after her desperately. The break works fine when I push it, but sometimes it doesn't react immediately when I release it. It'd be great to have an upgrade of the plastic piece close to the buckle cuz it's chewable and will be chewed for sure. The edge of the leash is a little bit sharp so I always wear gloves in case I need to make her stop immediately. And I think it is good for harnesses but not collars since when the dog runs and reaches the end of the leash there'll be a sudden stop and it might hurt his/her neck. In general, it's almost perfect.
---
By Longdog3 on Sep 26, 2022
Great if you're a toddler
These work fine but the case size is designed for the hand of a 3 year old, and I have small hands. Just because the dog is small it doesn't mean the handler is. Poor design.
---
By WAdogs on Jul 29, 2022
tape twists like crazy
As far as I can tell, the swivel on the clip doesn't work and the tape twists like crazy (see photo). After a while this means it won't retract. I've had other Flexis of this same type (bought years ago) that work well. This one is awful and unusable for anything but a quick potty trip.
---
By Pragmatic1 on Jun 23, 2022
THE ABSOLUTE BEST!
The FLEXI Comfort Nylon Tape Retractable Dog Leash is the best retractable leash I've ever used for my little guy! I've since gotten a couple extra, too. I especially like the ones that have the neon nylon color ribbon . The 'braking system' offers excellent control! I've also gotten a couple to give to new "pet parents'. Be sure you get the correct size leash. It goes according to your Fur Baby's weight. I definitely recommend this brand.
---
By Tricia on Aug 29, 2022
Best Leash Ever
This is the best dog leash that I ever owned. It's comfortable to hold and easy to control my dog. I've had it for a year now & it still looks & feels the same as when I purchased it.
---