Flexi Multi Box Dog Leash Accessory, Black
By Flexi
---
About This Item
Perfect for everyday use and travel to hold treats or waste bags for any walk anywhere.
Can be opened from either side so it's ideal for both right-handed and left-handed dog parents.
Includes an opening at the bottom to conveniently remove individual poop bags for cleaning up waste.
Includes one roll of waste bags to get you and your pup started on a new way to walk.
Compatible with the Flexi New Comfort Retractable Tape Dog Leash and Flexi New Neon Retractable Tape Dog Leash.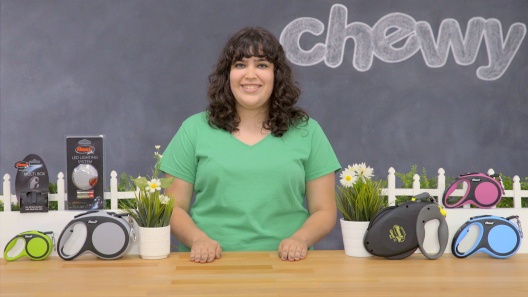 Learn More About Flexi From Our Team of Experts
---
---
Questions & Answers
8 Customer Questions
---
What kind of poop bags come with this product? I ordered this and loved the bags that's came with it
Answer by • Nov 13, 2017
This Leash Accessory does come with 1 roll of waste bags. Standard size waste bags will fit within these.
---
Does the multi box hold both treats and bags simultaneously?
Answer by • May 23, 2018
This product is intended for storing treats or waste bags, but not both simultaneously.
---
This is a silly question but what do you do with the side plug when you are using it with the bags so that you don't lose it?
Answer by • Oct 01, 2020
When not using the side plug, we recommend storing it in a safe place for use as needed.
---
Will this hold x-small dog treats?
Answer by • Aug 28, 2019
This accessory will hold X-Small and Small treats.
---
---
---
By Jason on May 14, 2022
Almost perfect!
We love these clever holders. They are designed to snap right onto the Flexi leashes. They have convenient doors on each end to make loading a roll of baggies very easy. The only thing is the doors can open a bit too easily. We are chasing the baggie rolls and winding them back up too often. A piece of tape over the doors helps but is awkward.
---
By Edub88 on Jan 24, 2022
Great little box.
I've read review after review saying that the lid won't stay closed and folks are losing treats and poop bags. I ordered it anyway because the bag holder I was using would pop open at the slightest tap. This little box is AMAZING! it closes tightly and I've dropped it a couple times while out with my pup and it never popped open or showed any signs of it. I use mine along with the flexi Light and it is wonderful. Definitely pup approved.
---
By Ginger on Mar 17, 2022
Highly recommend
Love this little leash accessory. It fits right into the handle of the leash and does not get in the way when holding the leash. It is so much better than having the bags hanging off the handle in a container or having to carry them separately. Great idea.....thank you Flexi
---
By Colt45 on Mar 25, 2022
Recommended for a Noncompatible Flexi Leash
Bought this attachment because it was a recommended item for the flexi giant XL leash. Turns out they are not compatible.
---
By Jude on Mar 11, 2022
Fantastic Addition to any leash!
I absolutely love this and I also like the way it hooks right onto the leash itself and you can carry treats for your dogs!
---
By Sweetiepie on Mar 23, 2022
falseadver
Even though its says comes with bags - it doesn't and per the rep they don't sell the bags for this unit
---
By Paul on Jan 8, 2022
Flexi leash accessory
This leash accessory fits perfectly on the leash and is a great way to carry pet waste bags, which is what I use it for. I would purchase this item again. Chewy is our go to for most of our pet needs.
---
By Gabriella on Dec 15, 2021
Very convenient
I had no idea this dispenser existed. I love having it part of my flexi, hanging dispensers never worked for me on this leash. The dispenser is also large enough to hold different sizes of bags. A must have!
---
By 2PupsAndAHedgehog on Sep 25, 2021
Good value, useful little box!
I was a little worried this box would make the leash too bulky but the size and placement are perfect. It's unobtrusive and easy to remove if you don't want it on every walk. I've used it for training treats but anticipate it'll mostly be a bag holder in the future, and it's great that the design offers those options. I could also use it for some keys or cash, but am a little hesitant because of one time I accidentally dropped the leash (completely my fault), the puppy took off running, and the box came open. I don't plan on dropping the leash again of course but am pretty sure that if I did, the box's contents would be scattered, so prefer to keep its contents to lower cost and easily replaceable items! The box held up very well though, starting attached to the leash and closing back up easily. It's a little tough to pry open the cap sometimes, but I prefer that over open too easily with normal use. Overall a smart design and great function for the price point.
---
By Alyssa on Mar 12, 2022
Love this product!!!!
It fits so well. Such a good purchase. It's Barely even noticeable attached.
---