Fluker's Ceramic Reptile Heat Emitter
By Fluker's
---
About This Item
Reptiles are ectotherms or "cold-blooded" animals who depend on he surrounding environmental temperature to regulate their own body temperature. If the environmental temperature in your terrarium is inadequate, your pet may be susceptible to digestive problems or infections.
Large circular emitter directs heat to increase basking area
Non-light emitting element provides heat without bright, blinding light
Supplements overhead heating
Great for reptiles and amphibians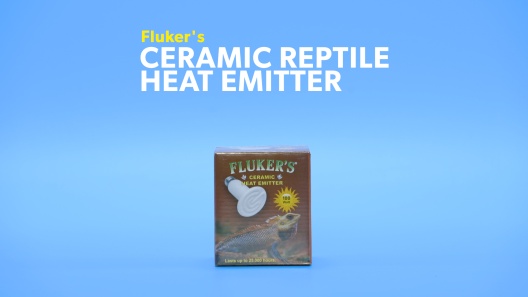 Learn More About Fluker's From Our Team of Experts
---
---
Questions & Answers
37 Customer Questions
---
Could this be used for keeping a hedgehog warm?
Answer by • Dec 05, 2017
We recommend this bulb if your home doesn't stay about 72 degrees at all times. It produces no light, only heat which is the best for a nocturnal animal.
---
how hot does this make the cage/basking spot?
Answer by • Jul 13, 2017
This light bulb should be located 18 inches above the tank so it can emit a temperature of 106 degrees Fahrenheit. However, testing for this light bulb was done at a room temperature of 68 degrees Fahrenheit and the temperatures can also differ depending on the size/type of enclosure.
---
Is 100 watt the correct wattage for a 15 gallon glass tank for hermit crabs? Trying to raise temp by 4 to 5 degrees. Thank you
Answer by • Nov 24, 2018
When choosing lights, pay close attention to wattage. Lights with a high wattage over a small tank will cause the humidity to drop below proper levels as well as raise the temperatures into a dangerous range for your crabs. We recommend the use of a 15 watt bulb for a 10 gallon tank. The bigger the tank, the higher the wattage can be, such as a 60 watt bulb for a 55 gallon tank. Lights that you can use include fluorescent bulbs that provide UVB and UVA light, incandescent bulbs, nighttime heating lamps, or a combination of these. You should use a timer to make sure that the light cycles are maintained appropriately.
---
Can these be used outside in my rabit hutch
Answer by • Dec 23, 2017
This bulb delivers the proper heat needed for Aquatic Turtles, Insects, Lizards, and Snakes. It hasn't been tested for use with Rabbits.
---
---
---
By JDW1 on Mar 25, 2022
Bought for Jeffrey the Hedgehog
This product is perfect-and much more cost efficient than purchasing in a pet store. We go through about two a year, and these are almost half the price. I will say that Jeffrey is a little fat, and the product does not induce weight loss.
---
By JillianShe on Mar 3, 2022
Disappointed!
Pretty sure I just got a faulty bulb. It came with a white powered stuck all over it as well as a brown, crusty material. The surface of the bulb almost appears cracked all over. I don't feel safe using the bulb so I picked one up at the store.
---
By Girls on Mar 3, 2022
Using for snakes
This heat emitter works very well. Gets good and warm (almost hot). Put it on top of the tank and it will spread the heat downward very well.
---
By Donatella9238 on Jan 10, 2022
Disappointing
They work for the most part. But within six months, I've had to order this three times. Honestly, this might even be the last time I order this because i just bought one on Black Friday and it just broke. If you want to try this, just have backups in case
---
By Nate on Mar 1, 2022
Not. A big timeframe
The bulb has been here a little over a month and is done already. Was hoping for it to last longer but I guess not.
---
By Jeni on Nov 18, 2021
unbeatable price!
In my area CHE bulbs are very expensive. I am thrilled to have an option with chewy for my saharan sand boa and my ball python Voodoo. They're safe on their eyes, used with a lamp fixture on a thermostat and the first one has lasted well.
---
By Trish on Dec 23, 2021
Love these heat emitters
Love the heat emitters! Can use at night, don't burn out like the lights and last forever! Quality and value
---
By katie on Sep 10, 2021
Maybe used?
I ordered these a while ago and its lasted a good few months and still hasn't died yet, but I opened this second bulb to brown stuff on it. I got most of it off
---
By dfunk on Jan 19, 2021
good for ambient heat
Using this for ambient heat in my ball python's 40 gallon terrarium. When put at one end, it helps maintain a temperature gradient. It doesn't give off light, so it can be used for both day and night. The 100 watt bulb isn't strong enough to heat the 40 gallon on its own, (my house is 66 deg F) but that's my fault for buying the wrong wattage bulb not a flaw in the product.
---
By Victoria on Jan 24, 2021
Didn't last
So I bought the 150w back in December to keep my 40g terrarium warm for my python! It last a month and went out Mid Jan where it's about to be the coldest time of year! Either this product just sucks. Or I just got unlucky with this emitter.
---