Fluker's English Ivy Repta-Vines, 6-ft
Frequently Bought Together
---
About This Item
Add a gorgeous, natural look to your reptile or amphibian's habitat.
Measuring 6-feet long, they bend and twist, fitting perfectly into any terrarium.
Their sturdy design offers more support for your pet than conventional vines, so your pet can climb all day and night long.
Made of nontoxic polyethylene, they're safe and easy to clean and disinfect.
Great for chameleons, frogs, geckos, snakes and more!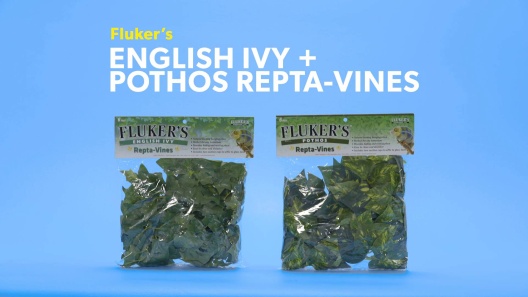 Learn More About Fluker's From Our Team of Experts
---
---
Questions & Answers
10 Customer Questions
---
are they good for a ball python?
Answer by • Feb 11, 2020
Fluker's English Ivy Repta-Vines is perfect for any terrarium and can be used for chameleons, frogs, geckos, snakes and more.
---
Would this be ok for a hermit crab terrarium?
Answer by • Mar 12, 2019
This can be used in hermit crab habitats as the non-toxic polyethylene material is safe for them as well.
---
Does it come with suction cups?
Answer by • Apr 06, 2021
These vines include two suction cups for easy hanging.
---
Are these safe for a red ear slider?
Answer by • Feb 22, 2021
These vines are safe for reptiles to use, including red-eared sliders.
---
---
---
By Logan on Jan 14, 2022
Amazing Product
Love this product, it is very cheap and very nice. Some people were complaining about the small wire that sticks out on both ends, but this is used to connect it to the suction cups (i think) The suction cups work really well, and you cant beat this price. It is a lot of decor for so cheap, makes my crested gecko tank look much nicer and he loves to climb on it
---
By Blueyed86 on Dec 2, 2021
It fell apart
It fell apart as soon as I got it out. I wouldn't buy again
---
By Cross on Aug 9, 2021
Looks Real
Looks very life-like. Will go good with my project I'm currently working on.
---
By Dakota on Jun 24, 2021
Its an ok product
If you can figure out what to do with this I'm sure it would be amazing. I highly doubt it's very useful though.
---
By Jamie on Feb 17, 2021
Great fake plant for reptile enclosures.
Sometimes I don't understand how people can give their snakes bare tubs with nothing but a water dish or even a hide. Why not supplement their enclosure with these? These work well in any size enclosure that is not less than 10 gallons. I bought 2 of these, and though they're very nice, I like the pothos more. I like that these come with two suction cups, however you do not NEED to use the suction cups with these. Totally optional and it can still work well when it's intertwined with branches, caves, or any surface. Compare these fairly priced fake vines to other reptile-branded fake plants and you'll soon realize that you have a steal.
---
By Ricky on Jan 26, 2021
Pretty good
Overall, not bad, the only downside is that the inner metal part will come out, which makes me worry that it will injure my snakes
---
By Cato on Apr 28, 2020
Kinda okay
It looks realistic, and looks very nice in my pythons tank. However, the setup design is very pour (suction cups aren't secured and therefore the vines fell off constantly.) Not strong enough for the snakes to even climb on. Not filled out enough for them to hide in. Basically its only good for aesthetic purposes...
---
By Shaymin on Dec 11, 2019
Nice realistic vines
They look very nice in a tall enclosure. They don't look obviously fake and add a nice touch.
---
By debird on Mar 12, 2019
leopard gecko Zuul's terrarium
Work well but suction cups fall off sometimes I ordered another plastic plant for her tank. Hoping to use these ivy for my hermit crab terrarium
---
By LMyers on Feb 14, 2019
Excellent!
Ordered 4 plants for a very large terrarium and with all 4 it nearly filed it to what I was wanting. Very satisfied and the geckos love them. Oh and also very easy to clean
---