Fluker's Thermo-Hygrometer, Digital
Frequently Bought Together
---
About This Item
Accurate and easy to read, making it a great addition to your reptile or amphibian's terrarium
Measures both temperature and humidity so you can maintain consistent levels within your pet's environment, ensuring it stays safe and comfortable for him at all times
Easy-to-read digital display
Accurate readings
Helps maintain safe and comfortable environment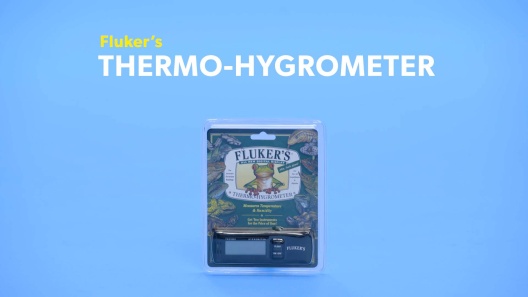 Learn More About Fluker's From Our Team of Experts
---
Compare Similar Items
| | | | | | |
| --- | --- | --- | --- | --- | --- |
| | | | | | |
| Customer Rating | | | | — | |
| Price | | | | | |
| Material | N/A | Plastic | N/A | N/A | N/A |
---
Questions & Answers
13 Customer Questions
---
How does this hold up in a really humid tank that requires misting?
Answer by • Feb 17, 2018
This product will hold up well in a humid tank.
---
Is this water resistant enough so I can mist the tank without worrying about avoiding it?
Answer by • Jan 16, 2020
The digital thermo-hygrometer is safe to be inside an environment where mist and humidity occurs.
---
Can this product withstand temperatures of 95+ degrees Fahrenheit?
Answer by • Oct 03, 2020
This thermometer/hygrometer has an operating range of 0-50 degrees Celsius/32-122 degrees Fahrenheit with 0.1 degrees Celsius/0.1 degrees Fahrenheit resolution.
---
Should I put this on the hot side of my leopard gecko enclosure or the colder side? I mostly wish to measure humidity, as I am already buying other thermometers
Answer by • Feb 09, 2021
This Thermo-Hygrometer should be placed in the area that will have the most accurate reading. It will measure both the humidity and and temperature of your tank. Do not apply the unit to water, AC power or extreme weather conditions.
---
---
---
By FlukersThermoHydromeyer on Apr 4, 2022
Great Thermo-Hydrometer
Excellent product! Super easy to install and holds well against the side of the terrarium. The digital numbers are large and easy to read so it's easy to make adjustments as needed. Would absolutely recommend this product.
---
By Xxochitll on Feb 5, 2022
Stopped working
At first it was great and I have other gauges that verified it's accuracy, but now, probably a year later, the humidity reads -- as others have stated. I have 2 and they are both doing the same thing. I'm very disappointed.
---
By Grascen on Dec 2, 2020
Works Great!
This thermo-hygrometer was an upgrade for our leopard gecko's tank. I love how it shows you the max and min temperature and humidity. It's a great feature if you have an enclosure where conditions may vary.
---
By Beto on Oct 5, 2020
hygrometer does not work
I just received this package and it came within 3 days which was amazing and packaging was great, got a brand new combometer, thermometer works good, its about 3-4 degrees apart from a previous thermometer i had, i put it in my new bearded dragon's terrarium but the hygrometer does not work, it shows "- -%" im going to put it with my other beardie and see if it will work since they're set up differently and ill change the review if i see anything different
---
By DogMom1988 on Sep 5, 2020
Waste of Money
Get an acurite! This is so in accurate and a total waste of money. An acurite isn't targeted towards reptile keeping, but works amazingly well in my ball python tanks and rack tubs. If you need to accurately track humidity, don't buy this piece of junk!
---
By Henry on Jun 8, 2020
Hydrometer does not work
The thermometer works just fine, but most of the time the hydrometer shows no reading at all. Very frustrating because the hydrometer function was the main reason I got this product. Also I'm not sure it's even accurate when it does show a reading. We have had some VERY humid days recently, but when I could get it to work it still read the humidity as less than 20% and I know the tank is not insulated enough for there to be that big a difference inside and outside.
---
By HermitCrabMom on May 13, 2020
Hygrometer Doesn't Work!
This instrument simply doesn't work. The thermometer appears to be accurate, but the hygrometer does not read humidity correctly. When I first started using it, the humidity reading would fluctuate wildly, even though it was left completely undisturbed in the crabitat. Now, it says the humidity is "---%," which is impossible. Thankfully, Chewy has issued me a refund.
---
By Brandyjow on Nov 22, 2019
Great item!
I LOVE the feature that records the highest & lowest temp/humidity levels. I've been having issues maintaining correct levels and they fluctuate while I'm home so knowing what it did while I was gone or asleep helps put my mind at ease. The only thing I would change is to make an option with a probe for basking spots. Feels like it's made with great quality compared to others I've used. I like the sleek design.
---
By Wang on Jan 22, 2020
Works fine but not water proof
This item works great but as it also has a humidity function, it should be water proof. The adhesive didn't stick and it fell into the water. Not working anymore. What a shame
---
By Izzy on Nov 29, 2019
It worked really well
I am very pleased with this product. I got it to monitor the humidity and temperature in my dart frog vivarium; however, it was a little too humid for this device. Once I put my closed in lid on-top, the humidity stayed around 99% and the moisture quickly defeated the screen. I did order two more for my new gecko tank builds.
---