Fluval Aquarium Nano Underwater Filter
Frequently Bought Together
---
About This Item
Optimal water filtration system for small aquariums that ensures proper oxygenation for clear water and a healthy environment.
Foam filter media provides effective and thorough mechanical and biological filtration.
Fine foam pad traps small debris and a Bio-Foam captures debris and houses nitrifying bacteria.
Adjustable flow output with attachable spray bar distributes a gentle, even flow of water, making it safe for delicate fish or shrimp.
Quickly assembles and disassembles and comes with three suction cups for secure in-tank installation.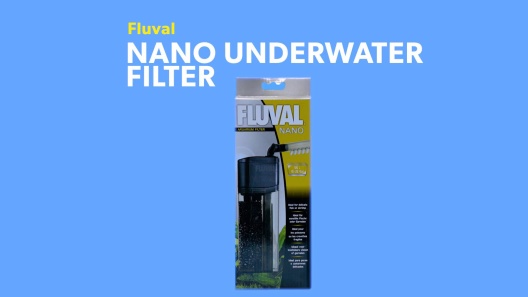 Learn More About Fluval From Our Team of Experts
---
Compare Similar Items
| | | | | | |
| --- | --- | --- | --- | --- | --- |
| | | | | | |
| Customer Rating | | | | — | |
| Price | | | | | |
| Fish Type | Tropical Freshwater, Marine Fish | Tropical Freshwater, Betta, Cichlid, Goldfish | Tropical Freshwater | Tropical Freshwater | Tropical Freshwater, Marine Fish |
| Aquarium Type | Freshwater, Saltwater | Freshwater, Saltwater | Freshwater | Freshwater | Freshwater, Saltwater |
| Material | Plastic | Plastic | Plastic | Plastic | Plastic |
| Capacity (Max) | — | — | — | Up to 5g | — |
---
Questions & Answers
9 Customer Questions
---
do you have to use attachable bar? afraid it may be too much for my beta and also may make too much of a trickling noise as my tank is in my bedroom. #light sleeper
Answer by • Apr 22, 2019
This filter features a flow adjuster on the spray bar however, it may be used without the spray bar if wanted.
---
Will this filter work on its side
Answer by • Apr 01, 2018
This product should be installed in an upright position.
---
Can this be used with a Fluval Edge?
Answer by • Dec 06, 2019
Due to the wiring of this filter, it is not recommended for use with the Fluval Edge, as it may not allow you to close the lid of the tank properly.
---
Will it work if I have sand on the bottom of my tank?
Answer by • Feb 01, 2022
The Fluval Aquarium Nano Underwater Filter will work in an aquarium with sand at the bottom of the tank. Please keep in mind to keep the intake portion of the filter at least 4 inches above the sand or bottom of the tank.
---
---
---
By ProactiveAgony on Apr 10, 2022
Low flow = Grinding Noise!
I bought this for my nano shrimp tank (3 gal) because it has adjustable flow. But on half to lowest setting, the grinding noise was unbearable. So I moved it to my 10 gal black water tank. Again, the grinding noise was maddening unless set to highest flow setting (which knocked my betta all over.) So I dropped it into my 55 gal tank and made sure the filter was 100% filled with water. Again, the only way to make it quiet is to put it on the highest flow setting. Why even have an adjustment?! Further, it comes only with coarse media sponge. You'd think Fluval could add at least carbon. Going back to tried and true sponge filters, and I can't wait to sell this waste of money at the next local aquatics auction.
---
By no1please on Jan 28, 2022
not a beta filter
I wish I could give this zero stars. I was so hopeful with this product and I was major let down and upset by the time I was done with it. First of all it's so loud in the water that it disturbs the fish, not to mention this thing is huge. It's way longer and thicker than my hand and it's width is too much as well. I decided to go ahead and give a try tho and after about 5 minutes of being installed in the tank, yes work ok within that time other than water pressure, the top bar popped off of it and water was sprayed EVERYWHERE. A horrible experience and would not recommend to anyone :(
---
By Dmad1 on Feb 2, 2022
Very Loud Filter
For this being internal, it's incredibly LOUD. Also the lowest flow is still very strong. It's a good filter though. I just don't get why it's so so so loud
---
By JDBR on Jan 21, 2022
Too Powerful!!!
I bought this for my 10gal Betts tank, the flow is WAY too powerful even on its lowest setting. Would not recommend using this for a Betts tank.
---
By Someweirdhobo on Nov 18, 2021
Great filter
This filter works great. I love definitely would recommend. I have it in a tank with African dwarf frogs. No complaints
---
By Louie on Sep 28, 2021
Amazing filter
I'v enow bought three of these filters (one for each of my bettas and one for my goldies) I love that I can adjust the flow and its been a life saver for all of my tanks :)
---
By melle on Jun 11, 2021
Good little filter.
I love the filter. It puts much needed oxygen back to my water of the tank. I have installed on my 20long shrimp tank. This tank is very heavily stocked with shrimp and fish. I also run a back up filter in the tank. The fluval is my main filter. It worked so well at clearing out the tank. The one thing I am not a fan of is the size of the filter and how much space it takes up. Plus this is NOT shrimp safe. First time I went to clean the impeller. There where so many young shrimp in my filter. I have added extra floss so they can not get into now. As far as ppl saying it's to power full. You can adjust the flow, and there are ways to baffle the flow as well. It is a great filter. I do recommend it for smaller tanks. It makes enough flow for my hillstream loaches to be happy with it. Some of the reviews, seem ppl did not reach out, mistakes happen. Life goes on. It's not a reason to slam a good product.
---
By Toadman69 on Mar 10, 2021
Piece of crap
Fitting on the filter for the spray bar was broken out of the box so I was unable to attach the spray bar. Pretty powerful, a bit too powerful if your tank is shallow or you have frogs or turtles
---
By Filter on Feb 22, 2021
Did not come complete.
It came already open. It was missing the spray bar, a pieces of foam, and two other small pieces as well. Looks like a returned item that they borrowed parts from.
---
By Chelle on Feb 21, 2021
great little filter
I just bought a second, love this filter but you have to make sure it's fully sealed! Fully submersible.
---