Must enter code FALL2022 at checkout to redeem
Frequently Bought Together
---
About This Item
Contemporary etched-glass aquarium with aluminum trim combines style and functionality in one small but complete package.
Sleek, arched light array and 7500K LED lamps result in noticeably bolder-looking fish along with brilliant plants and décor.
Powerful circulation pump with adjustable output nozzle and large, 3-stage filter system delivers more than enough filtration for ultra-clean water.
The system is simple to set up and maintain; includes all the necessary filter media including a porous foam block, activated carbon and BioMax bio rings.
Ideal for desks, offices and children's rooms; the 2.6 gallon tank measures 11.8 x 10.8 x 8.7 inches and the 5-gallon tank measures 20.5 x 11.6 x 7.5 inches.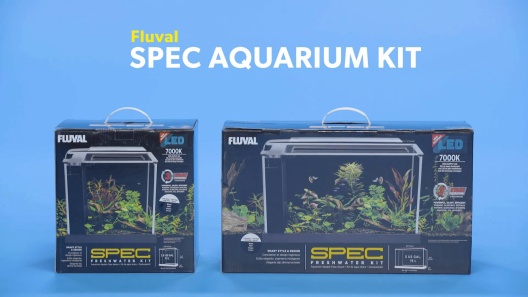 Learn More About Fluval From Our Team of Experts
---
Compare Similar Items
| | | | | | |
| --- | --- | --- | --- | --- | --- |
| | | | | | |
| Customer Rating | | | | | — |
| Price | | | | | |
| Fish Type | Tropical Freshwater | Betta, Tropical Freshwater | Tropical Freshwater, Betta | Betta, Tropical Freshwater | Marine Fish, Tropical Freshwater, Marine Invertebrate... |
| Capacity (Max) | 2.6-gallon | 3-gal | 5 gallon | 5-gal | 2.6-gal |
| Material | Glass | Glass | Plastic | Glass | Glass |
| Aquarium Type | Freshwater | Freshwater | Freshwater | Freshwater | Freshwater |
---
Questions & Answers
36 Customer Questions
---
So would i have to clean it?
Answer by • Nov 30, 2017
This aquarium has to be cleaned.
---
Does it come with everything you need.
Answer by • Oct 07, 2017
The system is simple to set up and maintain; includes all the necessary filter media including a porous foam block, activated carbon and BioMax bio rings.
---
Do i need a heatet
Answer by • Dec 27, 2017
This aquarium kit doesn't come with a heater. The use of a heater depends on the type of fish you will place inside the tank.
---
Does the light support live plants or do you have to buy a different light.
Answer by • Jan 08, 2019
This LED light in 7000K. For most planted aquariums, having the light operating at around 6500K to 7000K should be ideal to keep the plants growing well. It would also help make the unit work as a natural light source.
---
---
---
By crashN2u on Aug 13, 2022
Worth the Extra $50 to Me to save 3" of Depth
Was going to buy a cheaper tank, but I wanted a smaller depth so I bought this one. Love the size and the look, but the drawback is that you have less room to aquascape, but I made it work. The tank was for my Betta and I knew all the complaints about the strong current. I bought a rain bar to help distribute the force but it was still too strong. I ended up punching 6, 1/8" hole along the output tube and it slowed the current enough that my Betta is able to swim under the rain bar normally unless he gets too close. The other benefit of the holes is it circulates the water in that chamber so it doesn't get stagnant, which was another complaint. I initially wasn't happy that the lid was plastic and had a big hole down the middle. There's only one cutout for cords by the filter. My heater is too big to hide in the pump area so it has to stay in the main tank and that means the lid won't sit properly. I might cut a hole in the plastic for the cord. As for the light, it's just ok. Not as bright as they make it sound. The good news is, if you're looking to do a low tech planted aquarium, it will be just fine. It measures 60 PAR in the center at substrate level and about 45-48 in the corners, so low light plants will be good. Overall a very nice tank and I would buy again. My only real issue was there is a tiny chip by the filter on the glass. Not enough for me to go through the hassle of exchanging it, but still, it's a $100 5 gallon tank. C'mon....
---
By Marieblu on Jun 19, 2022
Decent Tank
I've been using this tank for over a year now. It has housed two healthy male guppies during this time. Pros: Attractive tank; filter is in it's own compartment which protects fish; other than the filter, tank is easy to clean; filter media easy to maintain. Cons: Filter is difficult to access. Difficulty with access is due to the filter being kept in a narrow compartment. One of the bottom suction cups holding the filter in place came off during the last cleaning. It was stuck on the bottom of the tank and I spent a frustrating time attempting to retrieve it. Eventually I was successful.The tubing of the circulation pump is easy to remove but the impeller and impeller well is very difficult to take apart.The end of the output pump is extremely difficult to snap on and off. Due to the negatives with the filter, I will not purchase a tank like this one again.
---
By Vettegirl on Jun 6, 2022
Don't Recommend
If you go to Fluval's website you will see that they don't recommend any tank under 20 gal. The light is overly bright and causes ton's of algae. I have to scrape the sides with a razor blade every 4 days. The inlet and outlet are on the same side of the tank making for circular water flow. I have to shut the filter off to feed the fish as the food gets sucks right into the filter. In the first 4 weeks of having this tank the pump wouldn't restart twice after being shut off and needed to be taken apart to get to work again. The suction cups on the bottom of the pump pull off when removing pump and the space is so small there is no way to get them out. Don't get gravel or anything else in the bottom of the filter section as you won't be able to remove them. In case you are wondering, the pump is on the lowest setting and there are 3 fish in the tank and I'm finding it needs weekly water changes. Also, I did not buy this tank from Chewy and my review is no reflection on them.
---
By KatDrew on Mar 16, 2022
Nice Design
I have had this tank for just over a year now for my betta fish and has done very well. The only downside is the current can be too strong for my betta, even set on low, so I cover it with a cloth. The grates at the top of the foam filter are also just big enough that the suction pulls on his fins when he sits by it, so I draped another piece of cloth over it. With both of these modifications, he really enjoys his space. I also like that the filter section is closed off so he can not get stuck anywhere. The reason I give it four stars is becasue you really don't need to spend this much money on a tank. There are plenty of plan tanks you can just add a hanging filter on and be totally fine. As well as the two adjustments that I had made.
---
By Philip on Dec 9, 2021
Light can be a uncomfortable on the eyes, otherwise good tank
The light that "floats" over the tank is a little too bright. I wish the manufacturer would make a deeper lip around the edges of the light or update this design to have a complete hood over the tank because it can be uncomfortable on the eyes from the sides. Otherwise, this is a good tank.
---
By Fishfriend on Oct 23, 2021
Damaged goods
Tank lid broken upon arrival, as was part of the base of the tank. Did not appear damaged in shipping - I am guessing it was just poor QC at the place of manufacture.
---
By lexi on May 31, 2021
nice tank but has some issues
Purchased this tank for my sons birthday. The corner of the lid came broken and the light worked for about a week. Now the blue light works but the white light is very dim, to the point it's not even worth having on. Disappointed. Very nice tank otherwise.
---
By Colleen on Apr 22, 2021
Leaking at bottom front corner
So i waited 2 months to order this as it was sold out.i received it yesterday i was so excited everything looked fine i filled it and let it sit overnight to cycle before adding my fish.woke up this morning to discover that it was wet all over my credenza and has a small leak somewhere in front bottom( pics attached) so i call chewy and girl tells me i have to go through all the trouble of lugging this thing back to return!!! I am just getting over surgery for ovarian cancer a couple months ago & scheduled to go in for another on May 5th now i have to worry about how im going to try & ship this back..rediculious! Chewy is usually better at customer service and standing behind their products if something is not up to their great standards...not to mention it caused slight water damage to the top of my credenza!! Pucs should speak for itself
---
By Fishy on Apr 19, 2021
Great aquarium but requires modifications for small fish
This is a nice aquarium kit, but filter is too powerful for small fish and slits at opening to filter area are too large and can catch the fins of fish. If you buy this be prepared to put something over the filter and the opening to the filter area. A fluval pre filter sponge fits well over the filter.
---
By Jeordm on Feb 14, 2021
Absolutely perfect!
Chewy has done it again! Best price and BEST customer service. Original item arrived broken and Chewy had a replacement at my door 24 hours later...on a Saturday no less. This was done without my requesting it. Amazing aquarium is equally wonderful. A very nice home for a betta, and virtually the easiest set up and maintenance I ve experienced. It's beautiful! Buy without hesitation u and ur fish r both in very good hands. THX CHEWY!!!
---