Forza10 Nutraceutic Active Colon Diet Phase 1 Dry Dog Food, 22-lb bag
Autoship
(Save an extra 5%)
Choose Autoship at checkout for regular deliveries.
Why Autoship?
FREE access to chat with licensed vets 7 days a week.
Save 5% on all future Autoship orders.
No fees, no commitments - cancel Autoship anytime.
---
About This Item
Good for dogs with digestive issues including diarrhea, constipation, flatulence, vomiting, colitis and other chronic ailments.
Can help pets with a variety of food intolerances and allergies.
Free of corn, wheat, soy, by-product meals, oxytetracycline, GMOs and artificial colors, flavors, and preservatives.
Meat is single-source and comes from non-intensively farmed animals raised without antibiotics.
Carbohydrate source is gluten-free to avoid allergies and intolerance. Formulated with a healthy balance of Omega-6 and -3 fatty acids.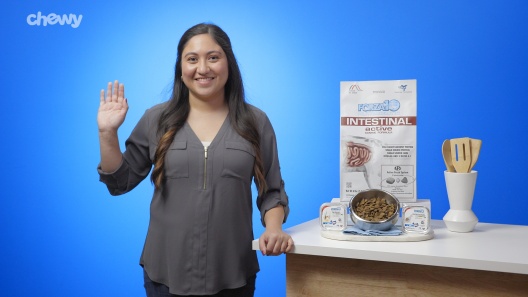 Learn More About Forza10 From Our Team of Experts
---
---
Clean Food for Pet Sensitivities
Forza10 is a clean, solution-based line of food for dogs and cats. With over 25 years of experience, Forza10 crafts dry and wet recipes using specially selected holistic ingredients with no hormones or antibiotics. Their formulas are made to support pets with a wide variety of sensitivities, including those affecting the skin, digestion, the kidneys, the urinary tract and more.
Novel and Sustainable Proteins
Forza10 recipes are made with delicious wild-caught anchovies, which are a rich source of omega-3 and omega-6 fatty acids. Some formulas are crafted with pasture-raised lamb to provide an alternative source of protein that supports lean muscle and performance.
Cold-Pressed Supplements
What makes Forza10 kibble formulas unique are the heart-shaped supplement pieces. Instead of using a heating process, these pieces are made using a cold-pressed patented process to maintain and freeze all the nutrients inside the food. That way, your pet can eat and absorb all the concentrated nutrition in every morsel.
Naturally Powered Feeding
Forza10's ingredients come from the cleanest, natural sources available to ensure they are completely free from contaminants, chemicals, steroids or antibiotics. Their recipes are blended with special herbs and plant extracts to promote optimal wellness and provide natural therapeutic benefits for your pet.
Some of the Nutritious Ingredients in Forza10
Pomegranate
A tasty source of antioxidants and vitamin C, which helps prevent tissue degeneration and support the digestive system.
Turmeric
One of the most potent, natural anti-inflammatory substances. It promotes healthy digestion and immune function.
Oregano
One of the strongest anti-inflammatories in nature. This powerful antioxidant helps block the growth of bacteria.
Orange Peel
Used in weight loss diets because it helps positively stimulate the nervous system and encourages lipolytic activity.
About Forza10
Forza10 was founded after Sergio Canello, DVM and international expert on food intolerances, teamed up with natural medicine expert, Gianandrea to research and develop functional pet food recipes. The result? A pet food line completely free from chemical or pharmacological pollutants and made with rigorously controlled raw ingredients provisioned from the most pristine regions of the planet. Support your pets with the natural, holistic approach of Forza10.
Shop Forza10
Compare Similar Items
| | | | | | |
| --- | --- | --- | --- | --- | --- |
| | | | | | |
| Customer Rating | | | | | |
| Price | | | | | |
| Autoship | | | | | |
| Top Ingredients | Hydrolyzed Fish Protein, Brown Rice, Rice Flour... | Ground Rice, Fish Meal, Rice Middlings... | Ground Rice, Fish Meal, Rice Mill Run... | Ground Rice, Anchovy Meal, Vegetable Oil... | Hydrolyzed Fish Protein, Brown Rice, Rice Flour... |
| Special Diet | Gluten Free, Sensitive Digestion, No Corn No Wheat No Soy... | Gluten Free, No Corn No Wheat No Soy, Sensitive Digestion... | Gluten Free, No Corn No Wheat No Soy, Non-GMO... | Gluten Free, No Corn No Wheat No Soy, Non-GMO... | Gluten Free, Sensitive Digestion, No Corn No Wheat No Soy... |
| Health Feature | Digestive Health, Diabetic Support, Immune Support | Digestive Health, Appetite Stimulation | Skin & Coat Health, Itch & Redness Remedy, Sensitive Skin | Dental & Breath Care, Skin & Coat Health, Immune Support | Digestive Health, Immune Support |
| Breed Size | Small Breeds, Medium Breeds, Large Breeds, All Breeds | Small Breeds, Medium Breeds, Large Breeds, All Breeds | Small Breeds, Medium Breeds, Large Breeds, All Breeds | Small Breeds, Medium Breeds, Large Breeds, All Breeds | Small Breeds, Medium Breeds, Large Breeds, All Breeds |
| Food Flavor | Seafood & Fish | Seafood & Fish | Seafood & Fish | Seafood & Fish | Seafood & Fish |
| Lifestage | Adult | Adult | Adult | Adult | Adult |
---
Questions & Answers
5 Customer Questions
---
What is the sodium level in Colon food?
---
What is the phosphorus percentage on a dry matter basis?
Answer by • Nov 27, 2021
The phosphorus content for Active Colon Diet Phase 1 Dry Dog Food is As fed 0.9% and Dry Matter 0.99%.
---
Approx. how many cups are there in the 22lb bag? Thank you.
Answer by • Apr 09, 2022
There are approximately 4 cups of food per pound.
---
What fish oil and fish protein is in this diet?
Answer by • Nov 03, 2020
Forza10 Active exclusively uses small fish (anchovies or herrings), captured in the open sea and processed whole, and particularly rich in precious poly-unsaturated fatty acids. These fishes not only feature exceptional digestibility and protein values, but also offer the natural characteristic of transforming fat into muscle, helping to develop a lean and muscular body.
---
---
---
By DogMom on May 29, 2022
Highly recommended!
My Aussie has a pretty sensitive gut and has eaten various types of food through the years. Last year I tried one of the other Forza 10 kibbles and she did really well with it but I got tired of the fishy smell and switched to a different brand. After struggling with a recent bout of very bad diarrhea I decided to put her back on this brand and got a bag of the colon diet. After 2 days she is markedly improved. I wouldn't say it's her favorite food but she'll eat it and her gut is very happy. It's worth the fishy smell. Storing it in an airtight container helps. Interestingly, her poop isn't all that smelly - it's just the kibble itself that has the strong smell. Also I've noticed that her poop is very dry although she's been drinking normally and seems well hydrated. And this food seems to make her poop more throughout the day, as others have noted in their reviews. All in all I'm very impressed and optimistic! Thanks, Chewy, for carrying this brand.
---
By Bells0327 on Jul 13, 2022
Working so far!
Our 1.5 year old cattle dog mix has had soft stool ever since we adopted him a few months ago, but last month he he started having diarrhea, lethargy, and rapid weight loss, even though he was eating plenty of food. Even after multiple vet visits and exhaustive testing including various blood tests, fecal exams, urinalysis, and an ultrasound, our vet left us without answers and suggested we try an elimination diet using prescription vegeterian hydrolyzed kibble to see if that helped. After a month on the prescription diet and nothing else, our dog was still losing weight, having regular episodes of diarrhea, and his eyes, coat, and expression were dull and unhealthy looking. With our vet at a loss for what to do, we desparately searched the internet over and over again for possible solutions, and discovered Forza10. We were impressed by the outstanding reviews and testimonials from pet parents like us who couldn't find solutions through their vet, and stumbled upon Forza10 the same way we had. We took a chance and ordered an 8 lb bag of the Colon Diet Phase 1 dry food, transitioned him to it in 1 day, and literally saw a huge difference by the following day. Our dog gobbled the food up, his poops were high quality and the right color, and he started looking a bit brighter-eyed. After a week on Forza10 Colon Diet he is visibly starting to gain some weight back, and even just a little weight on is a big win for us. We are giving him a plain scrambled egg a couple days a week to give him some additional protein/fat, and he hasn't had diarrhea since day two on this food, and his coat, eyes, and general comfort are improving every day! Few things to note: - This food is stinky (like a mix of fish and stinky cheese)! Our dog loves it, but I recommend keeping the food in an airtight container and feeding your dog outside if you are sensitive to smells (or have guests arriving soon!). - This makes our dog's poop solid and high quality, but at first it was a little on the dry side. I recommend letting the food soak in a little lukewarm water for a few minutes before feeding to help make poops the best consistency. - This makes our dog poop much more frequently than he used to, and it's not uncommon for him to have small, great looking poops 5 or 6 times a day. With the good poop size/quality and other improvements, we aren't too concerned by the increased frequency, but will keep our eye on it. He just poops like clockwork now before breakfast around 30-40 mins after each meal (we feed him 3 times per day) during his evening walk, and sometimes before bed. HIGHLY RECOMMEND. Don't be scared to try this food just because it's not on your vet's radar. Be your pet's advocate and trust your instincts - the proof is in the poops!
---
By WyattsDads on Apr 5, 2022
The best food so far
We had trouble with our Pomsky puppy from day 1 with soft or loose stools, always trying to figure out what was causing it. After he was diagnosed with colitis, he was put on Hills Biome. It kinda worked, but we still had so much inconsistency. A few months ago we decided to give this a try after I stumbled upon it while seeing what others have given their dog for colitis. HUGE DIFFERENCE. We have barely seen a loose stool since we started him on this. Since our dog will eat practically anything, I can't say that he likes this any less or more than all the other foods he will happily chow down, but it did solve our big problem. Highly recommended!
---
By Kyle on Apr 6, 2022
Worth the money
Recommended by my breeder for my Frenchie he has been on it since day 1. Has been amazing for him, no stomach/GI issues minimal gas, no allergy issues, and he looks amazing now at a year and a half.
---
By Paulie on Feb 13, 2022
Stopped my dogs spastic colon in a day or two!
My dog was having a spastic colon for several days. Knew she didn't eat anything she shouldn't have, tried many different things to help calm her gut down, but nothing really solved the problem. Went out on a whim after seeing the reviews for this food and SO GLAD I did! My dog stopped having frequent very loose stool within a day or two!
---
By Moose on Jan 8, 2022
Saved our yard and my sanity
We tried multiple different types of food for our 1.5 year old Great Dane's sensitive stomach and he continued to have loose stools on ALL of them. This food was a last ditch effort before trying an expensive prescription diet, and I am SO glad we tried it. We began this food with no transition period per the bag's instructions and our dog's stools were instantly solid. I was amazed. Since this isn't large breed specialized, we have to supplement with vitamins and supplements to ensure he receives all the vitamins and nutrients he needs, but we don't even mind since this food helps him so much!
---
By DogMom on Dec 29, 2021
Worth Every Penny
Our 12.5 year old shepherd mix has had gut issues off and on for years. Saw some improvement when he started a salmon/sweet potato diet, but over time and with age the problem persisted. He was going through one of his bouts of liquid stool; had him on the bland rice/pumpkin/probiotic diet and our vet added Flagyl. No big improvement until I read the reviews for Forza10 Colon and decided to pay the price and see how Webster responded. No transition phase to the food was needed; he ate it all up first bowl offered. Formed stool within 2 days! YEAH! This stuff is worth every penny and minute saved cleaning floors and carpets.
---
By DianeC on Dec 16, 2021
Best Solution So Far
We adopted a rescue Pom 1 year ago. Food was immediately an issue. She had intermittent diarrhea for 10 months. She would be ok sometimes for as much as 4 weeks but it always came back. Nothing worked—we tried everything—except antibiotics and we were getting to the point where we considering lifelong use of metronidazole. She's been on this food for almost 3 months and, although she still has occasional diarrhea, it is much less frequent and of much shorter duration—a couple of days v weeks. Definitely grateful to have found this food.
---
By Rachel on Mar 2, 2022
Dog is not a fan
My dog typically isn't picky eater. This food may do what it states, but my dog will not eat it unless I cover it in kefir.
---
By Solid on Jan 4, 2022
Solid poop
My 1 year old bully had a rectal prolapse that caused his colon to be compromised. After being on Forza 10 for about 30 days he showing improvement and finally has solid poop.
---