Four Paws Puppy Tie Out Cable, Orange, 15-ft
---
About This Item
Made of vinyl coated aircraft cable so you know it's strong and durable
Rust-proof and won't fray for a long-lasting, quality product. Features bronze snaps that swivel and add extra durability
Allows freedom for dogs and insures safety while letting them roam around the yard, and with no links, you don't have to worry about it getting tangles
Safe and stronger than normal chain tie-outs and will not dig up grass. Easy to clean and store which makes it great to take with you on vacations when needed
Measures 15 feet in length and is suitable for dogs under 25 pounds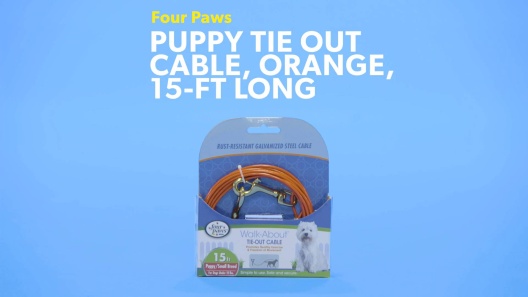 Learn More About Four Paws From Our Team of Experts
---
---
Questions & Answers
Be the first to ask a question.
---
---
---
By Tracy on May 22, 2022
This is working
This is just right for my smallish dog who fiercely goes after squirrels and chipmunks and digs deep holes in search of burrowing animals. I"m tethering him in the front yard because most of the small animal activity is in the backyard. This way he can have a pee, smell fresh air, and watch people walking down the street, while I get ready for gym in the morning.
---
By Embergirl on Aug 23, 2021
Love this tie out
I previously purchased a tie out from another store, but it was only 10ft. I decided to try this one from Chewy and ordered the 15ft chain. I love it because it's lighter and more flexible than the the first tie out I bought, but it can handle dogs up to 100 lbs. My only regret is that I didn't purchase a longer cable.
---
By Belynda on Oct 9, 2021
Puppy Tie Out
Great product! Very sturdy yet lightweight. I purchased it for our 13 lb chihuahua.
---
By ConureMom on Aug 21, 2020
Too big & heavy for small puppy!
I have a six pound puppy - the clasps on this lead are too big & heavy!! I have a couple tie outs from our 60# English bulldog, and these clasps are just as big & heavier than those. This needs to go back.
---
By HappyPuppy on Jul 26, 2019
Tie Out Cable
I purchased the tie out cable for a friends dog that loves to go outside but does not have a fenced in area. She loves it, her dog does not get tangled, has plenty of area to walk, and can choose sun or shade to lay in. I would definitely purchase another in the future if the need arises.
---
By Buddy on Jul 15, 2019
Four Paws Puppy Tie Out Cable
This product works perfectly for the small area I have to let my pets outside for brief breaks. The length is exactly right and the weight of the cable works well for my 42 lb. dog.
---
By Busterteddysmom on Aug 9, 2019
Too heavy for a puppy
The metal clasp are way too heavy for a puppy. They need to use lighter or smaller clasp
---
By BigTurtle on Jul 25, 2019
Flexible cable
Light weight for my puppy to pull around and does not get tangled.
---
By Diva on Jul 10, 2019
didn't know this came in a 15 ft
Perfect for what I need and have to use more characters to reach 50 letters
---
By Sharkie on Jun 10, 2018
Durable but bronze snaps too heavy for small breed puppy
I purchased the puppy/small breed size for my Morkie who is currently 7lbs. The cable is strong yet appropriately light for a small dog. However, the bronze snaps/clasps on the ends are too heavy for a small dog. Suggest at least one of the Clasp ends be made smaller and lighter. I found another brand with a smaller snap/clasp. In the attached photo the orange cable is the Four Paws Puppy Tie out Cable the blue is another brand. You can see a significant size difference and I can attest the clasp on the blue cable is much lighter and does not weigh down on my puppy's harness.
---