Four Paws Wee-Wee Outdoor Dog Spade Set, Large
---
About This Item
Spade and scoop make picking up dog waste sanitary
Stainless steel base
Spade set is ideal for sidewalks and hard surfaces
Long handled so no need to bend down as far
Comfortable rubber grip for ease and comfort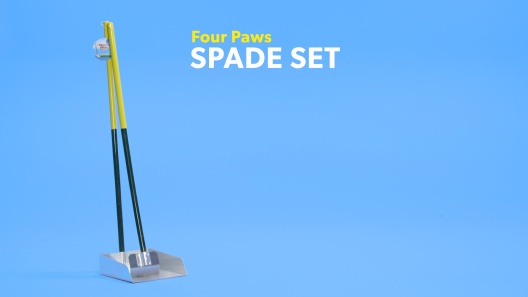 Learn More About Four Paws From Our Team of Experts
---
---
Questions & Answers
13 Customer Questions
---
Do I still need to bag the poop
Answer by • Feb 05, 2018
This rake makes it easy to scoop and throw dog waste sanitary. This product eliminates having to bag their waste. You can place a plastic bag over the scoop the help avoid constant cleaning.
---
How tall is the spade; and what are the dimensions of the blade?
Answer by • Nov 16, 2017
The Four Paws Spade Set is 38 Inches high. The Small blade is 7 x 6 inches and the Large is 9.2 x 10 inches.
---
Can I use this to pick up poop on the grass backyard?
Answer by • Nov 27, 2017
This Spade Set is ideal for sidewalks and hard surfaces, but may be suitable for yards with short grass.
---
I have two 13 pound Chihuahua mix girls and I clean the yard two or three times a week do I need the larger or the smaller one?
Answer by • Aug 10, 2018
For use with multiple small pets, the Large size would be recommended.
---
---
---
By 4KDD on Nov 1, 2022
Falls apart!
So disappointed in the lack of quality, Such shoddy construction! Have barely used the 1st set, and today the spade fell off of its handle. The indent punches in the metal that are supposed to keep the shovel together are already failing. To get any use out of this, I'm going to have to drill holes, buy metal nuts/bolts, and make proper connections to hold the parts together! The handle looks like it's aluminum in the picture ---nope, painted wood, so when it cures & dries out, it falls off out of the metal connection.
---
By Kaela on Sep 24, 2022
Great for awhile, but will break overtime
I've had this set since April 2020 and it was great. Super flimsy but still did its job. Always stored it out of the weather so that it didn't rot or rust due to rain. Until most recently I was holding the pan and next thing I knew the wooden handle snapped off making it completely useless. I definitely don't recommend this for longer use as it will break over time but it does it job. Quite sad that I bought this set for $14 and it's now advertised for $46. I certainly don't feel it's worth $46
---
By Errigal on Mar 6, 2022
Very Flimsy
These used to be halfway decent, but the quality has gotten worse and worse. The spade and pan are supposed to be welded together, but it's as if they were stuck on with a child's glue stick. The last pair I bought, the spade broke with the first use, and the pan with the second use. And I was not expecting them to chip ice or break the ground, either. But with very ordinary use these do not last. Terrible.
---
By TheDesertBee on Feb 16, 2022
The best on the market
I have purchased several of these Outdoor Dog Spade Sets over the years and this brand is the BEST! They are exceptionally well made, very strong, hold up well with daily use all year round. I am so appreciative of the very long handles, no bending required to scoop the waste up quickly and efficiently. A must have if you have multiple dogs to care for everyday.
---
By Vizcaya on Apr 23, 2022
Not great
Very flimsy. Scoop broke off in 3 months of use. It looks great, but cannot hold up to its use. Needs a better way to be attached to handle!!!!
---
By Nancy on May 29, 2022
Fell apart after three or four uses.
This was not an inexpensive purchase. The handle on the pan popped off after three or four uses.
---
By Emma on Mar 6, 2022
Broke the first time we used it
The product seems heavy duty by appearance but when we put it to use the bottom pan snapped off the handle almost immediately. We picked up maybe 3 piles of 20lb dogs BM, so it wasn't heavy.
---
By Bigdogs on Feb 15, 2022
Poor quality
The stainless steel is very thin, and I somehow managed to bend both the scooper and the bucket part with the first use. My previous scooper from the same company I used for 16 years.
---
By PatW on Apr 7, 2022
Defective Scoop
The handle has fallen off in less than 4 months. Handle not securely fastened to scoop.
---
By Petsgalore on Jan 13, 2022
Best we could find, but could be better
Love the large scoop. Stainless steel holds up to the weather. Could.be thicker gage material. Only issue is that the attachment of the scoop to handle does not hold up. Had to replace brads with bolts on my last two.
---