Four Paws Wee-Wee Outdoor Rake, Spade & Pan Set, Large
---
About This Item
Sanitary way to remove dog waste from your backyard.
Rake and pan set picks up waste on grassy surfaces.
Wooden handles with a protective clear cover for convenience and ease.
Durable wire rake is rust-resistant with a stainless-steel base.
No need to get your hands dirty with this rake set.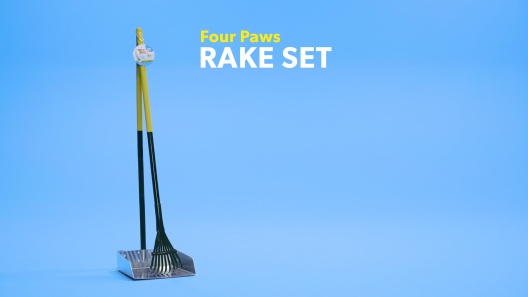 Learn More About Four Paws From Our Team of Experts
---
---
Questions & Answers
10 Customer Questions
---
Is the handle/stick made of wood or metal?
Answer by • Nov 26, 2018
The handle is made from wood and the rake is made from metal.
---
How heavy is this product and will it remove poopy from cement or asphalt
Answer by • Aug 07, 2019
The Small size weighs approximately 1.6 pounds. The Large size weighs approximately 2 pounds. This rake is ideal for grassy areas and sidewalks.
---
Is the rake strong enough to scoop frozen poop off snow/ice ? And is there a shovel I can purchase instead of the rake?
Answer by • Jan 22, 2018
Customer's have reported this metal-pronged rake to be very durable and effective.
---
Is it possible to buy just the scoop and not the set?
Answer by • Feb 24, 2022
At this time this scoop only comes as a set.
---
---
---
By Anon on Apr 17, 2022
Skip it— way overpriced for the quality.
The base is really flimsy to the point where it arrived damaged even though the box was still intact. The handle is not ergonomic at all and creates strain with extended use. And the handle began to loosen after just one use (granted I was picking up months worth of moldy droppings that my roommate left behind when she moved out). Also the curvature of the rake is not helpful. It folds under too much and makes it more difficult to scoop old poop and fresh poop just smears and then because of the curvature can't simply be scraped off on the edge of the tray part. If you don't care about quality at all then I say go for it, otherwise save your time.
---
By NoiseToy on Apr 27, 2022
Not sturdy enough for our Pit
We previously had this brand with the spade scoop. After five years the head fell off the handle. So we ordered this as a replacement. Reading reviews it appeared that the rake scoop was better for grass areas and the spade scoop we used to have was for concrete. Thinking maybe that's why it finally fell apart, we tried the rake. Should have stuck with the spade. The rake gets the job done, but its not as sturdy as the spade. We have a 7 year old pit and need a more sturdy scoop.
---
By CJYcockers on Apr 13, 2022
not as advertised
The set came with a metal shovel type of rake (spade) not the rake with tines as the photo shows. For grass, I prefer the rake with tines. Solid metal rake works well on hard surfaces, but I have grass. Also, the wording on the ad indicates this is a 3 piece set. It came as only a 2 piece set. The pan is a good size for my cockers and well made. I was disappointed even though the quality was good. Did not return due to size.
---
By MINNIE on Apr 18, 2022
GRASS PICKER UPER!
I have had dogs practically my whole life and have never bought one of these. I always just used shovel and bags. However, this works so nice when picking it up in the grass. It does not tear your lawn up. The only thing is I did not realize how big the base is for the one I bought. Kinda of large. So make sure you check that out before buying between the two sizes.
---
By Ddbm on Apr 17, 2022
Handle came apart after 5 mts
I would have expected this to have lasted longer. I scoop daily but it's for chihuahuas and not like the poop weight should have been to much on this. It was fixed with a purchase from the hardware store but I shouldn't have had to do that in a short amount of time.
---
By Pooped on Apr 3, 2022
Scoop took a poop
Have had this just around 2 months, and it broke at the rivets. Not the first one I've owned, so I'm surprised at the poor quality of this one--all four rivets broke during basic use. Was just cleaning up after our 20# dog, no horses here.
---
By Erinf on Apr 3, 2022
Good tool but arrived damaged
Scoop arrived dented and bent out of the box. Items always arrive on time, but this time the item came damaged. If it hadn't been an item to clean up my dog's poop I would've bothered to reach out to customer service.
---
By Charliebug on Feb 18, 2022
The Item for clean up!
This is a very well made product! We have our own dogs, plus we foster, so needless to say keeping up with clean up without breaking the back has been an issue. The pan with handle is great, no more bending down! The small rake is great for plucking those tootsies up out of the grass! Big or small, it does a great job! So glad I found this!
---
By Brinx on Feb 14, 2022
Poop scoop made easy
This is a durable metal set. Moves even the biggest loads. The rake makes clean up on grass easy. And large scoop means you can clean up a few areas. Great for multi dog clean ups. I had a plastic one and it did not last long outside in the cold.
---
By Crissy on Apr 5, 2022
Long lasting and hold a lot
Purchased two of these that lasted for 8 years until I left them out during the winter. Worked great and finally buying replacements.
---