Fresh Step Clean Paws Simply Unscented Clumping Clay Cat Litter
---
About This Item
Clumping litter made without fragrances or dyes.
The anti-microbial formula helps prevent odors caused by bacteria and provides up to 10 days of odor control.
99.9% dust-free helps keep surfaces cleaner and allows you and your kitty to breathe easy.
Made with larger particles and strong clumping power to help reduce tracking, keeping litter in the box and your cat's paws clean.
Helps maintain the health and happiness of your paw-tner while keeping your home clean.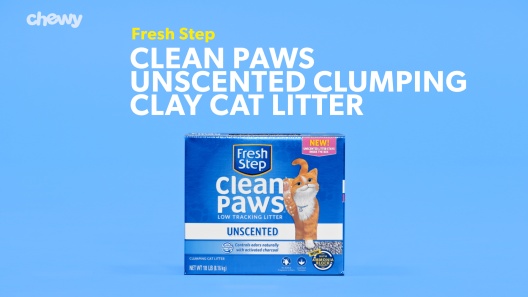 Learn More About Fresh Step From Our Team of Experts
---
Compare Similar Items
| | | | | | |
| --- | --- | --- | --- | --- | --- |
| | | | | | |
| Customer Rating | | | | | |
| Price | | | | | |
| Autoship | — | — | — | — | |
| Litter Feature | Odor Control, Unscented, Clumping, Low Tracking | Odor Control, Clumping, Unscented, Multi-Cat | Clumping, Odor Control, Unscented | Clumping, Scented, Low Tracking | Clumping, Multi-Cat, Odor Control, Scented, Dust Free |
| Packaging Type | Box | Box | Box | Box | Box |
| Lifestage | Adult | Adult | Adult | Adult | Adult |
| Litter & Bedding Type | N/A | N/A | N/A | Clay | N/A |
---
Questions & Answers
7 Customer Questions
---
is this still good for multi cat households?
Answer by • Oct 13, 2019
This litter is not a multi cat litter.
---
Does anyone use this with a litter robot and how well does it work
Answer by • Jan 27, 2021
The Litter-Robot simply requires high-quality clumping litter.
---
Do cats track this out of the litter box?
Answer by • Feb 24, 2020
This litter is low tracking.
---
Where is this made?
Answer by • Apr 19, 2021
This litter is made in the USA.
---
---
---
By Samantha on May 5, 2022
No longer unscented and now tracks everywhere
I don't understand what happened, but since the label changed, so did the litter. It's now much finer and dustier. There is litter all over the house. It's on the furniture, floors, even on the walls by the box. I sweep it up several times a day. The little pieces get stuck in between the floor boards. When they urinate, there are little dusty paw prints leading out of the box. I'm constantly cleaning up after them. I don't know what happened, but this litter is unbearable. But the worst part is it DOES have a scent and it can be quite strong! It smells like laundry detergent or perfume and it makes me sick. My female cat is also sensitive to smells and she sneezes every-time she uses the box. Sometimes the smell is overwhelming, sometimes it's not as noticeable but it's still there. Back to looking for an unscented clumping litter since they ruined my favorite brand.
---
By Valj on May 12, 2022
No dust litter!
So happy to have found a low dust litter! I say low dust, but there's hardly dust to be found. We also like the Clean Paws with the larger grains. There's still litter on the floor, but it's easier to see and to sweep up. Also really like the unscented variety. I'm sensitive to floral smells and it just seems better for the cats to not have to deal with a scent. We used scented litter for a short time when unscented wasn't available and the cats would smell like the litter! Didn't like it at all!
---
By Jeje on Apr 27, 2022
WORST Tracking Litter I've Ever Purchased!
I'm really bummed because I did a lot of research to find a low-tracking litter before making a switch. I decided to give this one a try, and it tracks more than any other litter brand I've ever purchased. I switched from Arm & Hammer Clump & Seal Slide which was virtually dust-free and clumped well. Only downside was that it is scented and the litter granules are very tiny and do track. Fresh Step granules vary in size—from small to large, and all sizes of pebbles track everywhere! It's way worse than the previously mentioned litter with tiny pebbles. Only positives about this litter is that it's unscented and clumps well. AVOID if you are buying for the sole benefit of low-tracking. Works well otherwise.
---
By Nicole on Apr 23, 2022
Game changer for litter robot !
We have a litter robot and 3 cats so we are always looking for the best litter to control smell/ tracking / and longevity. The perfumed types usually smell worse than what they're covering up , our tried and true dr elseys was pretty good but it clumped so big that we were going through it quickly and changing the robot almost daily! This is the perfect litter for us- it's unscented but we have not smelled litter box AT ALL since using it !! I actually worried I had Covid for a second because of how days went by without even a hint of litter box even when I'm in the same room as it ! It clumps quickly but not obnoxiously large so we aren't changing the bag daily , and it tracks a minimal amount. This is the holy grail for us now !
---
By Fortheloveofpets on Apr 19, 2022
Clean paws?
I have been looking for a multi cat, dust free, unscented, great odor control, hard clumping, that the cats won't track everywhere cat litter. The Fresh Step clean paws litter is unscented. It also clumps pretty good at least it doesn't form super gooey globs that stick to the litter robot or litter box. The odor control is just OK for a multi cat litter (I have 4 cats). It doesn't claim to be 100% dust free and it's not, however it doesn't put forth clouds of choking dust when scooped or poured. As for the tracking, well it does track. This one is odd though because smaller amounts of actual litter is being tracked. What I am finding are white paw prints tracked down the hall and into my dinning room. It's not dusty paw prints, it actually looks like the cats have walked through white paint. I have to spray cleaner on the prints and let it set a minute or two before it will wipe up. I've had to do this daily since I purchased this litter. I give Fresh Step Clean Paws 3 stars, because it is unscented, and the clumps don't cause a gooey sticky mess in the litter boxes.
---
By CrystalB on May 23, 2022
Not "UNscented"
I got this in hopes of it working great with the litter robot (less tracking) and we always get unscented as I'm sensitive to anything with smell. This definitely has a smell. I'm hoping we can get through what we purchased, but we may end up donating this to the local humane society.
---
By babycat on May 13, 2022
meh. clumps like wet cerement.
I was so excited to find an unscented low tracking litter. It does track everywhere, just in giant clumps instead of small grains. the small grains are gross, but finding giant clumps of cat litter everywhere is grosser. Scooping the box is like trying to scoop out wet cement.
---
By Atticus on May 6, 2022
Great product
I love the smaller cat litter bags. So much easier to handle and store. The litter is bigger and less likely to stick to my cats paws. Not having a perfume smell is nice also. There is no smell from my cat doing his business either
---
By helga on Apr 11, 2022
not low tracking
I usually buy clean paws scented, multiple cat litter. Does not track much, loved it. Tried the clean paws simply unscented, tracks up the stairs, on wood floor, and in cat bed. I sweep and vacuum twice a day. Also the litter does not clump, just bits of peed litter on top of litter. Unfortunately, I bought 2, 37 lb. packs.
---
By TheCracyCatGuy on Apr 17, 2022
Works Well with Litter Robot
If you have or are planning to get a Litter Robot, this litter works well and does leave clumps sticking to the machine after the cleaning cycle. The 38LB bag is great with the Litter Robot because it actually has four separate smaller bags that area easy to pour into the machine.
---