Fresh Step Odor Shield Febreze Scented Clumping Clay Cat Litter
---
---
Try This Similar Item By Chewy
---
---
About This Item
Clumping littler helps fight extreme odors with the power of Febreze.
Specially formulated for some of the busiest litter boxes and features Ammonia Block Technology activated charcoal that helps trap and eliminate litter odor for up to 10 days.
Low-dust formula allows you and your kitty to breathe easy while the paw-activated fragrance releases every time your cat uses her litter box.
Features ClumpLock technology that helps absorb liquid, forming tight clumps for easy scooping and no crumbles.
Comes with 4 compact and convenient, resealable packs to make carrying, lifting and pouring a cinch!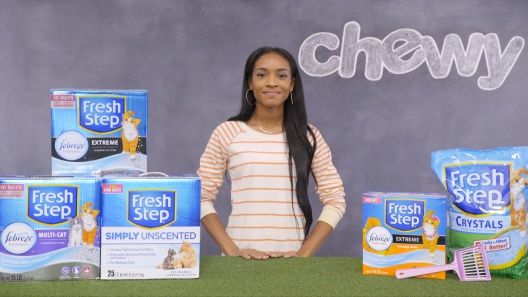 Learn More About Fresh Step From Our Team of Experts
---
---
About Fresh Step Cat Litter
A Cleaner Litter for a Better Smelling House
Fresh Step created a litter for every type of kitty imaginable, and they're all designed to handle the strongest litter box smells to keep your house odor-free. With tight-clumping scoopable options, low-maintenance crystals, great-smelling scented litter and even unscented for sensitive noses, your cat's litter box will stay fresh each time she steps in, and after she jumps out, too.
One Step Fresher
How do you get 10-day odor control that keeps fighting lingering litter box smells? Take the power of Fresh Step and add the pleasing scent of Febreeze, including the popular Aloha fragrance, for the next level of freshness. Both Fresh Step Multi-Cat and Extreme Scented Cat Litter are low-dust formulas that feature ClumpLock technology for tighter, easy-to-scoop clumps. Multi-Cat is perfect for more than one kitty, and Extreme uses antimicrobial agents to stop the growth of odor-causing bacteria.
Fragrance-Free Formula
Fresh Step Multiple Cat unscented cat litter works naturally to eliminate odors. It combines activated carbon and plant extracts for a scoopable clay litter that takes a more natural approach to litter box woes. Carbon works nonstop to trap the odors, while plant extracts quickly neutralize them—all without overpowering perfumes or dyes.
A Little Goes a Long Way
Fresh Step Clay Cat Litter requires less scooping time, and it's made to handle even the smelliest messes. Compared to other non-clumping clay litters, you'll need less to get the same odor-fighting benefits. Offensive odors are eliminated using CarbonPLUS technology to keep the litter fresher longer. Just 35 pounds equals 50 pounds of similar non-clumping clay litters, which means you get more use out of each bag.
Fresh Step Crystals Cat Litter
Crystals look nicer in the litter box, and they absorb moisture on contact—five times more efficiently than the leading clay litter. Fresh Step Crystals Cat Litter requires the least amount of daily upkeep, because you only need to scoop out solid waste, not huge clumps. It lasts up to a month and minimizes the amount of dust to almost nothing. The smooth crystals are soft on the paws and lightweight in the bag for easier carrying.
About Fresh Step
Since 1984, the makers of Fresh Step have been advancing the science of cat litter toward the ultimate goal—to keep your house free of the dreaded cat litter smell. They're committed to the happiness of pet parents and cats, which is why they created a range of products made to suit every household's needs. From odor-eliminating carbon to liquid-absorbing crystals and scoopable to non-clumping, Fresh Step has every litter box covered.
Shop Fresh Step
Compare Similar Items
| | | | | | |
| --- | --- | --- | --- | --- | --- |
| | | | | | |
| Customer Rating | | | | | |
| Price | | | | | |
| Litter Feature | Odor Control, Clumping, Scented | Odor Control, Clumping, Scented, Lightweight | Clumping, Scented, Odor Control, Dust Free | Clumping, Odor Control, Scented | Odor Control, Clumping, Scented |
| Packaging Type | Box | Box | Box | Box | Box |
| Lifestage | Adult | Adult | Adult | Adult | Adult |
| Litter & Bedding Type | N/A | N/A | N/A | Clay | N/A |
---
Questions & Answers
5 Customer Questions
---
Is this safe for a kitten?
Answer by • Jul 10, 2019
This litter is suitable for kitten 3 months and up.
---
is it dust free?
Answer by • Jan 28, 2021
This litter is low in dust to help keep surfaces clean so you and your cat can breathe with ease.
---
How bad is tracking
Answer by • Dec 22, 2020
Fresh Step Odor Shield Febreze Scented Clumping Clay Cat Litter is not a low tracking litter.
---
is it low on dust
Answer by • Dec 02, 2021
This litter is low in dust to help keep surfaces clean so you and your cat can breathe with ease.
---
---
---
By Catlover on May 15, 2022
Best litter ever
I have been using Fresh Step for over 14 years and would not even consider any other brand. It has complete odor control, clumps very well and is very well received by both of my cats. They say you never have to change it if you clean it daily but I do dump it all out and start over every 6 months but not because it's not working but because I think the littler box itself needs to be cleaned. I would recommend this to any one with a cat or cats.
---
By MomOf2Kitties on Apr 19, 2022
Highly Recommend
I am very satisfied with this litter. It has febreeze so I expected the smell to maybe be overwhelming, but it wasn't. Also, the clumping factor is great, there is no breaking apart of clumps while scooping causing difficulty sifting tiny pieces. I switched from dr elsey's looking for a litter that clumped better and tracked less, with better odor control, and I've found that in this litter. Also, the packaging is great, being that it comes in multiple resealable bags that are lighter making them easy to handle and reuse. Lastly, my kittens took to it right away as if nothing had changed. I definitely recomiend this product, nothing negative to say!
---
By cocodelo on Apr 18, 2022
not dust free or even low
I have used various varieties of Fresh Step clumping litter through a couple generations of cats. I've found it great with clumping and odor control. My old cat family were long-haired, which might have helped with the dust issue, but since I've had my young short-haired cats, I've found there's a thin coat of dust on furniture near the box, and also can see foot prints on a glass coffee table and a half wall. I am continuing to use if for now, because cats have always liked it and even at one point when there were 5 cats in my home, there was no odor when scooped daily. This is true even while elderly cats had kidney issues, and left large amounts of urine in the box.
---
By HPCatfan on Jun 18, 2022
Beyond Convenient
Live in a 2 store home - this set is beyond convenient to carry up one small bag. When I clean the 2 boxes, one bag tops of both. Clumps hard. Neutral scent, no odor. Placing this on auto-ship!!
---
By LinnyLou on Jun 4, 2022
Convenient product
I like buying Fresh Step in this package which has four smaller bags. I can open it and carry them separately since I am older and cannot carry 42 lbs at once. I really like this product and highly recommend on purchasing it.
---
By Dusty on Apr 14, 2022
The Best Litter for Me
Have used this litter just about ever since it's been on the market. If there is something better out there I haven't found it and my baby notices if I try to slip a different one in on him. It does track somewhat but I haven't found any that doesn't. My fur baby is long haired and, of course, some will adhere to his paws; however, it's the best solution we've found.
---
By Dany on Jun 10, 2022
Best ever litter
I've tried several litters since getting my kitty and this is the best by far!! Great price! I love how it's packed and there is no after smell when my cat goes potty!!
---
By 4Cats on Mar 8, 2022
Litter Is As Litter Does
Chewy asked for my opinion: this litter now costs more, does nothing extra for the increased cost. But, unlike canned cat food, a single case of which, when it can be found, costs more than 6 gallons of skyrocketing priced gas, this litter was available, pomptly delivered, and cost about 1 gallon of gas above its old price. Unlike canned food, the litter did not come badly dented and made with some seriously weird looking pieces of offal. It's litter, what else to expect?
---
By TanaAL on May 26, 2022
Is Great and price is right!
Although the initial package is heavy. Once open each bag is easy to handle. I don't want to deal with lifting and pouring from a 25 lb container.
---
Tight clumps, fresh scent, easy packaging
My headline says it all - this 42-lb package of scented clumping litter comes packed in 4 convenient 10.5 lb bags, so there's no heavy lifting once you bring the package into your home. I've been using this product for several months and never have any odor. The clumps are large and tight, easy to scoop, The scent stays fresh. There is some tracking, but since I keep my litterboxes in our cellar that isn't an issue for me.
---