Frisco 2 Betta Aquarium with Divider/Top
Frequently Bought Together
---
About This Item
Features a partition that helps betta fish co-exist without any snippy behavior towards each other.
Aquarium can fit two fish, and the 1.1-gallon capacity gives them enough room to be their best betta selves.
Every aquarium has been rigorously inspected to provide the best quality and exceed industry standards.
Diamond-polished edges provide built-in safety with no sharp edges.
Commercial grade, black silicone sealant gives it that pro look and works to prevent capillary action and leakage.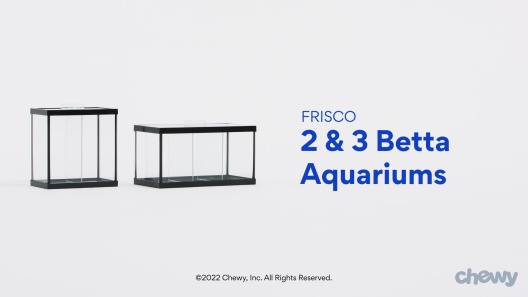 Learn More About Frisco From Our Team of Experts
---
---
Questions & Answers
3 Customer Questions
---
Can the divider be removed?
Answer by • Jun 14, 2022
The divider can be removed.
---
Does this tank come with a filter system?
Answer by • Jul 13, 2022
This aquarium includes a glass canopy and glass dividers.
---
Can I take out the middle glass piece to fit my one betta?
Answer by • Jul 12, 2022
The partition is removable.
---
---
By MermaidDog on Aug 12, 2022
Solid but poorly packed
Nice small window ledge sized aquarium. BUT... though I was very careful unpacking...the box is infront of me, on my desk, as a reminder to write this review today, it is poorly packed. I lifted the unit out of the sturdy box, knowing there was a divider but not how or where it was OR THAT THE DIVIDER IS GLASS. As I lifted the aquarium out of the box, transfering to the table the box was on, the divider crashed to the floor as it wasn't secured in any way but seemed at first to be a cover/top. Really bummed - though I will use it as a single unit I was still disappointed in this aspect. BE CAREFUL. The box for shipping is great the orientation WITHIN the box is not clear and the GLASS divider is just loose.
---
Great for two Bettas
#ReceivedFreeProduct I have a 3+ gallon fish tank and I was always curious to try the smaller ones. This Betta Aquarium tank is of 1.1 gallon capacity and it's easy to clean. It has a divider so that 2 Bettas can live in the same tank but with a division. The glass compartment has enough space and the fish can swim happily. It doesn't come with any accessories or filters. Everything should be purchased separately. This can also be used without the divider of you decide on keeping just one Betta fish. Easy to carry it around since it's not too big. The top can be easily lifted when you want to feed the fish. There are no sharp glass edges and it's constructed well.
---
By Babegirl88 on Sep 15, 2022
Perfect for my fishes.
#ReceivedFreeProduct My grandson was so happy when this Frisco 2 Betta Aquarium with Divider arrived. We have had a sudden death of a family member but this seems to bring me some joy. I went and got 2 fighting fishes and added them to the tank. Setup was quick, not much to do to it. I love seeing them side-by-side.
---
By nikki2076 on Aug 20, 2022
so cool
#ReceivedFreeProduct I love Beta fish, but we all know that two are not supposed to be in the same tank, but this allows you to have two. It has a glass panel that separates them. I love that it has a lit. It helps the water to not evaporate so easily. It's a small tank so it's a nice size if you have a small space. I like the shape it is nice and sleek. It's well made and sturdy. I love that you are also able to decorate each side differently and give them each their own style.
---
Frisco 2 Betta Aquarium with Divider/Top THE BEST!
#ReceivedFreeProduct Frisco 2 Betta Aquarium with Divider/Top for my 2 Betta fish is a perfect fit to keep my fighting Betta fish happy and peaceful! They are seperated now with my Frisco divider/top 2 Betta Aquarium! They have fun and look beautiful with highest quality glass that lets you admire their magnifcent colors and makes your room colorful and unique! Well Made and simply THE BEST for my 2 Betta Fish! FIVE STARS!
---
Great Aquarium
#ReceivedFreeProduct Love this aquarium , great for beta fish , I like the dividers you can use to separate the beta fishes. The quality is great, and the glass is easy to clean. Very high quality aquarium and happy with the design. It's very easy to maintain this betta aquarium.
---
By Babygirl2451 on Sep 5, 2022
Great for beginners
#ReceivedFreeProduct This Betta aquarium is perfect for a beginner fish. I like how it comes with a divider so you can actually have 2 fish at once and they won't fight. Very simple to put together and to clean.
---
Nice Betta Tank
#ReceivedFreeProduct At first I used the tank with the divider and felt as though my Betta's were in too small of an area so I use the tank for my one Betta and it is perfect and he loves all the room. The tank is sturdy and well put together.
---
By Nessa82 on Jul 26, 2022
Nice small aquarium
#ReceivedFreeProduct Frisco 2 Betta Aquarium with Divider/Top is perfect for a children's bedroom. It literally fits 2 fish. It is very small. You have to buy the filtration and everything else it needs, to work, as it is not included. Any child will love this though, as once you set it up, it is fun for kids.
---
By Babygirl46342 on Jul 27, 2022
Nice size
#ReceivedFreeProduct I really like the overall size of this tank. I got one that was broken in shipping so can't really discuss how well it holds water, however I like the lid and how you can attach handle yourself. I wish there was a bottom track for the divider though as it seems a little wobbly.
---