Frisco 64-in Cat Tree with Hammock, Condo, 2 Top Perches with Bed
---
About This Item
From Frisco by Chewy. The ultimate hangout spot for cats featuring a roomy condo, spacious hammock, and two top perches.
Cat tree includes features to help stimulate and engage cats.
Partially wrapped sisal posts encourage healthy scratching sessions. Also features a rope and hanging ball toys for extra feline fun.
Comes with removable, machine-washable bolstered perch covers.
Frisco products are crafted to deliver more happy moments together—from satisfying scratching posts to cozy beds, to stimulating toys. Designed, tested and approved by the pet experts at Chewy.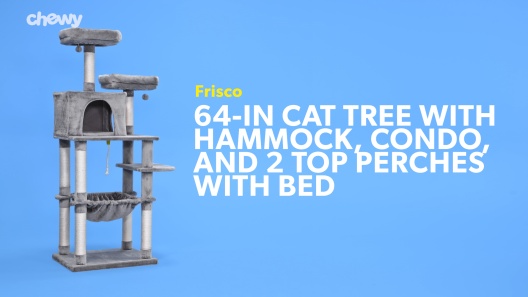 Learn More About Frisco From Our Team of Experts
---
Compare Similar Items
| | | | | | |
| --- | --- | --- | --- | --- | --- |
| | | | | | |
| Customer Rating | | | | | |
| Price | | | | | |
| Cover Material | Faux Fleece, Sisal, Plant Material, Synthetic Fabric | Faux Fleece, Sisal, Plant Material, Synthetic Fabric | Faux Fur, Sisal, Plant Material, Synthetic Fabric | Faux Fur, Sisal, Plant Material, Synthetic Fabric | Synthetic Fabric, Sisal, Plant Material |
| Furniture Features | Hanging Toys, Condo, Removable Bed, Hammock | Hanging Toys, Condo, Removable Bed, Hammock | Condo, Hanging Toys, Anchoring Kit Included | Condo, Tunnel, Hanging Toys, Anchoring Kit Included | Modern, Condo, Removable Bed, Anchoring Kit Included |
| Furniture Frame Material | Engineered Wood, Wood | Engineered Wood, Wood | Engineered Wood, Wood | Engineered Wood, Wood | Engineered Wood, Wood |
| Height Range | 60 inches to 69 inches | 60 inches to 69 inches | 60 inches to 69 inches | 60 inches to 69 inches | 60 inches to 69 inches |
| Tools Included | Yes | Yes | Yes | Yes | Yes |
| Number Of Condos | 1 condo | 1 condo | 1 condo | 1 condo | 2 condos |
| Furniture Mount Type | Free Standing | Free Standing | Free Standing | Free Standing | Free Standing |
---
Questions & Answers
23 Customer Questions
---
Is this a sturdy cat tree for a larger cat.If not can you recommend one.Thank you.
Answer by • Nov 12, 2020
Cat trees are tested to ensure standalone stability, and wall anchors are provided as an option for additional stability.
---
How much weight can the hammock hold? Would this be good for 3 cats 10lbs, 12lbs & 15lbs?
Answer by • Nov 30, 2020
The hammock has been tested for a capacity of up to 50 pounds.
---
Are the perch covers & the hammock removable to wash?
Answer by • Dec 14, 2020
The bolstered perch covers and hammock are removable. The Covers are machine washable and the hammock should be spot cleaned only. Hang to dry.
---
Does this come assembled or do I have to put it together?
Answer by • Jun 02, 2020
Cat trees do not come assembled, however, all parts, tools and step-by-step assembly instructions are included.
---
---
---
By JMKramer on Nov 17, 2022
Solid tree for adult cats
We purchased a similar tree when our two boys were kittens and they still used it but really had outgrown many of the spaces. This tree is sized to fit them. The box is big enough for to curl up in and the two rests on top are perfect for the both of them. Its well built and steady. They spend hours every day using it. I expect to get years of
---
By Beckie on Nov 14, 2022
large cats in small spaces
My boys never fit in the enclosed spaces of cat trees and if they get on the top it rocks slightly. This one is different. My 16lbs and 19lbs boys fit comfortably in all of the spaces. Also it is much more stable. The removable pads on the top give a little lip that makes my boys more comfortable to sleep up so high. They love
---
By Marshmallow on Nov 18, 2022
They love it
My two 5-6 pound kittens love this cat tree. They don't use the hammock much, but they love the kitty cave and perch areas. It is one of their favorite napping spots and also a fun play area. It does shed a bit from the claw sharpening, but that is easy to vacuum up. Definitely a good purchase for us!
---
By MCMc on Nov 8, 2022
Great Tree!
I purchased this tree, in black, to replace a prior inferior tree which my two cats shredded in about six months. I've had this one for five. It shows absolutely no sign of damage so far. It is tall enough that both can, sitting on the top two perches, see out of the window. They also enjoy sleeping in the hammock near the bottom. A very good product.
---
By sfogel on Nov 11, 2022
Restful place for kitty
Took my cat a while to warm up to this cat tree but once she did, she learned that it was a space all her own. She has slept many times in the hammock and in the 2nd-to-topmost perch. She hasn't figured out the scratching posts yet and still goes at it on my furniture! It was very gratifying to see her enjoy her new space.
---
By CatTree on Aug 28, 2022
Kittens love it - Fantastic and a great price!
I have two 15-week old that needed something substantial to keep them from trying to be up high on my bookcases. This cat tree is perfect for them, and they already spend so much time on it playing and snoozing! It's easy to put together, instructions are clear. There is one part, the lower of the two perches, that wiggles a bit where the pole connects to the platform below, but I think this is more user error on my part having the two-sided screw-bolt placed a bit unevenly. I'm not concerned at all that it's going to fall; just in case I put it in the spot where the wall and the bookcase make a corner. As for the size, any spot where they can sleep has to be big enough for the both of them because they are hugely bonded, and they fit in the hammock, apartment, and each perch with room to spare which is great because they're still so young.
---
By Danny on Sep 30, 2022
Easy assembly
I've had a similar version in the past when I had one cat. She loved it and beyond cleaning we had no issue. I now have two kittens and the variety is fantastic. Multiple levels, a sturdy hammock and nice dangling attachments. I also like that it's taller rather than wide. Doesn't take up too much space and they can get away from the dog if they want.
---
By KittenNoob on Aug 28, 2022
First Cat Tree, Amazing buy
I got a kitten recently and she started to become more adventurous on her climbs. Was looking for a tall tree with places to sleep and climb. This tree saved my furniture, for the most part, she still is a baby lol. I set this up in the middle of the living room away from walls with shelves and other high things. It doesn't take a lot of space, as in I live in a small apartment and I'm not even stubbing my toe or walking into the tree. When she gets her zoomies she would climb and jump down, play with the rope and hanging balls. When it is nap time, I'll just see her on either of the top beds passed out with her head hanging. It did take a a few days for her to understand and attempt to climb it. I started with laying her in the bed when she was sleeping and I left a small scratching post near the tree so she could use it as a step ladder to climb. Now she has no issues. Would highly recommend.
---
By Mary on Sep 7, 2022
A definite winner for kitty!!
I have a young cat/kitten that likes to climb, EVERYTHING! Got this put together yesterday in about an hour. If you like putting stuff together, then you'll be fine! It's not too hard. It's very stable with obviously lots of stuff to climb on. My older cat laid in hammock last night. Got in this morning from night shift to see kitten, sitting on it. Seems to be a winner so far! It's big but not crazy big. We have a small space but it'll work just fine in it. Stuck small doggy bed at bottom so she feels involved in it all too!! Lol Definitely would recommend this tower to anyone wanting one.
---
By Nico on Aug 17, 2022
Sturdy and they LOVE it
This is one of the very best things I've bought for my two cats. They absolutely LOVE it and use it for many hours every day. Their preferred sleeping spots in our home are the top two posts. They will also nap in the house. Although they never really spend time in the hammock, it's a great place to toss their toys and they can get them out again later. The build is sturdy and stable even when the two of them race up and down it. They also enjoy the scratching posts. We've had it for several months and it's holding up well. It did take a while (maybe a couple hours with "help" from the felines) to put together but it was well worth it.
---