Frisco 66-in Cat Tree with Bed, Condo, Lounge Basket & Top Perch
Frequently Bought Together
---
About This Item
All-in-one tiered feline fun spot to encourage mental stimulation and relaxation.
Includes a condo, basket hammock, partially wrapped sisal posts, and two bolstered perches.
Dangling ball and rope toys for fun-filled kitty playtime.
Constructed with sturdy particle boards and strengthened with battens to ensure overall stability with anti-toppling fittings included for double security.
Removable, machine-washable bolstered perch covers.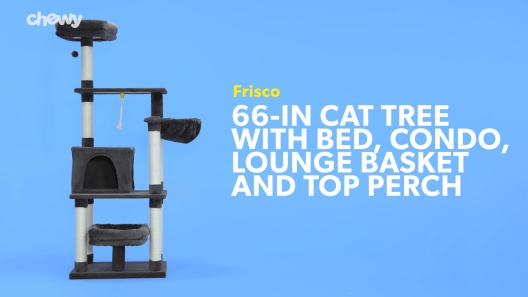 Learn More About Frisco From Our Team of Experts
---
Compare Similar Items
| | | | | | |
| --- | --- | --- | --- | --- | --- |
| | | | | | |
| Customer Rating | | | | | |
| Price | | | | | |
| Cover Material | Faux Fleece, Sisal, Plant Material, Synthetic Fabric | Faux Fleece, Sisal, Plant Material, Synthetic Fabric | Faux Fur, Sisal, Plant Material, Synthetic Fabric | Faux Fur, Sisal, Plant Material, Synthetic Fabric | Faux Fur, Synthetic Fabric |
| Furniture Features | Hanging Toys, Condo, Removable Bed, Hammock | Hanging Toys, Condo, Removable Bed, Hammock | Condo, Hanging Toys, Removable Bed, Anchoring Kit Included | Condo, Hanging Toys, Removable Bed, Hammock, Anchoring Kit Included | Condo, Hanging Toys |
| Furniture Frame Material | Engineered Wood, Wood | Engineered Wood, Wood | Engineered Wood, Wood | Engineered Wood, Wood | Engineered Wood, Wood |
| Height Range | 60 inches to 69 inches | 60 inches to 69 inches | 60 inches to 69 inches | 60 inches to 69 inches | 31 inches to 59 inches |
| Tools Included | Yes | Yes | Yes | Yes | No |
| Number Of Condos | 1 condo | 1 condo | 2 condos | 1 condo | 2 condos |
| Furniture Mount Type | Free Standing | Free Standing | Free Standing | Free Standing | Free Standing |
---
Questions & Answers
23 Customer Questions
---
Is this good for larger cats?
Answer by • Jun 21, 2020
This cat tree is made for cats of all sizes and life stages.
---
My cat weighs about 25 pounds. will this cat tree be big enough for him to fit comfortably? specially the top area...he likes to sleep at the very top of the cat trees.
Answer by • Oct 28, 2020
These cat trees are tested to ensure standalone stability, and wall anchors are provided as an option for additional stability.
---
What are the dimensions of the box when this comes in?
Answer by • Nov 17, 2020
The box this cat tree is shipped in measures 24.4 inches long x 19.7 inches wide x 11.4 tall.
---
Is it safe to put certain parts in a washer and a dryer? My cat had an accident and went pee in the basket hammock
Answer by • Mar 12, 2022
This cat tree features a removable bedding that can be machine washed separately in cold water only. Gentle cycle. Do not bleach. Tumble dry in low heat. Reshape as needed. For best results, Hang to dry. For the rest of the cat tree, spot clean stains and vacuum fur (using small handheld or attachment) when necessary.
---
---
---
By Steph on Jun 16, 2022
Great cat condo
This cat condo is absolutely perfect for what my cat likes and for his fur color. He loves stretching out on the spacious middle perch and both the beds as well as the cube hide out are wide enough and tall enough for my big boy. He immediately jumped on it, slept there all night, and didn't even get off to say goodbye when I left for work the next morning. It's so soft and comfy, and the dark color will hide all of his black fur shed.
---
By catmom on May 29, 2022
happy birthday gift
My for babies all have birthdays in the spring and summer. So I figured I would upgrade their current cat tree and buy them all a nice new one for their birthday this year. The one they had was a wobbly mess which is a shame because I paid a decent amount for it and it wasn't even two years old. I spent a lot of time agonizing over what was the best kind of cats free for them as well as to accommodate the space I had for it. I looked for a long time and came across this one. It sounded decent and had really good ratings. What I liked about it was you can remove the cushions and wash it if it ever needed to be washed. When it came I set it up and it really only took me about 40 minutes to set up. The instructions were very user-friendly and I guess so because I'm not the most mechanical or tech savvy person. It's been about two months now and my babies have been enjoying this tree so far and it has held up well. Two months doesn't sound long but my cats or anything but gentle when it comes to playing and jumping on furniture. They're also a little on the bigger side which me a tribute to why their other tree became a wobbly broken mess so soon. Even know they are very aggressive with this one it is holding up better than I thought and definitely much better than the other one was. For the price that I paid for this I am beyond surprised. So I guess this was a gift for me as well.
---
By krzybmet on Apr 26, 2022
Great for the price
Wasn't expecting a top quality product here because of the price but I must say that this is much better than expected. Took me about 30 minutes to assemble. Came with the only tool needed to complete the task. The hardware is strong and will hold easily over time. The platforms are thick and durable. I was a little a worried about the size of the nesting areas as I assembled it but my 2 adults cats curl into a ball and sleep in them. I do like that the nesting covers are removable and can be washed as well. As for stability. I have mine on a flat hard floor pushed into the corner and it doesn't sway or teeter at all with the 2 cats walking around it. Because the size of the base and the unit being heavily weighted more on one side, if someone were to put this on a plush carpet, it may move. This does come with a strap and drywall screw with anchor to use though just in case. I did not use it. Overall this is a great product for the budget minded.
---
By WFHtired on Apr 24, 2022
Finally I can get work done!
Before I bought this cat tree for my home office, I constantly had to deal with two cats sitting in front of my monitors blocking my productivity, and a third screaming that there was no room for her on the desk. Now, with multiple levels of lounging space and prime views of the birds outside, the cats are happy, relaxed, and OUT OF MY WAY. The top perch is higher than my head, the sidecar bowl is everyone's favorite, and they even like to hide out in the little condo. Instead of constant meeting interruptions and awkward cat-typed memos to coworkers (thankfully none of those went to management), I have the freedom to do my job without feline interruption. Oh, I forgot the bonus part! The cat who has snubbed every other scratching surface offered in favor of destroying my brand new couch has started to scratch on the sisal rope surfaces on this tree. The couch is still toast but there's now hope for the recliner!
---
By Urtica on Jun 14, 2022
Selina Cat thinks it's purrfect
New cat, new cat tree. The cat tree went together without trouble, just using the provided allen wrench. It seems sturdy enough for an average cat. Some of the pieces stick out over the edge; finished size is about 36" wide by 24" deep. Immediately cat approved.
---
By minbuck on Apr 21, 2022
Popular Hangout!
All three of our cats love it, including my little senior kitty with arthritis! I had specifically bought this model because of the bed so close to the bottom so he would have easy access, while the kittens could run around on the top levels. We found him up in the bowl a couple weeks later - it's just too alluring to pass up! Every bit of it seems to be used depending on the cats' mood and especially so at playtime! A feather wand toy and this condo tires kitties out real fast! We do keep it next to a wall for stability, without using the screw-in anchor. Great purchase and would definitely buy again.
---
By Jehan on Apr 11, 2022
Cats are obsessed, wish I could customize
My cats recently moved across the country and I wanted to make sure they had a tree as close to their last one (also Frisco) as possible for familiarity! (This one is actually a few inches taller, and I chose one with the lounge basket instead of the hammock bit, since I didn't really ever see them use it.) Even with measuring, I don't think I was completely aware of the footprint of this thing. It's large. But honestly even if that makes it less convenient for me, it's sturdy, and definitely big enough for my cats, and meets their needs really well! If I could change one thing, it would be to add another of the "lounge baskets." They're obsessed. I call it the cat bowl. They're always in there (usually because I adopted a mother daughter pair and the daughter simply will not let her mom live. So anywhere her mom sits becomes a two cat hang). It's so hard to say which parts of something a cat might like, and this is a sizable purchase in terms of space, so it would be helpful if it were slightly modular. I think on the last one, the little apartment might have been a little higher up, and I think that one did get more use.
---
By LisaJ on May 3, 2022
cat perch with hammock
It's awesome! Really tall and sturdy. The cats love it and have been on and in every part of it. I have a medium sized cat about 10 lbs who loves the hammock and it is holding up just fine. It was easy to put together and as usual , came way before it was originally scheduled. I don't understand why there are perches about half this size that are more expensive. This is a great deal for the price. It is pretty big though!
---
By lovekitties on Apr 12, 2022
poorly made
At first the tree looked nice and all. But when I was putting it together I felt the material on it, and it was way too thin to be on the cat tree. Very thin and flimsy. That cats jump off a few times and the material ripped behind them. Leaving a big scratch on the place where they jumped. Super thin material. Can't believe how cheaply they made this for this kind of money. Don't buy fries I trees. I bought 2 and both have the same issue. The other one is worse looking. I might have to find some carpet and replace the thin material with it.
---
By Mystic on Apr 5, 2022
Sturdy and worth the money
Bough this for my 10 month old kittens and they adore it! Spent weeks looking for something that was going to be sturdy and last while also being multi-tiered. Arrived very quickly and my kittens tried playing with it before I was even done building it! Easy to assemble and light weight enough to easily move out of the way when cleaning. Keeps my crazy kittens entertained and they love taking all their cat naps here. They really love both squeezing into the basket together for naptime and make good use of the scratching posts as well. Definitely would recommend this tree!
---