Frisco 70-in Real Carpet Wood Cat Tree
Must enter code FALL2022 at checkout to redeem
---
About This Item
Hand-built with solid wood posts for a sturdy feel and durable construction.
Wrapped in thick, household-grade carpet for the rich, plush texture cats love.
Provides five levels for your cat to lounge, play and nap on, with two round perches and three hammock-shaped perches.
Two sisal scratching post lets your kitty stretch and scratch on the daily.
Handcrafted in the USA with sturdy, quality materials like solid wood posts, household-grade carpet and sisal rope. Easy, 3-step assembly.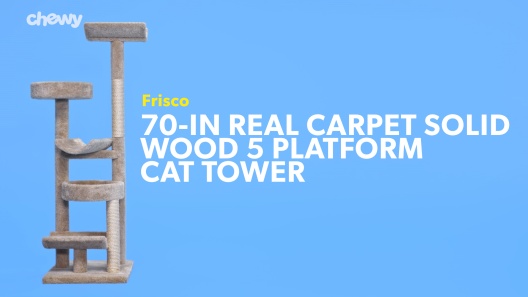 Learn More About Frisco From Our Team of Experts
---
Compare Similar Items
| | | | | | |
| --- | --- | --- | --- | --- | --- |
| | | | | | |
| Customer Rating | | | | | |
| Price | | | | | |
| Cover Material | Carpet, Sisal, Plant Material | Carpet, Sisal, Plant Material | Faux Fleece, Sisal, Plant Material, Synthetic Fabric | Carpet, Sisal, Plant Material | Carpet, Sisal, Plant Material |
| Furniture Frame Material | Solid Wood, Wood | Solid Wood, Wood | Engineered Wood, Wood | Solid Wood, Wood | Solid Wood, Wood |
| Height Range | 70 inches & above | 60 inches to 69 inches | 70 inches & above | 60 inches to 69 inches | 60 inches to 69 inches |
| Tools Included | No Tools Required | No Tools Required | Yes | No Tools Required | No Tools Required |
| Furniture Mount Type | Free Standing | Free Standing | Free Standing | Free Standing | Free Standing |
| Assembly Required | Yes | Yes | Yes | Yes | Yes |
| Lifestage | Adult | Adult | — | Adult | Adult |
---
Questions & Answers
3 Customer Questions
---
Is the second perch (the round one) attached to either of the other carpeted posts? If it sits off-center only on that one sisal post, I have concerns about its ability to hold up to repeated jumping/pouncing.
Answer by • Oct 04, 2020
Cat trees are tested to ensure standalone stability and should be placed on a flat, level surface against a wall or in a corner for best stability. This cat tree is made up of 4 different parts needed for assembly. Please refer to the photo below:
---
1) Are the perches padded or simply covered with the carpeting material without any padding beneath that carpet? 2) How is the carpet attached to the wood? 3) How can I tell just how plush, or dense, the carpeting is? 4) Is the sisal oiled or otherwise treated with any chemicals?
Answer by • Jul 28, 2021
The perches are not padded, just covered with carpet. The carpet is attached to the wood using staples and is standard carpet. The sisal is natural and untreated.
---
Is the carpet plush or is it pretty thin?
Answer by • Oct 01, 2020
This cat tree is wrapped in thick, household-grade carpet for the rich, plush texture cats love.
---
---
By Tsas on Sep 3, 2022
Don't waste your money
I really splurged on this cat tree. My cats can't get up or down it because everything is so close together it gives them no space to jump from one level to the next. The carpet is coming out in pieces, strings all over it, some seams don't be well done. I am very disappointed in this for as much as it costs. I think the rave reviews must be from the company LOL
---
By Jess on May 28, 2022
I would not recommend
This cat tree is nice, well-made and sturdy but this cat tree is not designed well. The 3rd U-shaped level is angled wrong, and the 4th level is too close to the post of the 5th level. My cats don't have any trouble climbing up the cat tree but coming down is a different story. The levels are not spaced apart far enough apart and the third level is positioned wrong. My cats have so much trouble trying to climb down it they just jump off the top and I'm afraid they are going to hurt themselves. I was really excited to receive this cat tree but unfortunately I do not recommend it, luckily Chewy is letting me send it back.
---
By Rosie on Jul 9, 2022
Best cat tree ever made.
I bought this cat tree for my son's cat and he loves it. He's in it almost all the time. Came in three pieces. Easy to put together and didn't need any tools. The quality is excellent. Real wood and carpet. Would definitely buy again.
---
By Groundhog on Oct 29, 2021
My cats love this tree.
Ordered this for my cats and they love it. But just one won't do so I ordered another tree. Then they will have 2 to run up and down on.
---
By DeniseL on Oct 6, 2021
Easy Peasy
This is the first time I've ever been able to assemble a cat tree in, literally, 5 minutes. What a relief! It's also very sturdy and looks nice in my space. Thanks Chewy!
---
By catdad on May 27, 2021
an awesome cat tree
Wow! We love this tree! I was expecting to get something pretty great for the money, but honestly it is even better than I expected. It arrived mostly assembled, which I really appreciated, no 5 hour process to put it together and very strong. The perches are loved by my cats and the carpet is seriously so fluffy.... I don't understand how it's so plush, it could be a fancy shag rug. Anyway, the cats and I love it. My only caveat is that the tallest perch does wobble a bit when my cats run straight up the back post with force. It's minor wiggle and never bothered them or me, just, if your cat weighs like 20lbs rather than 10lbs you might want to be aware. I don't think it would be unsafe though, just a bit of skyscraper effect. None of the rest of it moves. We very much recommend this tree, especially for multi-cat homes that need something with strength and longevity!
---
By catdad on May 28, 2021
it's ok, but...
pros: tall (maybe 70-in is a bit too tall. 66-in would have been ok); very sturdy and stable; platforms are good for large cats; carpet is good cons: platforms are situated in such a way that it is difficult for cats to jump from one platform up to another, this is a discouraging problem for our cats; blocks out a lot of the light that used to come through the window, a shorter tree would have been better We have two cats. One will sleep on the upper round platform if we place him up on it. He won't stay on the upper half-barrel at all. He will get on the lower half-barrel himself and sleep there sometimes. He's a courageous climber but the platforms are so close (literally on top of each other) that he can't figure out how to get up it. The other cat will have nothing to do with the tree (which is always a risk when buying something new for a cat.) All-in-all, I'm disappointed with my cats' response to the tree, especially for $200+. Maybe it would have been more of a success if the platforms didn't overlap. A larger footprint would be ok if it meant the support polls were farther apart so that the platforms didn't overlap. We're going to give it some more time before deciding what to do with it. It's a big piece of furniture and definitely not for a small room.
---
By Cheapcarpet on Jul 10, 2021
Carpet to shreds
The carpet used in this is so cheap. When delivered my floors were covered in the loose carpet threads. Since my cat has been using this, I have to vacuum the floor surrounding it daily Bc of how much carpet falls off. The corners have exposed carpet staples which I cut my leg on. My parents have a different brand cat tree for over a decade and the carpet looks better than 3 weeks of use on this one. Legit gonna need to replace this after 3 months of having. Run from this product I want my money back.
---
By Mouse on Jun 18, 2021
After having less than two months this cat condo is already shredding.
We've had numerous cat condos and the last one before this one only lasted not quite two years. It was a faux fur so we decided to order an all carpet one. The cost of this was very high compared to the last one so we felt it would last a long time. We got it on May 1st and right away noticed pieces of carpet all over. We felt it was just probably because it was new. Our two cats have used it to mostly to sleep on but where they have scratched at it there are already holes. It seems the carpet is rotten. The structure is very sturdy so one would think a good carpet would be used to finish it.
---
By Jaclyn on May 4, 2021
Great for active cats!
Let me start by saying that the quality itself is fantastic! I have two Maine Coon kittens who are just over one year old. They absolutely LOVE this cat tree. They often get the zoomies and turn straight to climbing this tree together! The both of them have jumped, climbed, scratched this thing up at the same time and it has held its balance completely! The only criticism I have to offer is that the second and third shelves are super close to one another and overlap a bit so for larger cats it's a bit tricky. Overall the quality is very nice considering the price! I've had it for a few months now and it looks basically brand new! Definitely would consider purchasing over the faux fur cat trees. This one is pretty heavy also so be prepared for that! One last note: the tree doesn't necessarily break in two pieces. The top circle bed comes off, however the top scratching post connecting to the top shelf does not. Only the actual shelf swivels off so beware that you cannot 1. Mix and match where the shelves go 2. Break it apart into smaller pieces! Cheers!!!
---