Frisco 76-in XXL Heavy Duty Cat Tree
Temporarily Out of Stock
Get notified when this item is back in stock.
---
About This Item
Extra-large heavy-duty cat tree for your cat to call their own.
Roomy perch at the top so kitty can survey their kingdom.
Two lower spacious cat condos to hide and relax in.
Sisal posts to encourage healthy scratching.
Removable, machine-washable bolstered perch cover.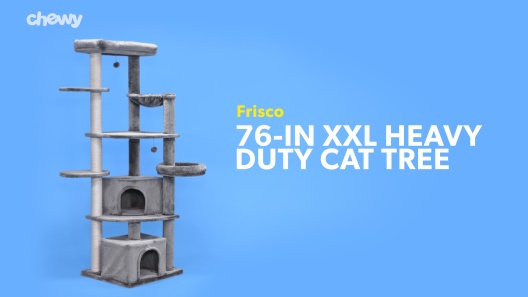 Learn More About Frisco From Our Team of Experts
---
---
Questions & Answers
26 Customer Questions
---
Are the cubbies big enough for a 12 pound cat to fit in them?
Answer by • Jun 28, 2020
The first condo measures 15.5 inches long by 13.75 inches wide and 11.75 inches tall. The Second condo measures 22 inches long by 15.725 inches wide by 15.725 inches tall.
---
Are the caves solid on the inside or are they just some type of pole with a fabric covering?
Answer by • Jul 26, 2020
The condos are made with solid walls.
---
Are the condos removable? my cat prefers to lay on top of things and doesn't typically climb inside anything. this tree is a great size for him but I feel the condos would be wasted space.
Answer by • Jul 07, 2020
The condos are not removable. It is recommended to assemble cat tree as instructed.
---
Does it have to go in a corner of the room? Will it stand alone against a wall in the middle of a room?
Answer by • Aug 02, 2021
Frisco cat trees are tested to ensure standalone stability, and wall anchors are provided as an option for additional stability.
---
---
---
By SadCat on Jun 15, 2022
PURRFECT!!!
I did a lot of research on multiple sites, but I couldn't find anything that offered everything that I wanted for my purr-babies. Then I found this. It was big enough to hold my three big boys (about 15-18lbs. each) and tall enough for my climbers. One boy likes flat surfaces, one likes hammocks, and the other likes snug spaces. This tree has all three! The top bunk is also large enough so my two snuggle buddies can spoon. We have had it almost six months and it is holding up very well. The little poof balls came detached from the springs, but I just tie a new toy on. So, ten out of ten - highly recommend!
---
By walrus on May 29, 2022
Poorly designed treehouse
Needed a new tree house because one of my 2 cats is huge and he broke the top perch on our last tree house that was on one post. He is over 3 feet long, including his tail, and close to 30 lbs. But a big mush. Saw this one with a two post top and thought perfect. Well, not really. Neither cat can get to the top level because of how all the dodads are attached. The platform thing that cantelevers out doesnt go out enough to give a real landing pad to get to the top. And the top landing area has a cover with puffy sides that are not stable enough for the cats to grab onto to pull themselves up. I am going to reconfigure the top half and take off the cover to hopefully make it usable. Very disappointed.
---
By Awesome2 on Jun 7, 2022
Highly recommend!
I didn't expect it to be so nice, huge and sturdy,materials are high quality, was easy to put together and lower houses are big enough for my 21lb. cat, my other cats love it too, best cat tree I've ever bought, huge value for the price, will fit 7 cats, it's awesome for all cats/kittens, didn't need to anchor to wall because of how sturdy it is, I highly recommend this cat tree, I won't buy cat trees anywhere else again, this one will last a very long time!!!
---
By Carolyn on May 30, 2022
Great for Large Cats
I have been looking to replace our old cat tree that was falling apart. Our cat is 19 lbs tall and long. He loves jumping and climbing up the cat tree so I needed something sturdy for his size. This cat tree is exactly that. Great size and very sturdy. We don't plan on anchoring to the wall. He loved the basket in his old cat tree so it was a MUST have and this one actually is supported on both ends. For his size this makes us Happy. Plenty of room when our son brings his cat. Would highly recommend this for Large Cats.
---
By raes on May 18, 2022
great cat tree!
i love this thing! it was a lot of pieces to assemble but wasn't toooo complicated. definitely helps to have an extra set of hands (or two) to help put together. it is super sturdy, and comes with wall attachments if you need them. i have not used them and it seems to be solid, i have had two cats playing on it together with no issues. they love all the different levels and the big scratch post part! a great deal, and works great for my medium sized cats. they aren't particularly big/heavy but a lot of other towers seem like they are designed for kittens and end up being too small, but not this one! i also love the color of this one and it fits nicely in my living room without taking too much space. highly recommend!
---
By Niko on May 29, 2022
Highly recommended!
At first, I didn't want to spend a ton of money on a cat tree. I'm usually on a budget, (let's face it, who isn't these days?) but I needed something that would stand up to the force of my rambunctious kitten and my two grown cats. I figured I'd give this one a shot, and I'm so glad I took the chance! It's so stable on it's own, I didn't have to use the wall anchor. It's very plush, and my cats have loved it since it came out of the box. It's worth it!
---
By Siamesemom on Jun 11, 2022
Best on the market
Installation was a breeze, it's very sturdy. The cats are on it all the time. It's nice that the hammock is at eye level as it's their favorite spot on the condo. My cats rarely venture to the top. The only way it would be better is if you added a second or third hammock. My cats fight over the hammock and it makes me sad they can't all hammock together.
---
By mom4kidsand4cats on Apr 26, 2022
Great stable, sturdy tree!
We have 4 cats. One of them has taken possession of this tree; she's the one who most likes to be up high, but she will allow one of the other cats on it if she's at the top. It's stable without being anchored to the wall, and it's so sturdy I can stand on the lowest cubby; it wobbles a little as I'm pulling myself up onto it but it gets nowhere near to falling over. (I'm 5"8" 155 lbs.) So far my cats don't claw the soft parts so I don't have a mess of fuzz; hopefully they will continue to claw only the rough parts! I'm so glad I took a chance on this tree because I can't drill into the wall where I have it because there is wiring there, and because I wanted something really sturdy, and with large enough cubbies. I love this thing!
---
By Cat35 on May 27, 2022
Bigger and better than expected
I purchased this for my niece's new fur baby. I've had many cat trees but this one is heavy duty and huge! Nice soft perches and her cat loves the big round hammock like bed. This is big enough for a clutter of cats! Thanks to the reviewer that said her Maine coon cats had no problem using it - I thought that was an exaggeration- but it wasn't!
---
By Amber on May 19, 2022
This thing is Massive
Just got done putting this monstrosity together. The assembly wasn't hard at all. This thing is massive and sturdy! I have three cats, my largest two are 15 and 13lbs and this can hold them both comfortably. It does have a bit of a strong smell to it, like new chemical like smell that I'm hoping goes away soon. But our cat Goddess Lily approves and that's all that really matters.
---