Frisco Cactus Cat Scratching Post
Frequently Bought Together
---
About This Item
Wrapped sisal scratch post promotes satisfying scratches and healthy cat nails.
Cactus shape adds a pop of fun to any home.
Moppy fabric plush material on top and base for cats to rub and nuzzle.
Stable base to support kitty playtime.
Easy to assemble so your cat can enjoy immediately.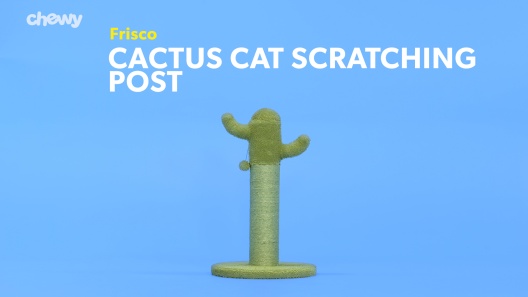 Learn More About Frisco From Our Team of Experts
---
Compare Similar Items
| | | | | | |
| --- | --- | --- | --- | --- | --- |
| | | | | | |
| Customer Rating | | | | | |
| Price | | | | | |
| Cover Material | N/A, Faux Fur, Sisal, Plant Material, Synthetic Fabric | Faux Fur, Sisal, Plant Material, Synthetic Fabric | Faux Fur, Sisal, Plant Material, Synthetic Fabric | Felt, Sisal, Plant Material, Synthetic Fabric | Felt, Synthetic Fabric |
| Furniture Features | Hanging Toys, Modern | Hanging Toys | Hanging Toys | Hanging Toys | Modern, Hanging Toys |
| Furniture Frame Material | Engineered Wood, Wood | Engineered Wood, Wood | Engineered Wood, Wood | Cardboard | Engineered Wood, Wood |
| Height Range | 31 inches to 59 inches | 30 inches & under | 30 inches & under | 30 inches & under | 30 inches & under |
| Tools Included | Yes | Yes | Yes | No | Yes |
| Furniture Mount Type | Free Standing | Free Standing | Free Standing | Free Standing | Free Standing |
| Assembly Required | Yes | Yes | Yes | Yes | Yes |
---
Questions & Answers
18 Customer Questions
---
Is the 22" one large enough for a 12lb cat or will he knock it over?
Answer by • Sep 08, 2020
The base is stable and made from engineered wood to support kitty playtime. A determined cat may be able to knock this post over.
---
How can I tell which size to get my cat? He's not overweight, but he is a solid 15lbs with a 16in chest if that helps.
Answer by • Sep 09, 2020
The Frisco Cactus Cat Scratching Post is designed for cats of all sizes and lifestages. We recommend choosing the height that best fits your pet's scratching needs.
---
Is the circular base one solid piece, or does it come 'folded' with a seam down the middle?
Answer by • Aug 09, 2020
The baseboard is made of 2 separate pieces that will need to be attached during assembly.
---
Is the pole already wrapped with the rope or is that part of the assembly?
Answer by • Jun 02, 2020
The sisal rope is pre-attached to the post. Please refer to the photo below for complete assembly instructions:
---
---
---
By kallixti on Aug 14, 2022
Cute scratching post!
This scratching post was very easy to assemble. The base is nice and heavy, and overall the scratcher feels sturdy. This pic shows one of my 6 month old kittens scratching it (she was stoked to use it right out of the box haha), and this is the large size. As you can see she's easily able to scratch at the top of the post (the top part of the cactus is soft and plush, not where a cat would likely scratch) - so I'd definitely recommend just getting the larger size. Overall very pleased with it and would definitely recommend!
---
By Catmom82 on Aug 14, 2022
Cactus post
I purchased this about 6 weeks ago; I waited to see how this scratching post would workout. I'm happy. My 20 pound big boy kitty is happy. He had begun scratching at the corner of a chair. This scratching post is the right height to be a deterrent at the chair's corner so he is more likely to ignore my furniture. Assembly was super simple. And, surprisingly, he engaged with it right away. He loves the attached ball which is on an elastic cord. The post is well made and holding up nicely, because my big boy is rough and tough with it. The only drawback is that is slides easily on my wood flooring.
---
By thegreathamdetective on Aug 12, 2022
Cactus cat tree
Good, cheap little cat tree! I love how cute this is. I bought it for my second cat to use while he was quarantined from my other cat before integration, so that he would have something to scratch on in his little space. Well, my cat is a chunky boy and he tended to tip this cactus over but quickly learned how to position himself so he could scratch without pulling the tower to the ground. He loves to wrap himself around the base and bat at the hanging ball too. A really wonderful and affordable choice for a small cat tree, great for 1 cat and/or small spaces.
---
By Chloe on Aug 8, 2022
Cat Approved!
My cat definitely approves of it! It's very sturdy (because it's heavy af). it's a good size. and it's a cute cactus - i am a plant lady. i have a ton of tropical houseplants, succulents and cacti. actually, 2 toothpick cacti named bonnie and clyde, as well as another named cactalie pointman (see what i did there? ya know, like …natalie.. portman.. but cactus.. and points… cause of the.. yeah). anyway. the top being soft is a nice touch (is that a pun?). and it appears to be well-made. would totally recommend! 10/10. i've only had it like, 18 hours, so if anything breaks or something, i'll be back to update!
---
By CatmOma on Aug 7, 2022
Cactus Cat Scratching Post- 33 inches Tall
My cats have several scratching posts and this has been their favorite. Yes, the sisal has fallen apart from constant wear over the past year, but it's very sturdy. The post is heavy duty cardboard and I didn't expect it to last forever. I love the whimsical attribute. Time for a replacement - the llama head one is out of stock. I recommend this and similar scratching posts from Frisco!
---
By DotBronx on Jul 30, 2022
Cute design and helpful
I have had this post for a year? It was great as the cats grew, but I found I have very large, long cats. They still use it every day for their first stretch and clawing while I brush them with the great "Bumble Bee" brush I got from Chewy. I have to hold the post with one hand while I brush them with my other hand. For my cats I would need an base either screwed to the floor, or about 3 inches wider all around and the rope part should be 4 inches higher so they could stretch better. For an average cat This is a great product.
---
By Siena on Jul 14, 2022
Cute, kitten likes it, but not all material is scratch-worthy
I think this is a great scratching post that is actually cute and sturdy, and my kitten likes it. I would say he seems to much prefer the ropey material over the microfiber shag material that makes up the base and top of it. I think it could be more effective if it was all the rougher material, as that's the only part he likes to scratch. For softer, more rug-like material, he tends to gravitate towards...the actual rugs, haha. Still working on that one. Overall a great addition to my kitten's furniture, it looks cute in the living room next to his water fountain and he seems to love taking a sip of water and then stretching on/scratching the cactus.
---
By LouisaB on Jul 12, 2022
Disappointed in this scratching post
I'm disappointed with this scratching post because my cats are not interested in it at all. I've tried putting it in a few different spots and rubbing cat nip on it but they have not scratched it once since I got it almost 2 months ago. The post seems to be well made and it has a cute design, it just doesn't work for my cats. I will keep it for a while longer, but if I can't get them to use it instead of scratching my furniture, I will give it to a friend. I bought this one because it had good reviews, but as we all know, cats can be unpredictable in what they like and don't like.
---
By CatMom on Aug 2, 2022
Great deal!
This is a really solid scratching post. It is actually larger that what is depicted in the photo. Super easy to put together. My cat immediately started using it. And, icing on the cake, it is really cute so it serves two purposes - interior design and cat scratching. Oh, and did I mention the price is incredibly reasonable considering typical prices for pet furniture.
---
By CrazyCatLady on Aug 4, 2022
Cats LOVE this scratcher!
My 2 four-year-old cats love this scratcher! They started scratching on it immediately when I set it on the floor. They have shredded other scratch posts so we'll see how long this one lasts. I see them both scratch on it multiple times a day. Bonus: I like to hide their toys in between the cactus branches on top and they like to knock them off.
---