Frisco Cactus Cat Scratching Post
By Frisco
---
About This Item
Wrapped sisal scratch post promotes satisfying scratches and healthy cat nails.
Cactus shape adds a pop of fun to any home.
Moppy fabric plush material on top and base for cats to rub and nuzzle.
Stable base to support kitty playtime.
Easy to assemble so your cat can enjoy immediately.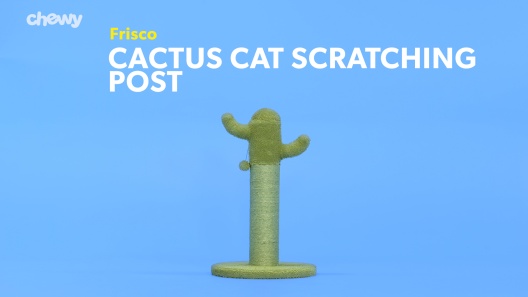 Learn More About Frisco From Our Team of Experts
---
Compare Similar Items
| | | | | | |
| --- | --- | --- | --- | --- | --- |
| | | | | | |
| Customer Rating | | | | | |
| Price | | | | | |
| Furniture Features | Hanging Toys, Modern | N/A | Hanging Toys | Modern, Hanging Toys | Hanging Toys |
| Furniture Covering Material | Sisal, Faux Fur | Sisal | Sisal, Felt | Felt | Faux Fur |
| Height Range | 31 inches to 59 inches | 30 inches & under | 30 inches & under | 30 inches & under | 30 inches & under |
| Tools Included | Yes | Yes | No | Yes | Yes |
| Furniture Frame Material | Engineered Wood | Engineered Wood | Cardboard | Engineered Wood | Engineered Wood |
| Number Of Condos | N/A | N/A | N/A | N/A | N/A |
| Furniture Mount Type | Free Standing | Free Standing | Free Standing | Free Standing | Free Standing |
---
Questions & Answers
18 Customer Questions
---
Is the 22" one large enough for a 12lb cat or will he knock it over?
Answer by • Sep 08, 2020
The base is stable and made from engineered wood to support kitty playtime. A determined cat may be able to knock this post over.
---
How can I tell which size to get my cat? He's not overweight, but he is a solid 15lbs with a 16in chest if that helps.
Answer by • Sep 09, 2020
The Frisco Cactus Cat Scratching Post is designed for cats of all sizes and lifestages. We recommend choosing the height that best fits your pet's scratching needs.
---
Is the circular base one solid piece, or does it come 'folded' with a seam down the middle?
Answer by • Aug 09, 2020
The baseboard is made of 2 separate pieces that will need to be attached during assembly.
---
Is the pole already wrapped with the rope or is that part of the assembly?
Answer by • Jun 02, 2020
The sisal rope is pre-attached to the post. Please refer to the photo below for complete assembly instructions:
---
---
---
By Tasherit on May 3, 2022
31" is the Perfect scratcher for an adult cat
My cat Tashi needed a new scratcher. The little one I got at the pet store was too small for an adult cat. It would slip away from her. The 31" cactus scratcher is the perfect size, and I love that it looks cute with my decor. She can really lean into it and get a good stretch while she's scratching. After two years she wore out most of the sisal, so I got her a new one. I know the 31" version is a little more expensive, but when it's the right size they're likely to use it often, and that will save your furniture. Place scratchers near any good furniture, cover it in catnip, and give them treats for using it, and they'll use the scratcher every time. I have gifted a 31" version to my mom, and her cats love it, too. I gifted my brother the smaller version for his kitten, which was perfect for his size, and he loves it. Now that the little guy is a year old, he's upgraded to the 31" version since the small one scoots away or tips over now that he's full size. The only thing I would change is the availability of replacement parts. The sisal is separate from the fabric section, and it just screws in place. It would be easy enough to sell replacement sisal sections so I don't have to buy a whole new thing when the rest is still fine.
---
By TomandD on May 15, 2022
My cat LOVES it
My cat adores this cactus. At first he was scared of it so I let him take his time to approach it instead of pushing him. Now his zoomies always start when he goes to scratch it. He likes to hug and play with the ball, he likes to twirl around it, and he randomly decides to run and place his weight on it so that it tips and falls over. Only giving this 4 out of 5 stars because there's not really any weight to the cactus so it can tip over when my cat plays too rough with it. Overall a great scratching post and is very easy to assemble!
---
By carefulshopperl on May 5, 2022
First ever scratching post that my cats love!
It's hard for me to believe that my cats use this scratching post! They turned up their noses at all the others I have purchased over the years. The top cactus part of this scratching post isn't my taste, but it's easy to remove. Wish it was available in different colors. It's very sturdy. I believe there wouldn't be a cat that could get the large one to tip over. If that happens, you can be sure my cats would never use it again! This scratching post is the best ever. .
---
By Spencer on Apr 15, 2022
Super cute!
I love this scratching post simply because it's adorable. I love the cactus design. My cat plays with it from time to time and seems to really enjoy the "squeegee" texture of the base and the top. The only issue that I have with it is that the base isn't very sturdy. My cat easily bats it around, mostly due to his unreasonably high amount of strength. It hasn't fallen over on top of him yet but it's almost happened on multiple occasions. I'm trying to think of ways to secure the base to the floor but I don't have any ideas yet. However, I still really like this scratching post and my cat does too, so overall I'm pretty happy with my purchase! It's certainly worth the money.
---
By kale on May 18, 2022
cute but unbalanced..!
both my cat and i like this scratching post! hehe he uses it frequently and also likes to play with the ball sometimes, however from certain angles the post comes off the ground when scratching and is prone to tipping/falling. i positioned it so its mostly secure when he uses it but its still not the most stable
---
By Straycatstrut on Apr 24, 2022
My kitten goes wild with this
I don't know why, but neither of my childhood cats had any interest in a scratching post. I was worried this would just sit pretty in our living room, but our kitten absolutely LOVES this thing. She has an absolute blast with the ball, and is so intrigued by the different materials. She's even latched her claws onto it, fallen back, and rolled around with it. While it's sturdy with a good base, a determined cat can certainly knock it over.
---
By BonNY on May 13, 2022
Cute and Sturdy
I have many cats so I purchased a few of these. My cats love them. Plus, I have a couple of big cats that like to run and jump up on them and just stick like it is velcro. Then they start scratching really fast. I am hoping the cats keep their claws off my furniture with these scratching posts to use .
---
By Crittermom on Apr 30, 2022
Cactus Cat Scratching Post
These posts are very nice. Great height for scratching and very sturdy. We have 4 very large cats and 4 petite ones. The big guys love it. The little guys had to sneak up on the posts as they are large in size. Now they all use them. We purchased three of them and they look nice in a variety of rooms in our home. Highly recommend. Great exercise for your fur babies.
---
By Brittni on May 15, 2022
cute but not durable
Let me start by saying this scratch post is absolutely adorable. However, I do wish it were more durable. I bought this in December and the poor cactus has had its top half torn for months. I kept finding fluff bits around the house until I discovered it was coming from the scratch post.
---
By D510 on Apr 4, 2022
Way worth it!
I bought the 22" one for my then 1 year old, 13lbs cat. He's quite rambunctious and I was curious if he'd like a scratcher. The price was right for trying it out and my cat absolutely LOVES this thing! He's not once knocked it over and I feel he's quite aggressive with it. It's where his cat zoomies always take him. Assembly is super easy (under a minute) and it's lasted me a year before showing any signs of wear and tear. The sisal is finally wearing at the top so I ordered another. Now we just have two in the house and my cat couldn't be happier!
---