Frisco Ceramic Whale Dog & Cat Water Fountain, Blue, 64-oz
Frequently Bought Together
---
About This Item
Circulates up to 64 ounces of water to encourage your pet to stay hydrated and enjoy drinking more water.
Provides a more enticing hydration option over traditional water bowls, especially for pets who are hesitant to drink.
Made of ceramic with a sleek, modern look in light blue and white, with an adorable whale spout at the top.
Includes a pump with a low-water sensor—the pump will automatically stop operating when the bowl water level is below the minimum level.
The pump is quiet and replaceable, and includes a replaceable carbon filter that keeps their water clean, clear and tasty.
Frisco replacement filters and pumps are available to keep your pet's fountain in tip-top condition.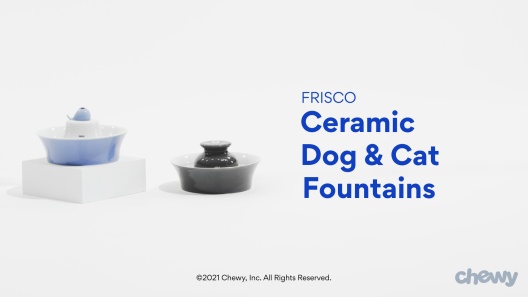 Learn More About Frisco From Our Team of Experts
---
Compare Similar Items
| | | | | | |
| --- | --- | --- | --- | --- | --- |
| | | | | | |
| Customer Rating | | | | | |
| Price | | | | | |
| Breed Size | All Breeds | All Breeds | Large Breeds | Large Breeds | Small Breeds, Medium Breeds, Large Breeds |
| Lifestage | Adult | Adult | Puppy, Kitten, Adult, Senior | Puppy, Kitten, Adult, Senior | Adult |
| Material | Ceramic | Ceramic | Ceramic | Ceramic | Ceramic |
| Capacity (Max) | 64-oz | 64-oz | 70-oz | 70-oz | 115-oz |
| Assembly Required | Yes | Yes | Yes | Yes | No |
| Compatibility | Plug-In Power | Plug-In Power | Plug-In Power | Plug-In Power | — |
| Tools Included | — | — | No Tools Required | No Tools Required | — |
---
Questions & Answers
2 Customer Questions
---
How long is the cord?
Answer by • Apr 07, 2022
The cord is 6 feet.
---
what filter for replacement should I order
Answer by • Mar 27, 2022
The Frisco Pet Fountain Replacement Filters are compatible with this fountain.
---
---
By Heather on Jul 1, 2022
Pump breaks constantly
I can't in good conscience recommend this fountain to anyone, which is a bummer because it IS really cute. Unfortunately, out of all of the fountains I've tried over the years, this one is hands down the worst. I basically need to replace the pump almost monthly, and I've only had it a few months. Not sure could be wrong, because I clean/service my fountains weekly.
---
By Laurie L on May 10, 2022
Great While it Worked!
#ReceivedFreeProduct This is heavy substantial water bowl fountain so it won't move while animals are drinking. The ceramic is attractive and easy to clean. The whale on top is super cute. After reading the instructions, we cleaned the bowl and soaked the filter, then assembled it. We put in the water, plugged it in, and it was a cute little fountain. The pets loved it, especially our old lady cat, who is very finicky about her water quality. We were diligent to keep the water between the low/high mark. The bowl worked great for about two weeks and then just stopped working. We couldn't get it to run again. It's such a shame because the pets really liked it. Maybe we just got a defective one. Even though it stopped working, I gave it two stars because it really is a nice bowl. I might try again because when it was working, I liked it so much.
---
By TKKitties on May 11, 2022
Important for assembly: rubber cover is not required
This is adorable and sturdy, and I like that it is ceramic rather than plastic. Hoping my two cats will love it! The one IMPORTANT thing is that the included instructions are inaccurate and will cause you much grief and stress. Specifically, the "Rubber sleeve" that comes with the included instructions is not needed and actually does not fit. On the other hand, the PDF instructions on Chewy's website are accurate--they don't include the sleeve in the contents, nor do they list it in the assembly steps. Whew! The whale is super cute. Whales forever!!
---
By Chrissy on May 9, 2022
It's all right, really cute though
It's a really cute bowl, but two down sides to it, the insert that encases the filter/pump doesn't align properly in the bowl, that's one. When the water is at the Max level as recommended, I have water all around the outside of the bowl and it's not a "little bit" either, that's two. My cat really likes this, so I had to put a piece of wood that was lined with some shelf liner underneath the bowl and put rags around the bowl to catch the water. I didn't read the reviews because my impulsiveness jumped in and I just purchased it. I should have read the reviews...
---
By sabahtonnie on Apr 28, 2022
Finally a fountain my cat likes.....
#ReceivedFreeProduct I have tried several fountains for my picky kitty who likes to drink out of our faucets, so this bubbling whale has finally appeased my kitty. With the water actually bubbling like a fountain instead of just water-falling, I noticed this allows my cat to get a better drink than trying to catch it falling down. We have been trying to break him from drinking out of our faucets, and this has seemed to do the trick. I also like that this drinking fountain is ceramic and easy to take apart and clean. The cord is pretty lengthy (6ft) and the filtration system is very quiet which I think helps with skittish animals. Also, it has markings so you know when your water is low, but if you happen to miss it, the filter/pump shuts off instead of running. I am pleasantly surprised at how much my 2 kitties love this fountain. Highly recommend.
---
By Melissimaus on May 11, 2022
Don't waste your money
I really wanted to like this. I've had a plastic Catit fountain for years, and the plastic coating had finally degraded to the point where it was needing to be cleaned more often. I thought a porcelain fountain would do the trick. But this thing is a real pain to clean, and after only a few months, the fountain pump died. The filter setup also seems to do a much worse job of filtering the water than my old Catit fountain. Now this is just a heavy, hard to clean porcelain dish. It's going in the trash.
---
By Dean on Apr 22, 2022
not loving it
I have had this less than a month and it seems I ruined the pump already. I read the instructions and it seems I have to wash and dry all the parts every two weeks. I didn't think to dry them; it pumps water; why does it have to be dry? Now it won't pump. I'm buying a replacement pump, as I'm determined to get my money's worth. It's not super easy to take apart and put back together. It actually needs cleaned weekly to avoid the slime. My two ten month old kitties only drink from it the first 1-2 days after cleaning and replacing water. When it does work properly, my cats likes to punch the whale's spout. I can hear the clashing of ceramic on ceramic and see water flying to about a 2 foot radius. I have a large mat under it, but I still have to grab the mop. I don't recommend this one.
---
By mchem on Apr 28, 2022
Easy to put together!
#ReceivedFreeProduct I was so excited to put this out for my pup who is a one eyed senior American Cocker Spaniel. This is a beautiful product that I very much wished work for my pup. Unfortunately he is so old and so set in his ways, he didn't fully understand that the fountain was for him. After several days and multiple attempts to get him to try it - we went back to our old bowl. I was very sad about this but am keeping the bowl in hopes a future pet would be able to enjoy it! It's a super cute product that keeps the water bowl clean with a filter and water movement!
---
By Tonya on May 20, 2022
Cute, but complicated
I bought a heavy, ceramic fountain because one of my cats is destructive and strong and likes to knock things over. He hasn't succeeded in knocking over this fountain. It was tricky to put together and the first time I emptied and refilled it, it won't work. So now it's a cute, heavy, regular drinking bowl.
---
By Meka1227 on May 3, 2022
Cat likes it
#ReceivedFreeProduct I got this for our cat Gizmo who liked to drink out of the toilet, LOL. The instructions were a bit confusing but I was able to figure them out enough to put it together in about 30 minutes. Well after inspecting it with his nose and paws he started to drink from it. He seems to like it and it's keeping him out of the toilet.
---