Frisco Cinching Insulated Dog & Cat Parka, Black/Red Plaid
Frequently Bought Together
---
About This Item
Water-resistant polyester shell, filling and lining stays warm.
Lined with plaid polyester fleece to help retain your dog's body heat.
Designed with a fur-accented hood with a snap on the back and a real, functioning pocket, too.
Attaches with hook-and-loop fasteners up the belly and a snap button at the neck for a snug fit.
Includes an adjustable cinch at the waist to tighten the coat around your dog and keep them cozy.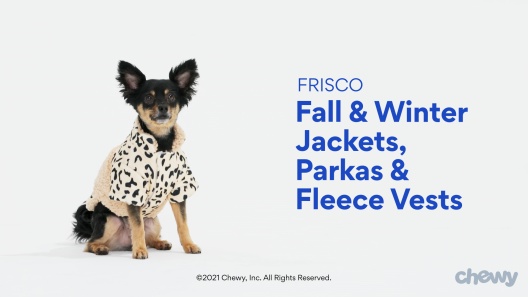 Learn More About Frisco From Our Team of Experts
---
Compare Similar Items
| | | | | | |
| --- | --- | --- | --- | --- | --- |
| | | | | | |
| Customer Rating | | | | | |
| Price | | | | | |
| Material | Polyester, Synthetic Fabric | Polyester, Synthetic Fabric | — | Polyester, Synthetic Fabric | Polyester, Synthetic Fabric |
| Breed Size | Medium Breeds | Medium Breeds | Medium Breeds | Large Breeds | Large Breeds |
| Pattern | Solid | Solid | Solid | Solid | Geometric |
| Closure Type | — | Hook & Loop | Hook & Loop | — | Hook & Loop |
---
Questions & Answers
7 Customer Questions
---
Is there a place for leash to attach?
Answer by • Dec 09, 2021
While the parka itself does not attach to a leash, it does feature an opening at the back of the neck for a leash to slide through to attach to a collar underneath.
---
Is the hat removable?
Answer by • Jan 13, 2022
The hat is not removable. This parka does have a snap on the back to keep the hood out of the way when it's not needed.
---
Are the hook and loop fasteners quite large, and how many are there ? Is there also a velcro closure under the flap ?
Answer by • Jan 08, 2022
Velcro is a hook and loop fastener. One side is called the hook and the other side is called the loop. This parka has one fastener up the belly and a snap button at the neck.
---
What is the outer shell made of?
Answer by • Jan 16, 2022
This jacket has a Water-resistant polyester shell.
---
---
75 Customer Reviews
---
Filter by reviews that mention
---
By JRLHolt on Oct 24, 2022
Good Quality, Warm Jacket
One of my dogs loves to put this jacket on. The other only likes the jacket slightly more than the cold, but it is well made and I like that it has the cinch feature to make it closer to their body. It fits both dogs as described and of course, looks adorable. My one major qualm is that we use a chest harness that buckles in the front and since it is velcro and not buttons, it is easier to get on, but gets opened more easily since their leash exits there. Since my dogs are an American Bully and an American Bulldog, they both have little fur that tends to shed, so I also find that velcro doesn't last long on their Thundershirts and service vests. I hope I do not have the same problem with this jacket.
---
By Chance1 on Sep 20, 2022
Winter coat
Love the jacket fits our Goldie perfect wait to see how it is in the cold winter months
---
By mom2dande on May 5, 2022
works great, my dog is up and down like a puppy!
We have a spaniel that was slow moving and always seemed stiff. This product was sent as a sample and I was skeptical, but about a week after stating it I noticed that out girl had a bit more pep in her step and up and down the stairs was a bit easier for her. A month into it she was like a puppy and not slow to rise anymore! The tablets had me worried she would not take them willingly but she now knows the sound of the jar and waits for them! Great product and we have seen great results!
---
By Jable460 on Apr 20, 2022
Tasty Treat with Benefits!
Walter is almost 10, and a little sluggish to get started on our spring walks after a long cold winter. Over the past month while he's been taking YuMove, he has some actual spring in his spring step. ;) Taste-wise, he was hesitant for the first few days, but ate them right up every day after getting used to them. This is our first time trying some joint supplements for our aging dood, but I would likely recommend these to someone looking for something like this to try. I'm not sure that I would purchase them due to the price, and I can't 100% attribute any changes in his health to this product. (I did receive these in a free sample program in exchange for my honest review.)
---
By Shleigher on Apr 12, 2022
a pill my dog will actually (and gladly) eat.
My old girl Aeon is about 9 years. She has epilepsy and is on medication. The past year, she's struggled with mobility and weight gain from the medication she's on. We got a sample of these pills and let me tell you, she's like a dog that's 3 or 4 years younger. Usually, I have to lift her up if I want to let her in bed (I know, she should sleep on her own but oh well). Last night, she jumped up on her own!! She's running with me now and it's just a drastic change in 6 weeks! And not just that, she eats these straight from my hand without a pill wrap! Just a drastic change!
---
By Jerri1971 on Apr 13, 2022
Impressed with results
I received these for free to try and was very happy to as I have 2 older chihuahuas and my one has moderate to severe arthritis in his back and knees. I have been giving him these for several weeks and definitely notice a great improvement in his overall mobility. He is using his steps again to get up and down off our bed and even running. I am extremely excited to continue these and hoping to keep him as active and healthy as long as possible. Best part is he absolutely loves them and being soft is a plus as he only has 3-4 teeth. I definitely will buy more.
---
By iamlaura001 on Apr 24, 2022
Great ingredients… picky dogs!
I really love the concept of good quality treats that have healthy benefits for my dogs. Unfortunately, my dogs do not agree. I was able to get them to eat some but not consistently so that it would make a difference I don't think. I did receive these for free for my honest review. I ended up giving them to my friend and her dog eats them, so that is a win.
---
By Michelangelo on Mar 28, 2022
OK Dog Parka
I bought this parka for my tweeny dachshund. I am not particularly happy with it. It was fairly expensive. The inside of the parka is nice and seems to keep my dog warm. However, the holes where my dog's front legs go are very large, much too large for him. His legs keep coming out of them while he is walking. Then the parka slides down his back and he is able to get out of it. There is a pull string along the back to keep the parka on the dog. It helps somewhat but I think would be better if it were placed an inch or two from the end of the parka near his tail.
---
By pamela98 on Apr 23, 2022
Better movement
I received a sample of this in exchange for an honest review. I have noticed an improvement in my dogs movement. She is definitely more mobile and will jump up on the couch again. My one drawback is that she doesn't like the pill form and it took awhile for her to take them on her own.
---
By SheilaK on Mar 19, 2022
Runs extremely small
This was the second time ordering dog apparel and I have to say probably the last time that I will order dog apparel online. I ordered a size XL because according to the size information a large would be the correct size for my dog so I went a size higher to be sure. My husband and I laughed when I opened the package. There was no way that it would come close to fitting my dog. It barely fit my sister's dog that would wear a size medium. Needless to say, I was very disappointed.
---