Frisco Decorative Bench Cat Litter Box Cover
---
About This Item
Multi-use pet furniture can be used as a litter box enclosure or private kitty condo. It's a stylish accent table too.
As a private litter box enclosure for your kitty, it fits most standard litter boxes, even automatic styles.
Feline-sized entrance allows for discreet use, and can be installed on either the left or right side, plus built-in doors with hinges that open wide for easy access to the litter box.
Includes removable divider that can be set up in 3 different positions to store essentials like food, treats, cleanup tools or left out to maximize interior space.
Add a comfy bed to give your kitty his own private retreat in your home, litter-free.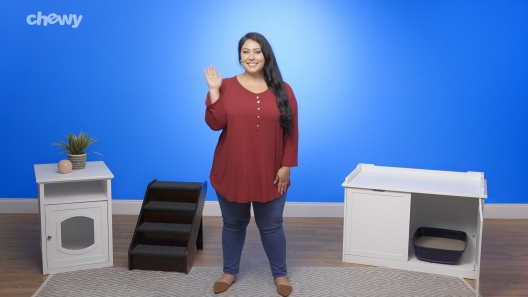 Learn More About Frisco From Our Team of Experts
---
Compare Similar Items
| | | | | | |
| --- | --- | --- | --- | --- | --- |
| | | | | | |
| Customer Rating | | | | | |
| Price | | | | | |
| Furniture Features | Modern | Modern | Modern | Modern | Modern |
| Height Range | N/A | N/A | N/A | N/A | N/A |
| Tools Included | Yes | No | No | Yes | No |
| Furniture Frame Material | Engineered Wood | Engineered Wood | Solid Wood | Engineered Wood | Solid Wood |
| Number Of Condos | N/A | N/A | N/A | N/A | N/A |
| Furniture Mount Type | Free Standing | Free Standing | Free Standing | Free Standing | Free Standing |
| Assembly Required | Yes | Yes | Yes | Yes | Yes |
---
Questions & Answers
20 Customer Questions
---
Is the opening for the cat on the left or right side? There are pictures of it both ways - is it reversible?
Answer by • Sep 26, 2019
The 2 side panels are interchangeable. You choose which side you'd like the entrance (left or right) before assembly.
---
What material is the product made of?
Answer by • Sep 04, 2019
This decorative bench and litter box cover is made of manufactured wood that can be spot cleaned with a damp cloth, as needed.
---
Can this fit a automatic litter box?
Answer by • Oct 30, 2019
This product has the internal measurements of 33.75 inches x 19.5 inches (width x depth). It includes a removable divider that can be set up in 3 different positions, or left out to maximize interior space. We recommend measuring the litter box you would like to use to ensure that it's the best fit.
---
how far off the floor is the bottom of the opening
Answer by • Oct 23, 2019
The entrance hole measures 7.5 inches off the ground.
---
---
---
By Kittys on Mar 12, 2022
Best litter pan cover ever
This was the perfect solution to my problem, which was dust and kitty litter on the floor.This bench cat litter cover was one of the only products I found that was tall enough so the cats would not feel confined. I put the litter pan on the far end with a towel under it .The cats seem to wipe their paws on the towel as they leave the box,Both of my cats took to the box right away !! I just put them through the door once to show them and everything was fine! I did not use the spacer provided instead let the cats use the whole space, I should have known that chewy would come through for me and looked at your products first!! Thank You Again !!
---
By SalemsPerson on Feb 23, 2022
Fits the Need
The bench fits what I needed it for- to hide the litter box, cut down on litter being tracked through the house, and give the cat a little privacy.... Assembly- It wasn't too terrible to assemble. I just read the instructions and took my time. I put it together in an evening. All parts were provided and a few extra nuts and bolts for "just in case". Everything was labeled so it was easy to figure out what went where. It recommends two people to assemble it, but it's just me, and I was able to assemble it without a problem. It is a touch on the heavy side, but manageable. Quality- I would say it isn't high end furniture, but it definitely doesn't look bad. It appears sturdy enough. I ordered it in white and I put a couple throw pillows on it. I placed it in an entry hallway and no one would be none the wiser that it's hiding a cat litter box (until the cat goes in it). I had zero damaged pieces. No issues with anything. I really like that the divider can allow for the storage of the cat supplies (my place lacks storage) and have the litter box on the other side. Overall, I like the product. It suits my needs and looks nice!
---
By Abby on Jan 21, 2022
Just what I was looking for
I have an automatic litter box, the PetSafe ScoopFree Original Automatic Self-Cleaning Cat Litter Box to be more specific, and I was having trouble finding an affordable box cover that would be big enough for it. This was the perfect fit for it (granted I don't use the divider it comes with). It contains the odor enough until I need to change the litter, which is exactly why I was looking for this. I live in a little studio with nowhere else to put the litter box but the living room, so it definitely helps. Easy to assemble and the packaging protects the item very well (the box was beaten up upon delivery, but everything inside was intact). 100% recommend!
---
By Lani on Feb 14, 2022
Pretty nice!
I purchased the dark-colored one and like it a lot. As its enclosed instructions state, it definitely takes two people to assemble this. It's a little challenging, but I found a Chewy video online to complement the printed instructions and that helped tremendously. I couldn't have put it together without that video. For the price, it's a pretty good buy. I've only had it a week now; no problems with my cat using it. The doors close very securely and I love being able to store the litter in it, too. On a couple of the pieces, a bit of the veneer chipped off, but not in any noticeable area (that was pure luck). And the numbered stickers that identify each piece for assembly don't come off easily (had to remove the residual glue with a cotton ball dampened with alcohol; wasn't sure if Goo-gone would mar the veneer). Although the box it's shipped in was extremely heavy, once it's assembled, it's not too heavy to move around (I'm 58 years old, 5'3" and not especially fit). Overall, I'm happy with this purchase!
---
By CatBenchlitterbox on Apr 11, 2022
Not worth the money
This cat box is easy enough to put together but very cheaply made, 2 screw went through the wood popping out the trim. I would not recommend this product to anyone.
---
By Amanda on Dec 20, 2021
Beautiful!
I moved to a new apartment and the only place I could fit a litter box was right in the entry way. Uggo!!! I researched a ton of litter box enclosure options and settled on this one for the design, size, and materials. The design fits my overall décor well enough, the material is sturdy, and it's easy to keep clean while preventing smells and the unsightly scene of a litter box right when you walk in the front door. I actually even sit on it to take my shoes off when I come in the front door, so sturdy. Instead of using the divider I use a hooded jumbo litter box inside and have a little walk way between the litter box and the opening to encourage the cats to not kick litter out of the box. Was relatively quick and easy to build according to my husband!
---
By Taelor on Jan 9, 2022
Not too shabby
I really liked it, however my kitty did not. Apparently she's claustrophobic whilst pooping. Who knew? But it was nice to have the litter out of sight and it did help to contain the smell. Plus, was nice to have a little storage area. My biggest complaint would be that it is BIG; like probably bigger than you'd expect. So plan ahead.
---
By MaxIzzy on Dec 31, 2021
Looks good but a lot of work
The finished product is solid and looks good but this piece is a beast to put together. Instructions recommend two people for the job. Ideally one of them should be an engineer. Took a couple hours to assemble solo. The material split a little in one place but I think I can touch that up. Definitely never replacing it. It's way too heavy to carry back out of the house!
---
By Laura on Dec 10, 2021
A process to assemble, but works great!
The directions aren't very clear (really need better diagrams. One part of the harware/directions is mislabeled), but got it all put together and it it works great! I'm guessing the reason other people's doors aren't working right is because the instructions mislabeled the hinges. (After switching the top and bottom hinge, the doors open and close completely.) For some reason I was picturing this thing a bit smaller, but it fits an entire covered XL litterbox, so I guess that's a plus. I'm so excited to finally have a way to keep my dog out of the litter box!
---
By Garbage on Nov 30, 2021
Garbage! Missing pieces, bad directions!
Don't waste your time like I did. The first unit I received was damaged so they sent me another one (very good customer service was the only good thing about this experience). The second unit I received was missing a piece so I grabbed that from the damaged unit and spent 3 hours trying to assemble it by way of the worst directions you can possibly imagine. 3 hours later, it's complete but the doors don't open more than a few inches so there is no way to get a litter box in there!! Ridiculous!!
---