Frisco Forest Friends Stuffing-Free Skinny Plush Squeaky Dog Toy, 3 count
By Frisco
---
About This Item
Trio of forest friends toys includes a fox, raccoon and a squirrel for three times the fun.
Adorable woodland creature designs with big, fuzzy tails and cute, smiling faces.
Each toy has three pup-preferred squeakers, and crinkle paper inside its bushy tail.
Stuffing-free design means less mess and less stress if these toys get ripped open.
Perfect for any breed and designed to fit into any dog's toy collection.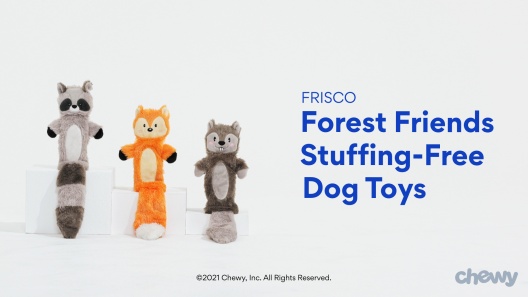 Learn More About Frisco From Our Team of Experts
---
Compare Similar Items
| | | | | | |
| --- | --- | --- | --- | --- | --- |
| | | | | | |
| Customer Rating | | | | | |
| Price | | | | | |
| Toy Feature | Squeaky, Crinkle, Stuffing-Free | Squeaky, Crinkle | Squeaky, Crinkle | Squeaky, Stuffing-Free | Squeaky, Stuffing-Free |
| Breed Size | Small Breeds, Medium Breeds, Large Breeds | All Breeds | All Breeds | Medium Breeds | Small Breeds |
| Material | Polyester | Polyester | Polyester | Polyester | Polyester |
| Toy Type | Plush Toys | Plush Toys | Plush Toys | Plush Toys | Plush Toys |
| Chew Style | N/A | Moderate | Moderate | N/A | N/A |
| Sport Team | N/A | N/A | N/A | N/A | N/A |
---
Questions & Answers
Be the first to ask a question.
---
---
---
By Delighted on Apr 23, 2022
Drives me Crazy
My baby Rosey is a mini Pincher and she absolutely Loves these toys. She won't leave them alone, She's driving me crazy with the Squeakers. That's right there are three of them in each toy,(in the head. in the body, and in the tail) so wherever she grabs there,s one. I HIGHLY recommend these for anyone's pet. They're well made and sturdy. We even play tug-of-war, you know when I'm trying to take it away from her,so my ears can have a rest. She even brings it to bed with her. If she could type she'd have written this herself and tell everyone they are the best thing since peanut butter!
---
My dogs love them
My French Bulldog and Frenchton love these Frisco Skinny toys. I was a little surprised, because the toys aren't stuffed, but they don't seem to mind at all. At least I don't have to worry about stuffing coming out. The fabric seems pretty tough, and the toys have 3 squeakers. There is also "crinkly" stuff in the tail, so the toys make plenty of noise. Good toys and reasonably priced.
---
By Zomandy on Apr 3, 2022
Lots of fun!!
My dog loves these toys! They are very well made, have 3 good squeakers in each toy with crinkle paper in the tail. I give her only one at a time and when one is being washed, give her a fresh one to play with. They do wash well and I just air dried them. So far, she has not torn anything apart either!! Definitely recommend them!
---
By sandijo on Apr 30, 2022
My Dogs Love
These are a very good toy to buy. I thought there were only 1 in the package because usually that's how products come. However, I was so grateful there were 3 so now each of my dogs got a play toy. They love them.
---
By abenie on Apr 20, 2022
My dog loves these
My dog destroys toys, but so far the first one is still intact. It's been a month since I gave it to her. It is a good squeaker, I have to take it away sometimes because she can get obsessed, but she loves it and it's holding up well.
---
By BreyerLover on Apr 16, 2022
Great toys!
My puppy loves these and brings all of them to bed with her! Well made, she hasn't torn them apart yet. I'm not sure *I* like the crinkle sounds, I keep thinking she's gotten into something, but she adores it!
---
By Unadoptable on Feb 15, 2022
Sadie Mae gives them 5 woofs
Sadie Mae our current rescue we were told was unadoptable, was initially afraid of them as she was unfamiliar with the noise they make from the crinkle paper inside them. After a few days of teasing her with them and reinforcing her attempts to play with them, they quickly became her favorite pull toy. She has yet to put holes in them or tear them apart!
---
By Byzz on May 7, 2022
Worth the price
I have purchased these twice. They lasted about 2 months. One by one each became too holy and was put away. Each one has 3 squeaker which is nice.
---
By Jennybk on Jan 28, 2022
Great deal cute lil guys!
These are unique as they have a crinkly noise when played with. My pit loves long/big toys and anything squeaky. She prefers stuffing so she can destroy it all over and I caught her eating the filler so I decided to try the non stuffed toys and they are all great so far. The 3 pack was a great deal but my pit only likes the orange guy as she has glaucoma and prefers vibrant colors. Regardless she has picked each of them and gave em all a nibbling. My pit is 11 and is missing teeth but is still highly active and loves play, tugging, catch etc. Her main event is to take a toy and pagent around the house, she just wants to show then play. It is the most entertaining moment of my day.
---
By BellasMom on Jan 19, 2022
A 4 PAW review from Bella
Bella's latest loves - her raccoon, fox and squirrel. My Aussie Bella loves soft toys and especially anything with a tail so she can shake it like crazy. These three are a perfect size for a full size Aussie but would work with a small dog also. There are two squeakers in each toy, no stuffing, and quite soft. I have not had to wash yet so no details on that. Bella has outgrown chewing her toys but she is a hoarder. I find them in corners of every room where she stashed her baby. During this ice cold snow season, we play indoors so I have been hanging these three by their tails on dining chairs, bar stools, end tables...making a game of hide and seek...she loves it. This purchase was a real find because it sold in a pkg of three. Bella loves to pace through the house with a "baby" in her mouth....right now she is favoring the fox. Cute toys...I would definitely recommend.
---