Frisco Forest Bunk Small Pet Bed
Frequently Bought Together
---
About This Item
Bunk bed-style hammock has two hiding and chilling spots for small pets.
Doubles the living space of your small pet's pad with a cozy plush bottom layer and cooling nylon top layer.
Easy to install in any wire cage with clips and adjustable straps. Perfect for one pet and for bunkmates, too.
The double-layer design helps support airflow for heat sensitive pets like ferrets.
Ideal for small pets like ferrets, rats, and guinea pigs.
Machine washable.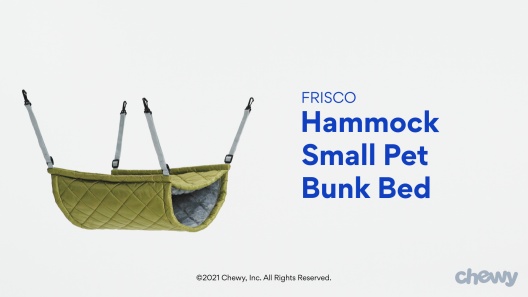 Learn More About Frisco From Our Team of Experts
---
Compare Similar Items
| | | | | | |
| --- | --- | --- | --- | --- | --- |
| | | | | | |
| Customer Rating | | | | | |
| Price | | | | | |
| Small Pet Type | Ferret | Ferret | Ferret, Rat, Guinea Pig | Guinea Pig, Ferret, Mouse, Rat | Rat, Chinchilla, Ferret, Mouse |
| Material | Polyester, Faux Fur, Synthetic Fabric | Polyester, Faux Fur, Synthetic Fabric | Nylon, Synthetic Fabric | Fleece, Synthetic Fabric | Polyester, Faux Fur, Synthetic Fabric |
| Bed Feature | — | — | — | — | Machine-washable |
---
Questions & Answers
Be the first to ask a question.
---
---
---
By Amberrose061980 on Jan 19, 2022
Spacious enough for two ferrets!
#ReceivedFreeProduct I have two female ferrets and when they seen their new bed they went straight for it with no hesitation. It's very sturdy and looks good hanging in their cage. The straps are easy to adjust and the little clips at the end make it easy to fit anywhere needed. They love to lay next to each other and the bottom is big enough for both of them. Been using the top to feed them their favorite treats so this bed is perfect for them and so useful. One of the best beds I've ever had for them and will definitely last even through washes. I will always continue to use these types of beds for my ferrets and I will recommend to anyone that has small pets as this bed is beyond perfect!
---
By smschwentner on Jan 15, 2022
My rats love it
#ReceivedFreeProduct I got this for my rats. They like hanging things, but they don't always seem to use them as much as I wish they would. I got this and all 3 of them climbed in and snoozed the afternoon away. The colors are nice and it feels like it should last a good while, even though my rattos love chewing stuff.
---
By SueAnne on Dec 26, 2021
Very Comfortable
#ReceivedFreeProduct I received the Frisco Small Pet Forest Bunk Bed and it is awesome it is so easy to use just clip all 4 ends on your Habitat and that's it. Our little Critter loves to get inside and sleep and play. I love that it is washable so when it needs to be cleaned just throw it in the wash and it's that easy. It's slightly padded for comfort and I appreciate that. It's also cute!
---
By MsMomKy3 on Dec 27, 2021
Great Pet Bed
#ReceivedFreeProduct I purchased the Frisco Small Pet Forest Bunk Bed for my two ferrets. They love it. It's a cool bed, they can either sleep on top or snuggle up on the second level. It's so soft and warm on the inside. My girls spend a lot time inside the bed. I'm so happy I purchased this because they enjoy it so much. Definitely recommend this for your fur babies.
---
By Shay78 on Dec 23, 2021
She Loves It!
#ReceivedFreeProduct I got this small pet bunk bed for our guinea pig. It's such good quality material. It has soft fuzzy material inside and wipeable material outside. I like that it's adjustable for the animals preference. She shied away from it at first, but once we put her in it she liked it. I really am happy with this companies products.
---
By Nicole30 on Dec 23, 2021
So cute
#ReceivedFreeProduct The pet bed is so cute. I loved how soft the inside was. I got this for my kitten who absolutely adored it. It was easy to put up and very sturdy. It has many purposes. My mom used it in the car for the kitten as well. Its also very easy to take and great for traveling. I'm very happy with this bed.
---
By Murphyh on Dec 31, 2021
LovEd it
#ReceivedFreeProduct I am so happy I was able to test out the small pet Forest Bunk Bed. It was the absolute perfect size for my 2 year old ferret. She will hang up in the hammock bunk bed for hours at a time. It looks so comfy for her!
---
By AmberC on Jan 6, 2022
Cute
#ReceivedFreeProduct This small pet forest bunk bed is so cute and perfect for our little guy. We love seeing him climb up and snuggle in, and it makes the habitat so much more comfortable and cute looking.
---
By Spunky1465 on Dec 30, 2021
Cute double hammock
#ReceivedFreeProduct What a cute double hammock for small pets. Pets can lounge up top or in the underside of the hammock that is like a pocket where they can snuggle in for comfort, warmth or just hide and relax.
---
By Venussky80 on Jan 3, 2022
Love this works well in my cage
#ReceivedFreeProduct My two little boy Guinea pigs love this in their cage I always catch one of them in it And they're always popcorning around it and playing, I like how easy it is to clean
---