Frisco Interactive Electric Flopping Fish Cat Toy with Catnip
Frequently Bought Together
---
About This Item
Battery-powered, interactive dancing fish toy reacts to touch and mimics the unpredictable movements of a flopping fish.
Easy to use—just charge the battery pack, insert it into the belly of the fish, turn it on and tap the belly to start the fun.
Charges fully in about an hour and a half and keeps your cat playing for almost an hour on a single charge.
Inside the fish's belly, there's a hidden pouch for catnip to entice your cat and get playtime started.
Includes the plush fish body, a rechargeable battery pack, a USB charging cable and a tube of catnip.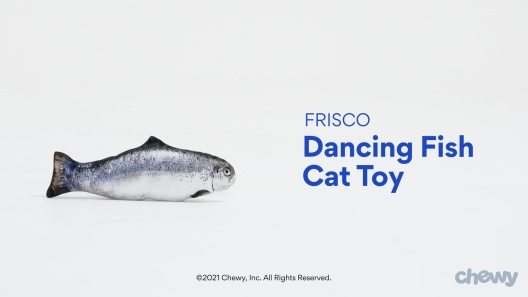 Learn More About Frisco From Our Team of Experts
---
Compare Similar Items
| | | | | | |
| --- | --- | --- | --- | --- | --- |
| | | | | | |
| Customer Rating | | | | | |
| Price | | | | | |
| Material | Polyester, Synthetic Fabric | Plastic | Polyester, Synthetic Fabric | Polyester, Synthetic Fabric | Polyester, Synthetic Fabric |
| Toy Feature | Catnip, Electronic | Glowing & Light-Up, Electronic, Exercise, Feather | Replacement | Catnip | Catnip |
| Toy Type | Motion Toys | Motion Toys | Motion Toys, Treat Refills for Treat Dispensers | Plush Toys | Plush Toys |
| Lifestage | Adult | Adult | Adult | Adult | Adult |
| Compatibility | Rechargeable | — | — | — | — |
---
Questions & Answers
8 Customer Questions
---
does the floppy fish come with a fishing pole
Answer by • Jul 15, 2021
This toy does not include a fishing pole.
---
How do you clean it?
Answer by • Aug 04, 2021
It is recommended to spot clean this toy, if needed.
---
where is floppy fish made
Answer by • Aug 11, 2021
This toy is made in China and designed and tested to meet our high quality standards.
---
Can you leave out the catnip if you don't want to use it?
Answer by • Aug 02, 2021
While each toy includes a tube of catnip, it's use is optional.
---
---
---
By Cathryn on Sep 22, 2022
READ THIS REVIEW! The bad reviews are wrong!!!
This toy is pretty awesome! A couple of my cats love it, a couple of them don't care, but that's not the toys fault. Some reviews mentioned that it didn't work when they turned it on. This fish does not automatically start flopping when turned on, which is why some people said they had to smack it to get it to work. This fish has a sensor in it, when kitty is playing with it, it will keep flopping. After about twenty seconds if the sensor isn't triggered it will stop flopping. But once triggered again, it will start flopping. This is why some reviews say that it only worked for a few seconds and then turned off. The first night I had this I got my $12 worth. Please don't take the bad reviews at heart. If you've got a hunter kitty or one that likes to roll around with a kicker, they will like this toy. My guys even liked the catnip that came with it! I wish I could add a video to show you the features that I'm talking about that proves the bad reviews wrong!
---
By Betsilou on Sep 20, 2022
OMG! Best toy ever!
We have two kitties who are young active, and love to play but there is often no time to play with the wand toys or the laser pointer. I bought this fish hoping it might be interesting enough to occupy them between naps. I could not have made a better choice. They love it and very quickly learned to activate it to make it start flopping again. The rhythm of the tail movement varies with each activation to keep things interesting.
---
By Patchy on Sep 7, 2022
if u think it's broken wack it first
I just ordered this fish—super excited about it because a friend I cat sit for has it. Upon receiving it I plugged it in to charge and just like other reviews said, the red light came on for just about a minute and then turned off? After trying to plug it in over and over again I turned it on and it still wouldn't work. I came on here to try and exchange it for a new one. One last try, i turned it on and kind of just wacked the tail and then it started flopping. I read the package and it also says to take the whole inside out of the fish to charge it so that may explain the charging difficulties. Anyways—it works now! Lol just turn it on, give it a little wack and take the battery part out of the inside of the fish to charge it
---
By Kate on Sep 16, 2022
Motor is distracting
I removed the motor from its belly pouch because the cat would simply stare at and not interact with the noisy floppy fish. Now the fish is her best buddy. She drags it around the house by its tail. As a non-motorized stuffed animal it's expensive, but is very durable and a good size for a small cat kick toy, and the blank expression on its fishy face when she gnaws on its poor head is worth it.
---
By pickycatmom on Aug 24, 2022
Not worth the money
I was really excited to order this, as I had seen pictures of it on Facebook. Taylor just looked at it, and me, as to say, "You've got to be kidding me". If I activate it, she just watches it and moves on...... Hope your cat likes it better! Mine seems to prefer the ones that make a lot of noise in the night when you're trying to sleep, and also formerly catnip stuffed mice which are now only iviscerated shells!
---
By Lauren28 on Jul 23, 2022
Kitties love the fishie
I saw ads for the floppy fish and had to get it. I have 2 kitties that love chase toys and interactive toys so I figured this would be up their alley. They both love it but one of them is OBSESSED (our lynx point Siamese mix). Now I can't vouch for the catnip, I never added it to the fish, and it IS a little noisier than I expected but once the kitties figured it out they can't get enough. My only complaint is that the Velcro that closes up the power switch on the bottom of the fish isn't strong enough. I frequently find a gutted fishie in the living room from the poor thing being jackrabbit kicked repeatedly. For as easy as it comes apart it is not easy to get back together. Otherwise it's a fun toy, keeps kitties entertained.
---
By Tara on Aug 16, 2022
It doesn't work
This product's electronic component doesn't charge. I tried several cables including the one it came with, and got the red charging light to kick on 1-2 minutes at a time until it just stopped having the ability to charge at all. It never was able to turn on. Wouldn't suggest getting this for the flopping part of it, but I suppose the lifeless body can be used as a kick toy still.
---
By littleivy on Jul 21, 2022
I guess I found out how it flop
When I received my first fish, I go to charge it (with red light on less than 1min, I even charge it for whole night), when I turn on it, nothing. Try to turn it on & off, sometimes it flop, sometimes it doesn't. I report to Chewy and they send me another fish, I go charge it like the first fish, when I turn on it, the same, nothing. I'm giving up and put down the fish, it flop!!! It won't flop by just turn it on and holding it, you have to hold the mechanism horizontally and then drop it vertically, hope people buying this fish didn't throw away it yet and try again to see if this work on your fish, good luck (my kittens having so much fun with it, thanks Chewy & Frisco)
---
By Dogmom on Aug 27, 2022
crazy fish
Bought this for my cat, but she was afraid of it. I put it under a blanket and both she and my dog would slap at it and tug at the blanket. My dog likes it more and will chase after it and will pick it up and run with it. I guess it's great for both felines and canines!
---
By Briar on Sep 28, 2022
Good toy for my kitty!
I love that the fish stops flopping when my kitty walks away. I also love the different flopping patterns to entice her. It's a good length to get some bunny kicks in. Affordable!
---