Frisco Outdoor Two Tone Waterproof Stinkproof PVC Dog Harness
Must enter code FALL2022 at checkout to redeem
---
About This Item
Two-tone dog harness made from durable polyester webbing, ideal for everyday walks and outdoor adventures, especially lake days.
Coating resists water and odor-causing bacteria so it's great for every outdoor adventure.
Easy, step-in design takes the fuss out of getting your dog ready for their walks.
Multiple sliders on the straps help you easily adjust the fit for your dog's comfort.
Features durable, metal D-rings on the back for secure leash attachment.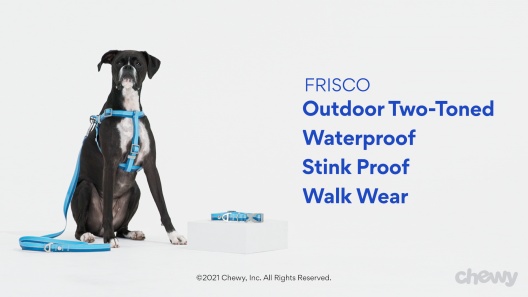 Learn More About Frisco From Our Team of Experts
---
---
About Frisco Dog Life Jackets
Make a Splash!
Frisco Dog Life Jackets fuse function and comfort to make water adventures with your pooch more fun and safe. They provide everything water-loving dogs need to make a splash during playtime, like buoyancy to keep them confidently afloat, a snug yet comfy fit so they can move freely while they play, and safety features to keep them secure in any aquatic environment.
Made for Buoyancy, Safety & Comfort
The Frisco Dog Life Jacket provides buoyancy for dogs up to the recommended weight, so they'll be ready to dive into playtime at the pool, lake or beach! Created with canine comfort in mind, the front panel features a supportive flap that rests under your pup's chin to help him hold his head above the water with less effort. That means your pooch can hang out in the water with more confidence and ease, whether he's all about the doggy paddle or just gently floating and soaking up the sun.
The Right Fit for Water-Loving Dogs
Because dogs come in all shapes and sizes, the Frisco Dog Life Jacket is designed with adjustable straps and side-release buckles for a snug, comfy and secure fit for all breeds. And no matter your dog's favorite swim style, he can enjoy plenty of freedom to move with the non-restricting design that allows for a comfortable range of motion—in and out of the water. Plus, it's available in various sizes for splashing fun of all proportions.
Safety Is Built In
If an emergency ever comes up, you can gain control of your pooch with the built-in grab handle on the top—larger sizes have dual handles—designed for quickly pulling your dog out of the water. For those times when you need to keep your pooch close by, the integrated D-ring lets you leash up swiftly. To keep your pup safe during evening water activities, the Frisco Dog Life Jacket features increased-visibility reflective accents for added safety in low-light conditions.
Stay In Control On The Trail
Stay in control while you enjoy the freedom of the outdoors. There's a leash for every explorer here—single-handle and dual-handle designs, padded designs for comfort, waterproof designs, and rope leashes too. Lead your pack and keep them safe on the trail with a leash that's built for explorers.
Journey in Comfort
Just like the rest of this collection, Frisco outdoor harnesses are designed for your dog's comfort and safety. With tough, lightweight materials, heavy-duty hardware, and multiple designs, you're sure to find the right fit to keep your companion in adventure walking tall through all their journeys.
About Frisco
Frisco's quality products are made for and by a family of pet lovers. And they're more than just everyday pet supplies. Crates become comforting kingdoms, potty pads transform into a favorite patch of grass, and potty bags give the signal that it's time to take care of business. From comfy mats and cat trees to potty time essentials, Frisco provides practical solutions for today's devoted pet parents. The entire Frisco line is available exclusively at Chewy.com!
Shop Frisco
---
Questions & Answers
Be the first to ask a question.
---
---
---
By Shadowsmom on Sep 19, 2022
harness was a fail for us
bought a size medium for my 20 pound 8 month old Cockapoo. The collar fit perfect but the harness was a little bit loose. My dog managed to chew his way out of the harness in one night. Other than that i am sure this harness is great.
---
By AmandaB on Jul 2, 2022
Nice BUT...chewing not welcome
I did love the concept, and they are great for dogs who enjoy water, BUT I was so bummed because they are not only easily chewed through; I never had leash chewers and I think it was the silicone nature of these that reminded them of chewing toys. And now my eldest dog realized he can chew through all his leashes and harnesses, resulting in me spending all my money with Chewy ;)
---
By cmg9 on Jul 3, 2022
Don't really like it
I thought it might be good. The harness I wanted was on backorder. It really has a plastic feel. I am afraid it might rub on my dogs skin. She has really short, thin hair. It might be alright for a dog who likes the water a lot.
---
By Chewnola on Apr 19, 2022
Was not expecting plastic
This looked like a great collar for our newly adopted dog. Molly needs a lot of leash training and we needed something other than a neck collar. The description mentioned webbing but what we got was a collar made out of soft plastic. I would not put this on a dog of any size, especially not our new small dog. It looks and feels uncomfortable. It came out of the bag and went back into the bag. The material reminds me of straps you would find on a kid's toy. Plastic should not go on a dog. The company should be honest in describing its product. The PVC in the heading should have been a tip off. At least I did not get a harness made out of the white PVC they use for plumbing pipes!
---
By Magick1 on Jan 24, 2022
Frisco Dog Waterproof PVC Harness
#ReceivedFreeProduct I received the Frisco PVC waterproof, stinkproof dog harness to try and provide my opinion. I have a medium sized dog, weighing in at 41 pounds. I have a medium harness and had a bit of trouble trying to tweak the adjustable spots to get the harness to fit my dog correctly. The PVC quality of the harness and material, making it tight and hard to pull the adjustable sections to adjust to be looser to fit around the dog around the two front legs and around the tops of his shoulders. My current harness was one that the leash connects across the chest and this one has a back mounted, double hook in which you leash up to in order to give you direction from above the dog, rather than in front. I did find, while using, if I hooked my leash up with the leash hook button to the left side of the double latches where the harness and leash connect, my leash could get pushed back when the dog walks about, leaving the harness hooked by 1 point of the harness not both, keeping the harness locked in tight. A very nice thing is the leash connectors are metal and the stitching all around the harness has noticeable, this stitching The quality of the harness is a nice, thick pcv. The feel is firm, but not rigid. There is a nice flexibility to the harness. The waterproof and stinkpoof aspect, I cannot speak to directly. The waterproof, definitely works fine, as washing up or drying off the harness was a quick swipe of a towel and it was good to go. I didn't have to worry about rain, or even snow, melting and making the harness wet to where if I had to leave again shortly, and it is freezing oustide, my nylon style harness, if wet, would get stiff and frozen. This harness, I don't have that issue. It does profess to being stinkproof l, but with our winter being here, I cannot attest to how it will keep that quality over many days or months of use.
---
By Kaydax31 on Feb 28, 2022
Perfect for Everyday
This harness seems really well made, I love that the material doesn't collect gunk, and held up well even on a wet day to the park. I have a long haired XL dog and didn't notice any hair pulling or rubbing. I have received several compliments when taking my boy out about the color and style of it as well.
---
By Devang on Jan 24, 2022
Not bad but not comfortable
#ReceivedFreeProduct I got this for my medium dog because he's a quick runner hard to catch so I figured a harness would be the best bet for him. This harness is very thick and rubbery feeling it does not move or been very well and he doesn't look very comfortable in it. It does fit and I do use it but he really doesn't like it maybe the feeling it's hard to take him on walks. But this is not a bad product.
---
No fur pull
#ReceivedFreeProduct This has such a nice smooth feel.It goes on smoothly after I got it adjusted to our pet size.It did not pull her fur which was a huge blessing.She really does not like to wear a harness so i didn't make her leave it on long. But I will say this is the best one that went on the easiest.I think the smooth feel and easy adjust straps was what helped the most.
---
By One happy puppy on Jan 6, 2022
A great harness
#ReceivedFreeProduct I received this product a few weeks ago and I highly recommend this product and I have used it almost every day. I give this a ten. Made very good and the material is great. You can just wipe it off and it's clean. I will continue to buy and use this product. Thank you for the great harness. My fur baby loves it.
---
By Rushella on Jan 16, 2022
Awesome While it lasted
I have a big boy (120 pounder), who goes through harnesses like every few months. He rough houses with our other big boy (100 pounds) and they have managed to almost tear one of the joints. He never chewed on the harness either, it was wear and tear. It is definitely waterproof...no wet dog smell. So if you don't have a dog who is rough on harnesses this is awesome!
---