Frisco Pride Plush, Teaser, Ball, Tunnel Variety Pack Cat Toy with Catnip, 10 count
---
About This Item
The ultimate Pride celebration for you and your cat. There's tons of fun to be had in this variety pack.
An absolute toy-splosion that features ten super fun toys, from crinkle balls to teaser wands and tunnel chutes.
Always keep your cat entertained with a wide variety of options that they can choose from.
The ultimate gift for your cat-loving friend. Great for creating special bonding sessions with their cats.
Bonus attributes include catnip, silvervine and feathers throughout the assortment.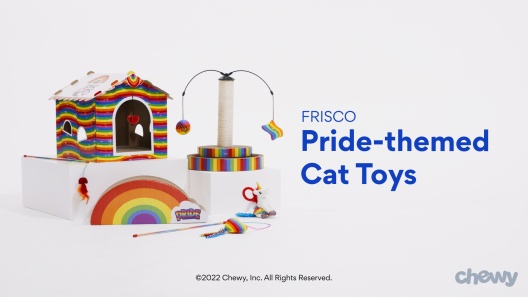 Learn More About Frisco From Our Team of Experts
---
Compare Similar Items
| | | | | | |
| --- | --- | --- | --- | --- | --- |
| | | | | | |
| Customer Rating | | | | | |
| Price | | | | | |
| Material | Polyester, Cardboard / Paper | Plastic, Polyester, Synthetic Fabric | Fleece, Synthetic Fabric | Polyester, Plastic, Synthetic Fabric | Plastic |
| Toy Feature | Variety Pack, Catnip | Catnip, Crinkle, Variety Pack | Crinkle, Catnip, Feather, Variety Pack | Catnip, Bouncy | Exercise, Feather |
| Toy Type | Launchers, Teasers & Wands, Mice Toys, Tunnels | Balls, Chasers, Tunnels | Tunnels, Balls, Mice Toys, Chasers, Plush Toys, Teasers & Wands | Chasers, Games & Puzzles | Teasers & Wands |
| Lifestage | Adult | Adult | Adult | Adult | Adult |
---
Questions & Answers
Be the first to ask a question.
---
---
---
By Vicster on Aug 23, 2022
Great variety pack!
#ReceivedFreeProduct Wow lots of toys included! Thiis is first time have received such a variety of toys and think my cat was little overwhelmed on what to play with first! I loved the bright colors and skirt on the mouse! I was surprised he liked the metallic balls so much and went crazy hitting them all over the place! Because they are so light weight they traveled far, which was great because he needs to release some of his energy! He also really like the balls because they made noise, but he didn't get to play with for very long because my dog kept taking them from him. He carried the rainbow around and liked to lay next to it, probably because soft. With some coaxing he went through tunnel, but not surprised he didn't love that because he has issues with closed spaces or things over his head. Since he was a rescue, not sure what happened to cause that but he has really come a long way since we got him. Thanks to toys like these he can have some fun!
---
By christine on Aug 20, 2022
Great toys
#ReceivedFreeProduct I automatically fell in love with these because it not only came with a tunnel it came with a variety of different toys and balls that my kittens had a wonderful fantastic time playing with they still cannot get out of that tunnel they love it and I think it's the cutest thing because it is compact it's small for small apartments like mine and my kitties enjoyed the balls and I'm not sure if they're filled with catnip but they immediately took to the little Rainbow pouches that came with it so they were pretty pretty pleased with that so it was a great variety pack and I am happy that my kittens are happy and they're playful and they're having a great old time
---
By Femalebiker21 on Aug 18, 2022
My baby love this!
#ReceivedFreeProduct This is my cat's new favorite thing. Sometimes she just sits in it with her head looking out the hole in the top. She loves to run through it when she gets the zoomies. She loves stalking toys I put inside it. She is less interested in the variety pack toys, with the exception of the ribbon wand. She drags it around from room to room she loves it so much. The one downside is it can be noisy, I have to put it away at night when we go to sleep.
---
By Shyla53 on Aug 13, 2022
Love this!
Bouche enjoys everything in this package. He runs through the tunnel, bats at the strings, slides on it. The wand toy is strong enough to stand up to serious kitten claws. He loves when I use it to play with him. All the small toys have been pounced, thrown, chased, batted about. Bouche enjoys the crinkly balls best, but plays with ever single toy. A great pack for a new cat mom and her baby. I definitely recommend. Very good value, especially for such a low price.
---
By Jsotam76 on Aug 17, 2022
Really adorable set!
#ReceivedFreeProduct I have two cats that really don't share well... The fact that this set has two of almost everything is amazing! Both of my girls can play and fighting is minimal. My older girl packs the plushy with feather tail around with her everywhere. I wish the teaser had a longer stick so I wasn't accidentally caught while playing with them but otherwise I'm super happy with this set!
---
By Shua on Sep 4, 2022
Awesome Combo Pack
So I just saw another customers picture and I'm definitely stealing that idea. So thanks. That aside, I love this little pride pack. I bought this because it had a teaser and a tunnel and I couldn't be more satisfied. My cats started playing in the tunnel immediately after opening it.
---
By jwally on Aug 24, 2022
My cat loves this
#ReceivedFreeProduct I opened this and put some catnip inside as well as on the toys and my boy cat was ALL OVER it. He still is, he's longer than the tunnel but it's one of his favorite places to play. He likes to "hide" in it and then attack his sister when she walks by him. They both also love the toys but especially the balls.
---
By Wackybarbara on Aug 17, 2022
Nice
#ReceivedFreeProduct At first I can't just looked at it and wondered what the heck that was and then after I put the toys in it and she decided she was playing with it and she played with her for a good long time good thing for a cat to play with and past time and watch you never know what you'll make that change order
---
By FrankieB on Aug 21, 2022
Came with Allot
#ReceivedFreeProduct I got these for my little guys my cats are in love with playing with this little tunnel and toys. I have no complaints my cats are happy and intern the toys are cute they're vibrant and they're colorful and they seem to be well made.
---
By Rebelgirl75 on Aug 18, 2022
Great Cat Toys!
#ReceivedFreeProduct This Frisco Pride 10 set Cat toys are great! It comes with pride plush toy, Teaser, balls and a tunnel. My 3 kittens have absolutely loved playing with the whole set. They have everything all over the house.
---