Frisco Replacement Cover for Steel-Framed Elevated Dog Bed
---
About This Item
The perfect resting spot for your dog after a long walk, day of play or just quality time with the family
Tight, breathable fabric provides an added level of comfort and support that also keeps your dog cool and won't sag after extended use
PVC coated fabric for solid, strong support great for indoor and outdoor use
Easy to clean should it get dirty either indoors or outdoors
For quick and easy assembly, watch the Frisco elevated bed video for some helpful tips!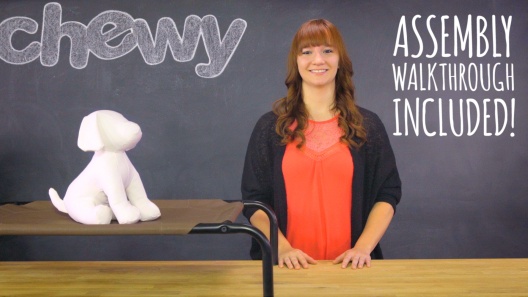 Learn More About Frisco From Our Team of Experts
---
---
About Frisco Elevated Pet Beds
A Throne of Their Own
With Frisco's Elevated Pet Bed, your pup will be living the life of luxury in a bed fit for royalty. It's a comfy, cool spot for him to rest his paws after a long day of tail chasing, spirited barking, and fetching anything and everything for his owner. Whether it's dozing off in the backyard, curling up inside by the couch or hanging out on the porch, furry family members can do it all in the comfort of their very own throne.
Strong and Durable Design
Frisco's Cot-Style Bed features a solid design from top to bottom. The powder-coated steel frame helps keep the bed stable and safely elevated. And the PVC-coated, fabric sleeping surface supports your pet without sagging—even after long-term use. This cover is replaceable and comes in several earthy tones.To keep the bed from sliding when your dog jumps on or off, it's equipped with skid-resistant feet for better stability.
House Nappers and Outdoor Loungers
Wherever you go, your pet wants to go. Which is great, because the Frisco Elevated Pet Bed is easy to assemble and break down for transport. You can set it up next to your favorite arm chair, take it on camping trips, or let your sidekick sprawl out poolside. This versatile bed stays grounded no matter where you place it, and the non-porous surface can be wiped clean after being outdoors.
Staying Clean and Cool
Beds that sit on the ground are vulnerable to dirt and don't allow pets to cool down. The Frisco Elevated Pet Bed lifts your doggy pal off of wet, muddy grass to keep him clean and cool, especially on rainy or hot days. That's good news for dogs with thick fur that tend to get overheated. Air can flow right through the fabric, so your pet will be feeling the breeze (or chilling in the AC).
Elevated for Comfort
Keeping your pet off hard floors and rough outdoor surfaces can ease the stress on your trusty tail wagger's joints, especially in his golden years. Instead of lying down on an uncomfortable hardwood or cement floors that can cause calluses, he'll rest easy on his comfy snoozing spot. And because it sits inches above the ground, it's easier for older pets to hop on or off.
About Frisco
Frisco's quality products are made for and by a family of pet lovers. And they're more than just everyday pet supplies. Crates become comforting kingdoms, potty pads transform into a favorite patch of grass, and potty bags give the signal that it's time to take care of business. From comfy mats and cat trees to potty time essentials, Frisco provides practical solutions for today's devoted pet parents. The entire Frisco line is available exclusively at Chewy.com!
Shop Frisco
---
Questions & Answers
11 Customer Questions
---
What are dimensions of this cover
Answer by • Jun 19, 2021
The Small cover measures 28.3 inches long x 22.4 inches wide, the Medium cover measures 35.74 inches long x 26.3 inches wide, and the Large cover measures 43.7 inches long x 32.4 inches wide.
---
can you get a replacement allen wrench??? boughr the new pad but can't find the wrench
Answer by • Sep 05, 2019
At this time, the manufacturer doesn't offer any replacement parts for this elevated pet bed.
---
where is this made
Answer by • Jun 15, 2020
The Frisco Replacement Cover for Steel-Framed Elevated Dog Bed is made in China and designed and tested to meet our high-quality standards.
---
What is the elevation measurement?
Answer by • May 09, 2019
The replacement cover is approximately 0.8 millimeters thick. The pet bed itself measures 7.75 inches high, regardless of size.
---
---
---
By Tyra on Apr 3, 2022
Not durable :-(
I bought this for my puppy. He used it upstairs where he is supervised. My 13 yo son and I put it together with minimal effort and it worked out great initially. Theo loved it once he got used to it but it didn't hold up. He weighs about 80lbs and I purchased the large cover and frame. It started to come apart at the seams in a matter of months. It's been out of stock for a while now and that's probably a good thing as I read the other reviews. I thought maybe the one I had was defective and was going to try it again but it seems that it is just poorly constructed or perhaps not a great fit for larger dogs. Disappointed in this product and will not repurchase it.
---
By Notsohappy on Apr 26, 2022
Junk Junk Junk
I have been ordering these Frisco dog beds for years. The past two years they have been complete junk. The fabric is constantly tearing the stitching coming undone. And now you can't even order replacements. So what do I have, useless beds that I now have to haul to the dump.
---
By baixo on May 12, 2022
don't recommend
This item isn't durable at all. Not something that will last very long. Disappointed.
---
By TomC on Mar 24, 2022
doesn't last long but
So it doesn't last but maybe 6 months...... how ever it's only 12$ so 24$ a year .... I'll take it.
---
By Ashtonsmom on Sep 26, 2021
Mixed feelings
I have bought four of these beds, I still have the very first one and it's 2 years old, still in pretty good shape even after spending two summers outside, however the other 3 have not held up good. I think I've had to purchase 3 replacement covers, one of them didn't last two weeks before coming apart at the seams. The other 2 lasted a little longer but they too came apart at the seams. They're cheaper in price than other brands but they seem to be made cheaper as well. I did not try to return any of them so I'm not at all complaining about that.
---
By bullylove2 on Nov 30, 2021
Sad to say it doesn't hold up
I think the frame is okay but I have purchased 2 of the large frame type and one of the small frame type. The small framed bed I had my bigger Olde English Bulldog on because of the size of her room. She fit the bed fine even though she is a bigger dog built way more like a Boxer. I've never once had a problem in 2 or more year's with that size of the bed even after I switched the beds and put my English Bulldog on the small bed and her bigger sister on the large size bed. A little while before buying the small size I had bought 2 of the large frame bed's because we had 2 English Bulldog baby's that were sisters and I didn't realize how big the bed would be but anyways before switching the beds one of my twin babies pasted away but with them weighing less I went through 4 of the mats because of coming apart at the seems on just one side. Since I swopped which fur baby had which bed my bigger baby has the large frame and I bought a new replacement cover when I gave it to her in April of this year and was sent a replacement because within 2 months it started coming apart at the seems as well. Now a month ago the replacement send to me started doing the exact same thing and is barley hanging on by a thread. She loves this bed but I'm torn on having to buy what will be the 6th mat for the large frame bed within 2 to 2 and a half year's. My girl's are not rough on the beds to cause this problem or I wouldn't mind buying new replacements because if would be our fault they were tearing away at the seems but that just not the case. The small frame is still holding up like it is brand new and I do believe it's about 2 year's old. Not positive why the large mat's are doing this but in my opinion from putting them together myself each time is that the large mat is a tiny bit to small for the frame so BEWARE. When you start to put them on the frame and it's happened every time you most definitely unless you are supper strong and can pull as hard as you can to get it to where all 4 feet are on the ground and you are able to line up the holes to screw the screw's in but as strong as my husband is and he's pretty dang strong he fought with the very first bed put together forever before being able to line all the holes up to put all 4 screw's in to bolt it together. It is most definitely not easy at all on the large frame. I myself have put together by myself all the rest and the only way to get it lined up is to have 3 screw's in but not to tight then the bed will pretty much jump up crooked on one side with just 1 leg in the air. When it does that then you pull as hard as you can to get the last hole lined up just enough to be able to get the screw in but not tight as the other's are. I then push that one leg down and screw all the screws in tight so I know they are well bolted in. I'm sure it stretches the mat because it is super tight and very firm when it first goes on. I believe if it was made just a tiny bit bigger around the seems the mat giving just a smidge more room all the way around it wouldn't come apart at the seems so quickly or maybe at all. If it would stop pulling every mat apart at the seems I'd most definitely give the beds a huge 5 star rating but I just can't because of the mat's and how they are apparently made to small to fit the frame in my opinion.
---
By Furmommy on Jan 26, 2022
Disappointed
I have bought this in the past and last almost a year. This second time didn't last 2 wks.
---
By Lalalu on Oct 28, 2021
so disappointed
got the complete original bed over a year ago. i loved it my dog loves it, so when the original came unstitched at the seam on one end i thought a year+ is worth getting the replacement. I have had it on less than 2 weeks and it's already pulled apart at the seam.
---
By Momof5human7dog on Nov 6, 2021
Finally back in stock
Zeke is a very happy boy now that he can use his bed again. We have been waiting for it to come back in stock. Fits perfect and was easier to put on than the original one that came with the frame
---
By GusMom on Sep 16, 2021
Doesn't hold up
My dog loved this bed on our covered patio and it was a great concept. However, just like the many other photos in the reviews, this cover lasted a month before the seams detached and fell apart. This is our second cover for this bed in just a few months, so we won't be getting a replacement again. Chewy's amazing customer service gave me a refund, but I do not recommend this item.
---