Frisco School Bus Cardboard Cat Toy, 2-Story
---
About This Item
Provides your kitty with a private hideaway made out lightweight, corrugated cardboard.
Two-in-one hiding spot and scratching pad for your favorite feline.
Large front opening so kitty can walk in and out comfortably to scratch, nap or lounge.
Easy to put together so your kitty won't have to wait too long to hop aboard.
Just one of the limited-time Back-to-School toys by Frisco, available only at Chewy.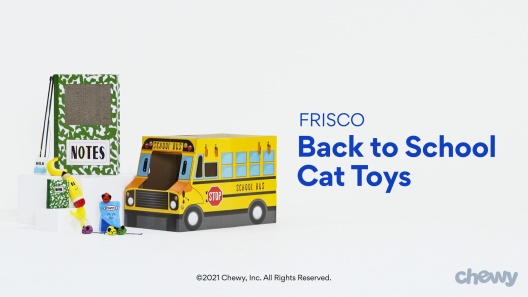 Learn More About Frisco From Our Team of Experts
---
Compare Similar Items
| | | | | | |
| --- | --- | --- | --- | --- | --- |
| | | | | | |
| Customer Rating | | | | | |
| Price | | | | | |
| Toy Feature | N/A | N/A | Catnip | N/A | Catnip |
| Toy Type | Scratchers | Scratchers | Scratchers | Scratchers | Scratchers |
| Material | Cardboard / Paper | Cardboard / Paper | Cardboard / Paper | Cardboard / Paper | Cardboard / Paper |
| Lifestage | Adult | Adult | Adult, Kitten, Senior | Adult | Adult |
| Compatibility | — | — | N/A | N/A | N/A |
| League | — | — | N/A | N/A | N/A |
| Sport Team | — | — | N/A | N/A | N/A |
---
Questions & Answers
Be the first to ask a question.
---
---
---
By Jacuzzicat on Apr 18, 2022
Cute but missing tapes
I'd have to say, this school bus is cute. We bought a taco truck almost 2 years ago similar to this and it was falling apart so I thought I'd buy this as a replacement. The bus itself is cute but 2/3 sides where there should be double sided tapes has no tape. Unfortunately I don't have any double sided tape at home so I had to use a hot glue gun. That's why it's only a 3 star. Maybe they just needed better quality control.
---
By Badlyconstructed on Apr 22, 2022
Not made well
This broke after less than two months-- the structure is held up but not in the middle which is kinda surprising. Also, the scratchers that come with adhesive are made terribly, and as soon as I ripped off the tape the entire adhesive edge came off every one. Only strong enough for a kitten really.
---
By Vdcoop1981 on Feb 1, 2022
Catastic!!
#ReceivedFreeProduct The Frisco back to school school bus was the hit of my house with the kitties. They were very curious and overjoyed when it was put together. They had a blast with the school bus, if you were looking for a particular kitten you knew the school bus was the first place to look. It was very cool that you had your inside dwelling for the kitties to hide and sleep and then a cool spot on top for scratching and lounging as well. The setup was easy as well with clear directions. They only thing I recommend if you have very rambunctious kitties is to add a little more adhesive to secure it even more. Overall I am over the moon with this school bus and the kitties are too. I see that I will need to make sure the school bus is around for a long time.
---
By Jekyllhj7 on Jan 13, 2022
Great ride for Bram and Gibbs
Both Bram (sitting on top) and Gibbs (inside) like this bus. It's used as a place to scratch, to hang out, and to hide. It was a but tough to put together (especially with Bram helping) and I did use my own super glue since the sticky straps and stickers aren't that strong. But all in all it's a decent cubby for a good price. Neither cat is overly destructive so hoping to get about 6 months to a year out of it.
---
By cgirard4 on Mar 2, 2022
Great quality -Fun time
#ReceivedFreeProduct Our cats love boxes and this School bus is a big hit. Its nice because they can scratch it up and it is easy to replace! It was easy to assemble and the directions were easy to follow. The colors are bright and it is sturdy (our cat is 12 pounds)
---
By Carla on Apr 9, 2022
Favorite hiding spot
This is an adorable little hiding and nap spot for my cat…she usually hops on the bus for a mid morning nap..it is her little personal safe space. Recommend!
---
By Lucy on Jan 13, 2022
You have to assemble it yourself
While spending 30 mins trying to assemble this can be a nice bonding activity for you and your cat, at the end you have what looks like a 4th grader's art project and it's kinda big and I doubt it will stay together for more than a couple of days. As with most cardboard cat scratchers that require assembly (I'm looking at you, cardboard cat house....) if you don't fetch the glue gun they won't make it through one season of cat toys.
---
By Lilblueidevil on Dec 21, 2021
Great toy
#ReceivedFreeProduct My 2 latge house cats love this Frisco back to school cardboard cat house bus. I've had it for 2 months and my 12 pound cat loves it she's always on it even scratched a hole through the cardboard top but the bus is still going strong. Sometimes my 15 pound cat wants on the bus so they will fight over the bus and it's still going strong 2 months later. Now keep in mind if your cat scratches a lot like mine does its made out of cardboard so their murder mittens will eventually scratch through the top cardboard but the structure of the bus is still holding up through all their rough housing. Great durable toy.also very cute. My princess even sleeps on it daily when she is done playing
---
By catmom on Jan 7, 2022
Cant put it together
Couldn't figure out how to put this together for the life of me LOL. The top orange "roof" doesn't fit in the holes. And the "double sided tape" doesn't stick. I just improvised though LOL. I ditched the roof, and folded the extra scratching post and laid it on top, so it looks like stairs. my cats still love it. I also put together a huge XL cat tree the same day, so its def not my skill set. Its this annoying thing LOL.
---
By Smudge on Jan 9, 2022
Large cat loves it
When I ordered this I was apprehensive about its size as we have an unusually large cat. It is plenty big & she loves it. She likes to hide in it as well as utilize the cardboard scratch pad flooring inside. There is a scratch pad on top, but she hasn't jumped up there yet. So glad I ordered this.
---