Frisco School House Cardboard Cat Toy
By Frisco
---
About This Item
Provides your kitty with a private hideaway made out of lightweight, corrugated cardboard.
Two-in-one hiding spot and scratching pad for your favorite feline.
Large front opening so kitty can walk in and out comfortably to scratch, nap or lounge.
Easy to put together so your kitty won't have to wait too long to enroll in the fun.
Just one of the limited-time Back-to-School toys by Frisco, available only at Chewy.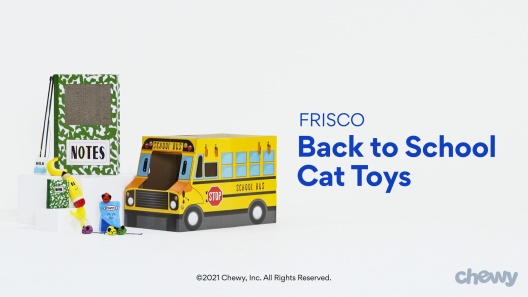 Learn More About Frisco From Our Team of Experts
---
---
Questions & Answers
Be the first to ask a question.
---
---
---
By Vdcoop1981 on Jan 24, 2022
Purrfect!!!
#ReceivedFreeProduct The Frisco back to school school house cardboard cat house is perfect. My little kitties were over the moon when they saw this. To them this beat any box or tunnel you could give them. They enjoyed being in and on top of it at all times. If i wanted to know where my kitties were all i had to do was look inside the school house. I never thought of buying these for my kitties and finally getting a chance to see them in action, shows me i should have had this a long time a ago. Easy assembly and no tools required at all. Hours of fun for the kitties.
---
By LizF on Jan 27, 2022
My cats love it
I tossed this in my shopping cart as a last minute buy to meet the checkout total requirement for free shipping. What a purchase! My cats are obsessed. They love to play inside of it, scratch the bottom, sleep in it, and generally just goof around. We had to reinforce it with some zip ties and duct tape since it's just made of flimsy cardboard, but for the price, it's just wonderful. Highly recommend!
---
By Camie on Apr 2, 2022
MY thoughts!
The schoolhouse design was a cute thought. But the roof on the one I bought, would not stay on.... But Bagheera, loved the scratch floor and roof!
---
By lucky on Jan 29, 2022
Our cats loves this
She thinks this is her very own clubhouse that allows her to get you as you walk by from any angle. We had the present scratcher at Christmas she like it but this one she loves. It has little windows that allows her to hide and attack from all directions. After we saw how much she loved it we bought another 4 to last the year.
---
By Marsha on Mar 10, 2022
Not worth the money
Took me too long to assemble and too fast for the cats to disassemble. After trying to put the flimsy tabs into the slots, the cats tore it down in 2 minutes.
---
By Mackenzielynn1031 on Nov 29, 2021
great concept but not sturdy enough
#ReceivedFreeProduct As soon as I set this little cat house up my cat instantly got into it and started rubbing and scratching at the post. I mean normally like the saying goes "if i fits , I sits. This scratcher house held up okay at first, the way you have to put the top on the house isn't sturdy at all so it doesnt stick and any bump or movement it comes undone and im back to step one trying to get it to stay. I think the concept is great and if it had more tape sides or a better way to keep it all together it would have been amazing to have for years to come! All three of my cats played in it, slept in it, and even scratched the bottom of it !
---
By MasterLason on Apr 18, 2022
Falls apart
The cats all attempted to use this but when they were playing it would consistently collapse
---
By Calidreamin84 on Dec 16, 2021
Works like a charm
#ReceivedFreeProduct We have 4 cats and boy do they need to scratch something other than my couch! This house even made from cardboard is made super well and isn't flimsy, I did add some masking tape to the contracting flaps for added support. My cats enjoy being closed in and scratching their hearts out! It was easy to put together and the directions were easy to read.
---
By Lilwritinghood on Nov 14, 2021
Cute and purrfect for our furbaby
#ReceivedFreeProduct This scratch house is so cute and absolutely purrfect for our furbaby to hide and scratch in. She has a cat post but ironically I think my cat is afraid of heights because she doesn't care for handing around the top top much but loves her cube section of it. Though it isn't quote big enough for a good nap or laying in completely she sticks out alot and doesn't seem to like that part. This gives her a cute little hide that is also scratchable and if theres one things kitty's love doing its scratching. Mau is a good kitty though and only scratches what she's suppose too never furniture and for that I'm so thankful. The base of this has corrugated cardboard which is the scratching part but you can also rub catnip into it to give your kitty a posh hide with a little bit of spice(lol) mau while adult is a full grown kitty and the only con of this is that it is a bit small but she's able to sit lay and scratch on it still.thicker kitty's may need a bigger size. It's also easy and quick to put together . Took less than five minutes
---
By Follenj on Dec 6, 2021
Great for cats
#ReceivedFreeProduct I got this for my friends cat and he really likes it. He likes hanging out in it as his dog can't fit in it so he gets some alone time to relax. He seems to like the scratching pad and it seems to be holding up well. Obviously it's cardboard so it won't last forever, but seems to be good quality. Definitely would recommend to cat owners.
---