Frisco Solid Nylon Slip-On Martingale Dog Collar
---
About This Item
Buckle-less design uses two loops to provide additional control that's perfect for walks and training.
This martingale collar doesn't have a buckle. To fit it properly, slip it over your dog's head and then adjust for a snug but comfy fit.
The nylon webbing has been lab tested to withstand up to seven times the maximum recommended weight for each size.
Features an ID ring so that you can attach ID tags to the collar without interfering with the leash. Nickel-coated hardware adds a sleek look.
Comes in multiple sizes so you can decide which is the best fit and style for your dog, and it's easy to adjust with the collar slide.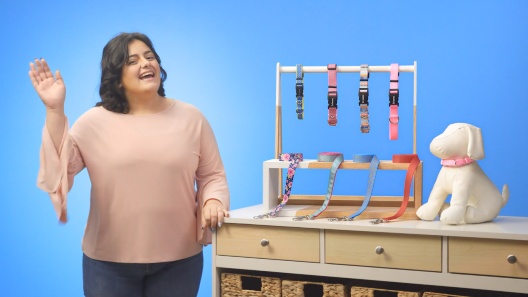 Learn More About Frisco From Our Team of Experts
---
---
Questions & Answers
9 Customer Questions
---
Are there more colors?
Answer by • Oct 05, 2018
At this time, these collars are available in black, pink, blue and red.
---
There's an extra metal piece, you can see it to the right in the first picture, what's it for??
Answer by • Dec 09, 2019
This collar features an ID ring so that you can attach ID tags to the collar without interfering with the leash.
---
Is a German Shepherd considered a medium or large breed?
Answer by • Jun 12, 2019
The collar size is based upon the neck girth (circumference) of the pet. The X-Small collar measures 5/8 inch wide and fits a neck girth of 10-14 inches. The Small collar measures 3/4 inch wide and fits a neck girth of 13-18 inches. The Medium collar measures 1 inch wide and fits a neck girth of 14-20 inches. The Large collar measures 1 inch wide and fits a neck girth of 17-25 inches.
---
Does this collar include a buckle?
Answer by • Dec 26, 2018
The Frisco Solid Martingale Dog Collar does not include a buckle and slips over the head.
---
---
---
By moon on Jul 27, 2022
good product
nothing wrong with it. it's a small but 13" was still way to big for my little pup. It's made of great material and I know once she fits in I will love it.
---
By cassy on Aug 19, 2022
finally found it
I have been looking for months for this collar. It fits my dogs large neck but seems to be comfortable for her
---
By Malibu on Jul 20, 2022
Review of products
The collar is sturdy. But I will have to wait a while for her to wear it because the person who told me to order it gave me the wrong size.
---
By CECE on Jul 14, 2022
Martingale collar
Is collar is cute but runs BIG!!! Nice quality but I don't consider it a small
---
By SuperJen on Jul 13, 2022
perfect fit
Couldn't have asked for a better fitting and easily seen collar.
---
By DeeR on Oct 12, 2021
Don't leave home without it!
Love these collars! You have no worry about your pet slipping out of its collar when it's a martingale. My Frankie pulls like a freight train but this collar I have control of her!! Thanks
---
By 1234567 on Sep 4, 2021
Perfect fit collar
I like the design of this collar because it doesn't have a plastic buckle that could break. It's very sturdy. This is the style to choose if your dog has a narrow head and can back up and escape from a traditional collar. It tightens as it is pulled on by the dog. Ideal for Dobermans.
---
By Barb on Jul 19, 2021
Great dog collar; Great service.
We have been using the Martindale collar for years. It was one of the collars that was recommended for Dobermans. Recently the collars in the pet stores that we go to had a different collar that they were calling Martindale collars, but the were not slip on collars. They had a clip on the collar. We were delighted to find that Chewy.com had the collars like those we had been using. The collar fits nicely, and you found a sale of a package of four Martindale collars. It is good to have a couple of spares. Our Dobie girl periodically sees or smells something on the ground and rolls in it. Usually whatever she rolled in smelled pretty nasty. So then we have a spare collar or two while we wash the soiled collar. Great product.
---
By HappyPupMom on Oct 15, 2021
Exactly what I hoped for
Perfect price, perfect quality. It arrived on time. I don't know what else to say other than I will continue to visit your site for additional purchases.
---
By Kelsy on Jul 12, 2021
Don´t buy a product if u don´t know how to use it
Ive been using martingale collars for my dogs ever since i was a little girl (I turned 22 in May) People are really givin this collar 1 star for not having a clip.....just wow some people theses days FRFR theses collars are grate for different situations.I order blue and red for my husky puppies (King and Kojo) and pink for my pitbull (Khaos) blue and red look really nice in there and is sturdy however pick gets very dirty very fast (playin in the Shenandoah valley river,hiking,etc.......you should visit Shenandoah valley if u get a chance) And honestly the pick is kinda ugly lastly i would not recommend this collar for puppies that are starting to learn to walk on a leash other than that i would recommend
---