Frisco Stainless Steel Kennel Bowl
Frequently Bought Together
---
About This Item
Durable stainless steel pet bowl has built-in hooks so you can easily hang it on a crate or kennel.
Perfect for on the go to keep your pup well-fed and hydrated around the clock.
Non-porous surface prevents bacteria buildup when cleaned properly.
High-quality polished finish fits in nicely with any home décor.
Dishwasher safe and available in various sizes so you can find the perfect one.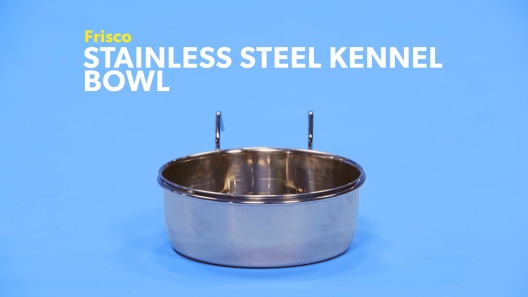 Learn More About Frisco From Our Team of Experts
---
---
Mealtime, Reinvented
Keep your pet happy with Frisco's feeders, waterers and bowls. Smart designs meet clever solutions, from refilling food and water when it's low to slowing down fast eaters and elevating mealtime, literally. Stainless steel styles provide durability and bring a sleek look to your pal's dinnertime spot.
Keep it Coming
Pets dream of food bowls that magically never run out of food. We have the next best thing! Gravity-powered feeders replenish food and water so they're not hangry or thirsty when you're running a little behind on doing it yourself. They're great for homes with many pets, and are easy to clean and refill.
A Bowl Above the Rest
Elevate your pet's eating and drinking experience. Designed to promote a more comfortable height for your dog to eat and drink from, these bowls are made of durable stainless steel, and come in stylish options like a wooden, pyramid or plastic base. Now that's raising the bar on bowls!
Not So Fast
Some pups need help eating more slowly. The puzzle-like design has ridges in the bowl that break up the eating surface so your dog has to take his time. That means less gulping and more enjoying his kibble or wet food.
Style in Steel
Level up your bowl game with rust-resistant, dishwasher-safe, durable stainless-steel bowls. Some bowls have sturdy, tip-resistant bases so they stay put wherever you put them. No sliding dinner bowls here! Plus, a polished look fits right in with any home décor style.
Choose the Right Style for your Pet
STAINLESS STEEL BOWLS
Features
Available in multiple sizes to accomodate any pet
Dishwasher safe
Choose from standard, non-slip, or kennel style
GRAVITY FEEDER & WATERER
Features
Automatically refills kibble and water
Easy cleanup & refill
100% recyclable materials.
ELEVATED FEEDER
Features
A comfy eating & drinking height
Stainless steel bowls for easy cleanup
Choose from a variety of styles
NON-SKID SLOW FEEDER
Features
Puzzle design promotes slower eating
Helps prevent gulping
100% BPA-free, food-safe, dishwasher-safe plastic
About Frisco
Frisco's quality products are made for and by a family of pet lovers. And they're more than just everyday pet supplies. Crates become comforting kingdoms, potty pads transform into a favorite patch of grass, and potty bags give the signal that it's time to take care of business. From comfy mats and cat trees to potty time essentials, Frisco provides practical solutions for today's devoted pet parents. The entire Frisco line is available exclusively at Chewy.com!
Shop Frisco
Compare Similar Items
| | | | | | |
| --- | --- | --- | --- | --- | --- |
| | | | | | |
| Customer Rating | | | | | |
| Price | | | | | |
| Bowl & Storage Feature | Crate, Dishwasher-Safe | Dishwasher-Safe, Non-Skid | Food Storage, Travel, Dishwasher-Safe... | Dishwasher-Safe, Non-Skid | Dishwasher-Safe, BPA-Free, Lead-Free, Tip-Resistant |
| Material | Stainless Steel | Stainless Steel | Stainless Steel, Silicone, Plastic, Metal | Stainless Steel | Stainless Steel, Silicone, Plastic, Metal |
| Breed Size | Extra Small & Toy Breeds, Small Breeds | Extra Small & Toy Breeds, Small Breeds | Extra Small & Toy Breeds, Small Breeds | Large Breeds, Giant Breeds | Extra Small & Toy Breeds, Small Breeds |
| Capacity (Max) | 1-cup; 8-oz | 1-cup; 8-oz | 0.5 cup; 4-oz | 7.5-cup; 60-oz | 1.25-cups; 10-oz |
| Assembly Required | No | No | No | No | No |
| Tools Included | No Tools Required | No Tools Required | No Tools Required | No Tools Required | N/A |
| Lifestage | Adult | Puppy, Kitten, Adult | Puppy, Kitten, Adult | Puppy, Kitten, Adult | Adult, Puppy |
---
Questions & Answers
9 Customer Questions
---
Is there a Crate size chart? Unsure which size for my 30" doggy crate
Answer by • Aug 14, 2019
The 1-cup measures approximately 3.19 inches long x 3.19 inches wide x 1.53 inches tall. The 2.5-cup measures approximately 3.79 inches long x 3.79 inches wide x 1.97 inches tall. The 4-cup measures approximately 4.99 inches long x 4.99 inches wide x 2.33 inches tall.
---
Does the bowl come out of the holder?
Answer by • Apr 12, 2021
The bowl is able to be removed from the holder.
---
Does this work with the heavy duty crate
Answer by • Oct 03, 2019
This bowl is designed to fit most crates and kennels and will work with the Frisco Heavy Duty Crate.
---
Where are these bowls made? (country of origin.)
Answer by • Nov 03, 2021
This bowl is made in China and designed and tested to meet our high-quality standards.
---
---
---
These are very small!
We recently adopted a German Shepherd from a shelter. When outside, he very much enjoys tossing over water bowls to his delight and our dismay. Such a penchant can leave him without water. Not a good thing, especially given the recent heat. We have tried wiring up a bucket to an outdoor run, but it's very hard to empty and clean given that wiring is not easily detached. I thought that these bowls would be a great solution, and I chose the largest size available. I thought that 4 cups would work. I think it's hard, sometimes, to tell sizes based on descriptions. I was shocked to see how small these are. I'm not sure our dog can even get his nose into these. They don't look like a quart size to me, appearing maybe 5 or 6 inches across (I haven't actually measured) and not that deep. I think they would be fine for a small dog, but they really aren't big enough for a large pooch. Too bad that Chewy (is Frisco their company?) doesn't offer choices to fit every size dog. This is not a good solution or fit for a large water loving and hot dog.
---
By Tyrel on Jun 4, 2022
Hanging-less
Get what you pay for but Frisco ND to go back to school on how a hooks hang & the base part a total joke that's not funny. Dog have table sweeps they need them for wagging man needs to be smarter than the end it's attached to.
---
By Diana on Mar 24, 2022
Just what we needed
Okay I know most of the reviews are displeased, but this is just what we needed for preparing diets/training tidbits for our education ambassadors at the wildlife rehabilitation center I volunteer at. Normally we buy the $6 coop cups (it's amazingly hard to find small deep steel bowls for some reason), so at $2 and a little change these are way more cost effective! I was a little worried they'd be too small (our usual bowls are 10 oz.) but these still held all the food they needed to. We don't use the bowl holders so can't speak for those.
---
By dontbuy1 on Jun 5, 2022
Do not buy
Would not recommend. The holder does not stay on we bought 2 and both keep falling off. I would recommend you look for a different one.
---
By Lauriem on Apr 27, 2022
unsturdy bowl
I cannot use this bowl in the crate as it's meant to be used. My dog knocked it off the hinge the first day I left her in the crate. There should be a more secure way to fasten it to the crate.
---
By Waterbowl on Feb 25, 2022
Don't buy it
About the only thing I like about this is how easy it is to remove and replace the bowls. Other than that i dislike them. They are not very secure and the whole assembly easily falls off the kennel spilling its contents everywhere. I have stopped up more water than my dogs have actually drank im pretty sure. Look for another setup.
---
By Bowls on May 10, 2022
Bowls and hangers
Very flimsy/thin material Hangers don't stay on crates. Dogs touch them and they fall off. Worthless. Don't waste the money
---
By Ashley on Jan 19, 2022
Smaller than was told
I got 4 of these bowls for my dogs, thinking they'd work perfect in their crates. Not only do the frames not stay on without zip ties, but the bowls do NOT hold the amount of food they say they do. The 2.5 cup barely holds 1 cup and the 4 cup barely holds 2 cups. Extremely disappointed with this product, especially because Frisco is usually a brand I recommend a lot. I'm upset that I'll need to now look for a different set of bowls now that these are virtually useless to me.
---
By Guest on Apr 29, 2022
Don't buy this
Does not stay as pup easily knocks it down quickly. Get one that snaps on or locks on place and the bowl easily comes out
---
By Emma on Mar 10, 2022
You get what you pay for
I should've spent the extra money to get a better quality one. Even the 4 cup size Isnt the same size as an average food bowl and they fall off so I had to use several zip ties and metal wire to secure it.
---