Frisco Stainless Steel Round Dog & Cat Fountain, 1 Gallon
Frequently Bought Together
---
About This Item
Fountain pump will stop when water level is too low, indicating that it's time for a refill.
1 gallon capacity reduces constantly worrying about refilling the fountain all the time.
Stainless steel allows for easy cleaning and a sleek modern look that's sure to attract your pet.
The non-skid rubber ring at the bottom prevents the fountain from slipping and sliding across the kitchen floor.
Includes a quiet, replaceable pump and a carbon filter that keeps their water clean, clear and tasty.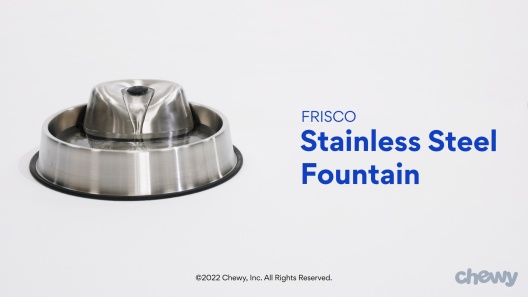 Learn More About Frisco From Our Team of Experts
---
Compare Similar Items
| | | | | | |
| --- | --- | --- | --- | --- | --- |
| | | | | | |
| Customer Rating | | | | | |
| Price | | | | | |
| Breed Size | Medium Breeds, Large Breeds | Medium Breeds, Large Breeds | Small Breeds | Large Breeds, Giant Breeds | Large Breeds, Giant Breeds |
| Bowl & Storage Feature | Non-Skid | Non-Skid | N/A | N/A | Non-Skid, Dishwasher-Safe, BPA-Free, Lead-Free, Tip-Resistant |
| Lifestage | Adult | Adult | Adult, Puppy, Kitten, Senior | Puppy, Kitten, Adult, Senior | Adult |
| Material | Stainless Steel, Plastic, Metal | Stainless Steel, Metal | Plastic | Stainless Steel, Metal | Plastic |
| Capacity (Max) | 1-gal, 128-oz | 1.1gal, 169-oz | 256-oz | 128-oz | 192-oz |
| Assembly Required | Yes | Yes | Yes | Yes | Yes |
| Compatibility | Plug-In Power | Plug-In Power | Plug-In Power | Plug-In Power | Plug-In Power |
---
Questions & Answers
3 Customer Questions
---
where Can I find the replacement filters?
Answer by • Mar 10, 2022
The Frisco Pet Fountain Replacement Pump & Frisco Pet Fountain Replacement Filters are available on chewy.
---
Is the level of water flow adjustable?
Answer by • Jan 17, 2022
The waterflow can be adjusted up or down by moving the pump's slider.
---
Is it dishwasher safe?
Answer by • Jan 06, 2022
This fountain is not dishwasher safe. Wash and rinse fountain with a soft sponge and a non-abrasive cleanser. Rinse thoroughly, ensuring no soapy residue is left behind.
---
---
By Kat4 on May 22, 2022
If I could give less than one star
So when I bought (2) of these for my cats this product had 5 stars . I quickly found those reviews were not accurate. The housing unit for the fountain pump is not heavy enough to secure itself so it floats causing the pump to chug constantly. If the water level got halfway between max and low fill it would also chug. The easiest fix early on was making sure the pump was set to low and the water was always at max level, this sorta worked however then the water wasn't moving enough and created a film on the top of the water. The filtration for this fountain is abysmal , just a single charcoal pad that the water barely interacts with. I thought about securing the pump housing to the bowl with silicone for fish tanks however that would mean not being able to clean the bowl properly. In the end I bought a new fountain that is much better.
---
By CCL4 on Jun 13, 2022
Stopped working
We were very excited about this and once we set it up it was great but after a week the fountain stopped working right. Wouldn't stay down, wouldn't flow and made horrible noises. We had to remove the fountain portion and just use it as a large bowl. Not exactly what we expected or needed but with 4 cats we are just using it as another water source and are looking for another fountain. Great design and shape but not worth it.
---
By Maxx on Jun 14, 2022
English Bulldog does not like, because it does not work right
Received water feature, followed instructions plugged in, worked great until my English bulldog took his first drink of water, then the thing started doing this annoying stop and go...unplugged, started over many times and still does this, water level is between MAX and MIN but it won't work right simply after my dog drank the very first time....I would not recommend this device to anyone
---
By Tash on Jun 4, 2022
Not good would not recommend
Every time I clean this which is once a week I find tiny clear/white bugs. Idk if I would ever recommend this product. To have to clean more than once a week becomes a huge ordeal.
---
By ducklvr on Jun 9, 2022
not a fountain
unfortunately this is already broken & even when the water was filled to the max line, barely any water came out. I've cleaned it & put all back together & nothing..
---
By 2cats on Apr 7, 2022
not a good buy
I bought this fountain because I needed a new cat fountain. I wanted to try stainless steel because my old fountain was mostly plastic and even with filters it constantly had problems with mold build-up. It was hard to clean and had lots of hard to get to spaces. This fountain seemed to avoid all those problems and the price was quite reasonable. Also, it looked like it should be easy to clean. After using it just a few days, I realized that it wasn't a good buy: 1). It is noisy because it tends to vibrate and if the filter's not seated just right the filter assembly actually jumps around. If you turn it on the recommended flow, it really has those problems. 2). The fountain is too big. Little pieces of kibble fall in it, and one of my cats is a foot washer, so it's easy for him to get his paws in that fountain and foul it with little pieces of cat litter. 3). it isn't really a fountain that aerates the water. Yes, there is water constantly running through it, but not at the flow that's needed. 4). it's hard to pick up off the floor if there is much water in it. It is it's messy to clean since there is no handle, no indents, nothing to help. I still like a stainless steel cat water fountain, but I don't recommend this one.
---
By Elizabeth on May 6, 2022
Mostly good except one issue
The same issue as a previous fountain, different brand. The piece with the fountain and pump floats and then air gets into the pump and it bubbles and spits and makes noise. Super annoying.
---
By Ashleyb18 on Feb 18, 2022
Finally NO NOISE!
I FIGURED OUT HOW TO MAKE THE NOISE STOP! I have a 60lb dog and a very old cat, both of which drink lots of water. And regular bowls just weren't cutting it. When I got this it was new on Chewy and had no reviews. I figured I would take the chance and try it. It worked perfect until the first time I cleaned it. Then it made this terrible gasping/gushing noise and the filter/pump house started to float (just like the other reviews are stating). After 3 long months, I finally figured out how to make the pump house not float and to stop the pump from making noise. The gushing noise is because the pump is not getting constant water flow which is because the water isn't filling the pump area quick enough. I stopped pushing the filter all the way down (it's up maybe a millimeter but that's all it needs). Then I put 2 heavy rocks in the black part to weigh it down (used gardening rocks, cleaned very well and frequently). Now the pump house stays filled constantly and the water level even so no more floating or noise! It sounds like a lot of work but I liked everything about this fountain and wanted it to work considering large stainless steel fountain options are limited and not great. I do also have to say my cat puts his dirty paws in the water frequently so the fountain gets cleaned every other day, if not everyday.
---
By Waterfall on Mar 2, 2022
The pack's new toy
All the furbabies gather at the bowl to enjoy their cool sips of water. Even the recent addition of a kitten to the pack enjoys sipping at the bowl. The silent running of the fountain is music to my ears. The fountain provides water for several days before refreshing with 4 cats. Easier to clean makes me very happy .
---
By GonetotheSnowDogs on Jan 21, 2022
I Wanted it to Work
I wanted this to work so bad! First off, the fact that the spout going to the top can't be disconnected, makes it a breeding ground for gunk. I wash my dog fountains every week, and even in a week's time, the small areas can get gunked up. We are a 2 dog household, with 2 fountains. So let's break it down. First, this fountain has no easy disconnect for the plug, so if you have this plugged in behind anything, you have to move furniture every time you need to wash it. That's a pain. Second, the base and top are easy to clean, but as I said, the spout is not. Third, the pump kept making noise. It would bubble and gargle and made a ton of noise. If she bumped the bowl, it would stop. So we put the other pump in it, and the same thing happened. I wanted this to work, I really did. . . but I will be retuning both of them.
---