Frisco Top Loading Small Pet Carrier
---
About This Item
Designed for a variety of small pets to travel in comfort and style, plus it can be used as their temporary home.
Transparent panoramic top section lets your pet see where they're going and makes it easy for you to keep an eye on them.
Ventilation openings allow fresh airflow for your little friend.
Easy to load your pet in and out with convenient top opening.
Made with premium quality plastic for durable, long-lasting use and includes an easy to carry handle.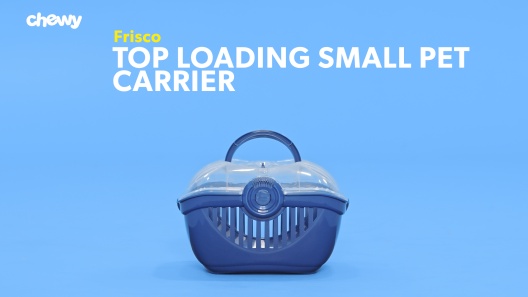 Learn More About Frisco From Our Team of Experts
---
Compare Similar Items
| | | | | | |
| --- | --- | --- | --- | --- | --- |
| | | | | | |
| Customer Rating | | | | | |
| Price | | | | | |
| Small Pet Type | Rat, Chinchilla, Degu, Guinea Pig, Rabbit, Ferret | Rat, Chinchilla, Degu, Guinea Pig, Sugar Glider, Hedgehog | Rabbit, Guinea Pig, Chinchilla... | Rabbit, Guinea Pig, Ferret | Rabbit, Chinchilla, Guinea Pig... |
| Material | Plastic | Plastic | Polyester, Synthetic Fabric | Steel, Metal | Polyester, Synthetic Fabric |
| Features | N/A | — | N/A | N/A | N/A |
| Leash & Collar Feature | — | N/A | — | — | — |
| Leash Length | — | N/A | — | — | — |
| Leash Type | — | N/A | — | — | — |
---
Questions & Answers
14 Customer Questions
---
Would this be a good carrier to transport a cockatiel?
---
would this be fine for 2 six week old rats?
---
Will this fit a chihuahua
---
would 2 6 week old dumbo rats be fine together in this carrier?
---
---
---
By Coolkitty on May 20, 2022
Great Carrier
This is my third one. I really like them. They are JUST sturdy enough for my 13lb cats. But I like all the openings for air and that the cats can see out better than the hard carrier I have. And I love the round opening on top that I can pet them through or they can pop their heads up. Plus the whole top opens up so much easier than the hard carrier. I am an older lady so I am not able to carry them very far but when I do they don't come apart!!! I now have one for each kitty.
---
By TNeah on Apr 15, 2022
Pleasantly surprised
I read all the reviews on these and several mentioned that their bigger buns fit perfectly. We all know that someones hotot size is anothers flemish and vice versa. Even with bun pictures it's hard to judge for certain since actual size can vary so much even among specific breeds. So I was nervous but figured for the price it was worth a shot. So here's the deal.... I have TAMUK. Decent size rabbits similar to Californians or New Zealands. I wanted something to transport them in that would work for most of my other small critters as well. These are perfect for that. My adults fit just fine with room to stretch out a bit if they wanted. The top loading is so much faster. Animals like to spread legs when trying to load in a front door. When I'm not using them I can open them and stack them together and they don't take up much room for storing. They're also not super cheaply made. They're nice, solid and durable. I'm very happy with them.
---
By Beatrix on Apr 20, 2022
My bunny will actually get in to this
I am so glad I got this carrier. The clamshell makes it much easier to get my bunny in. I put it up next to her hutch to create a ramp and she hops right in. SO much easier than having to push her into the traditional carriers. This is perfect to take her to the vet or move her from her hutch out back to the front porch (she doesn't like to be held, so this carrier is a lifesaver).
---
By JoJoBun on Jan 20, 2022
COOLEST RABBIT CARRIER EVER!
I have a 9 lb rescued English Angora rabbit. The breed is big boned. I've been using a top-loading carrier made by a well-known pet carrier manufacturer. It's the largest top loader the company offers. But the opening is just barely large enough to lift my bunny through. I have to "crumple" her body up to get her through the opening; I worry this might hurt her spine, especially as she ages. And because the opening is too narrow for us, I always scrape the tops of my forearms against the sides, which is painful. This Chewy-brand Frisco carrier—in the MEDIUM size—is absolutely PERFECT for her! Its design reminds me of a small laundry basket. It easily & comfortably accommodates my big-butted bunny. It's lightweight— easy for me to carry—yet substantial enough to support her weight. I also like that it's plenty big with the top open to allow my rabbit to remain inside while being examined by her vet. This gives my bun a much-needed feeling of security. I place a baby-sized fleece blanket in the bottom, topped with an unscented puppy pad. Chewy, you seriously knocked it outta the park on this one! TY! I'm going to tell my rabbit-related social media groups all about it!
---
By izlm on Feb 27, 2022
Perfect! Get one for each piggy!
I had to take my two piggies to the vet & I got two of them so they wouldn't stress each other out. There was enough room for them to lay & run around, & have a small haystack w/veggies. The holes on the side was also very nice as it allowed me to put their carriers next to each other so they could socialize & calm down a bit. Even the vet was a huge fan of these carriers. For reference, they're about 8 weeks old!
---
By rats on Feb 14, 2022
Rat carrier
So far I like it. Love the size (got a small). Perfect for my rats. Absolutely love the 2 way opening system. This helps for squirmy baby rats. The only thing I'm not 100% on is the side vets. If you have a chewers I don't think I'd recommend this carrier. It's sturdy, but they may be able to chew those vents in the front and back and escape.
---
By ariel on Apr 17, 2022
Easy to use
Used just a couple of times and so far so good with putting bunny in and taking him out. I like that I can open the top to pet him on the way to/from.
---
By cyberbunne on May 15, 2022
good item!
i use this for my rats to take them to the vet. it is secure and a good quality item!
---
By Missing on Jan 23, 2022
MISSING latch!
First carrier came without the latch part included. Customer service was real nice and sent out a second one, but super disappointed to open the box and find that this one also has a missing latch!!
---
By Jade101 on Nov 18, 2021
This One Is A Keeper
I really searched for a bunny carrier. It couldn't be soft-sided, it had to open from the top so you didn't have to push bunny in head-first, and it had to be cleanable and sturdy. After looking at hundreds of them (I am not kidding about hundreds) This one was the best. I can't say Pixie loves it, but she doesn't seem to mind it at all.
---