Frisco Trio Balls Small Pet Chew Toys
---
---
Included In The NEW Rabbit Goody Box!
---
---
About This Item
This trio of balls chew toy set is perfect for giving your small pet some giant-sized playtime sessions.
Set includes three chew toys made with three different small-pet-friendly materials—wood, wicker and reed grass.
Great for supervised solo play, or you can get in on the fun for some interactive games.
Helps encourage your small pet's natural instinct to chew.
Helps keep your small pet active and happy, and keeps boredom at bay. Toy is ideal for hamsters, chinchillas, degus, gerbils, guinea pigs, mice, rabbits and rats.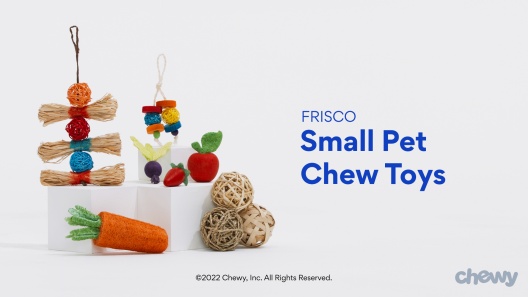 Learn More About Frisco From Our Team of Experts
---
Compare Similar Items
| | | | | | |
| --- | --- | --- | --- | --- | --- |
| | | | | | |
| Customer Rating | | | | | |
| Price | | | | | |
| Small Pet Type | Hamster, Rat, Chinchilla, Degu, Gerbil, Guinea Pig, Mouse, Rabbit | Hamster, Rat, Guinea Pig, Chinchilla, Degu, Gerbil, Mouse, Rabbit | Rabbit, Guinea Pig, Chinchilla | Hamster, Rat, Chinchilla, Degu, Gerbil, Guinea Pig, Mouse, Rabbit | Rabbit, Chinchilla, Guinea Pig, Gerbil, Rat, Mouse |
| Material | Wood, Grass / Hay | Grass / Hay, Plant Material | Plant Material, Natural Fabric | Wood | Wood |
| Toy Type | Chew Toys | Chew Toys | Balls, Chew Toys | Chew Toys | Chew Toys |
| Toy Feature | Variety Pack | — | Variety Pack | — | Dental |
---
Questions & Answers
2 Customer Questions
---
Are these safe for dogs to digest?
Answer by • Sep 01, 2022
This small pet toy is not intended to be digested and is not designed for dogs.
---
Where are these made?
Answer by • Apr 20, 2022
This toy is made in China and designed and tested to meet our high-quality standards.
---
---
By GerbilGirl112 on Nov 15, 2022
My gerbils LOVE these!
This is my first review on the internet ever. There are not enough words in the English language to describe how much my gerbils love these - particular the wicker one. I have watched them flatten it in 15 minutes flat. The reed grass one comes in second place. If I could order these in bulk, I would. If my gerbils could be spokesgerbils for this product, they would. Instead, I will throw all my money at these because of how much joy it brings them to speed-chew it to bits.
---
By ARIE on Nov 3, 2022
Continuously my piggies favorite
My two guenie pigs have already destroyed the one of these. I've only had my piggus for about a year and they've gonna thru 12 of these balls (4 packs). They love shoving them around and just gnawing on them. Really good toy to keep them active and help them wear their teeth. Highly recommend for guenie pigs, probably good for rabbits but I honestly cannot speak to that.
---
By Steph on Oct 28, 2022
Piggies loved them!
I got two packs of these for our six Guinea pigs and they absolutely love them. Most of them didnt last a week because my piggies chewed on them and played with them so much. Overall they were good quality and my animals really enjoyed them! Will be purchasing again.
---
By Lilbenceleste on Aug 19, 2022
My rats love them!
#ReceivedFreeProduct I'm always on the look out for toys for my rats. These small balls are perfect. They love to roll them around their cage. I've also noticed how much they love to chew on them. I feel good giving them a toy that is safe for them to play and chew. It isn't toxic and I'm not worried they are going to choke on it. They are very affordable so I will definitely be buying more.
---
By aurora on Aug 3, 2022
Gerbil 20 minute heaven
If you have an avid chewer like I do (gerbil) these will only last about 20-30 min each. The rope ball taking about 45 min. I'll be buying again because I can stiff them with hay and seed and make an amazing boredom ball with it, but if you want something that's will last this doesn't with avid chewers. Took the guine pigs days to work through one
---
By Dlej1972 on Sep 4, 2022
Frisco Trio Balls
#ReceivedFreeProduct My guinea pigs love the Frisco Trio Balls. There are three different balls to give them some variety. I have actually seen my piggies pick them up and toss them when they are feeling playful.
---
By Alicia on Jul 9, 2022
Fun and tasty!
My guinea pigs don't play with toys, but love to chew on these. It's a nice change from their usual toys and they especially love to eat and destroy the weaved ball with the thin pieces! I don't think they're able to chew on the braided one, they usually leave it alone. It's very thick. But the other two are nibbled at and pushed around. :) If your small animals need something to do, I'd definitely add these to your cart!
---
By Mom_of3 on Jul 27, 2022
So cute
#ReceivedFreeProduct I gave these to my bunnies I honestly didn't think that they were going to play with them but they do all the time they know on them and pull on them and you know I'm jumping around in their little cage while they're playing with them and not they're not bored and gnawing on the cage anymore
---
By Tammy417 on Aug 5, 2022
My bunny loves these
#ReceivedFreeProduct My bun bun finds these willow balls very fun! Very entertaining to watch her play with and carry in her mouth. This is her go to toy. My bun absolutely loves these & she entertains himself for hours! I'll be buying more in the future!
---
By christy on Aug 7, 2022
Fun for pet to play with!
#ReceivedFreeProduct We have a pet rabbit and he loves these chew toys. He will play with them, flip them in the air, run after them and flip again. We have bought these for awhile and so glad we did. Very fun and good price as well.
---